No leader has taken Nigerians for granted like Buhari, APC —ADC national chair, Nwosu
National chairman of the African Democratic Congress (ADC), Chief Ralphs Okey Nwosu led his party to form the Coalition of United Political Parties (CUPP) at the threshold of the 2019 general election in the country. In this interview by KUNLE ODEREMI, Nwosu talks about the fate of the country after the polls, by some political leaders, the electoral umpire, among other issues. Excerpts: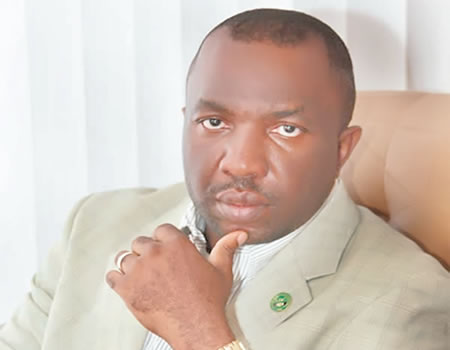 Some politicians are already talking about another general election in four years' time, why are you still preoccupied with what some regard as crying over spilled milk, with INEC declaration of President Muhammadu Buhari, as duly re-elected for another four-year term?
My reason is simple and straight forward. The 2019 election will remain a sham and could derail our democracy, and bring about many untoward consequences if the presidential result that INEC declared stands. We wait to see what the court does. There has been uneasy quiet after the election. But the spate of killings, destructions, and looting says it all. INEC is in a quandary; it has destroyed documentations from the elections and claims it does not have provisions to safeguard results of elections with all the budget at its disposal. But rewind, go back to the many lectures and seminars and meetings with political parties and various other local and international stakeholders who invested so much in the elections. In all their media presentations, INEC and its officials were emphatic on capturing the results from the situation room as they happened. I am sure everyone will see through the deception and fraud going on. They made clear that the election results will remain intact and that what happened at the polling booths will be electronically captured because of the sophistication of the smart card readers and data capture systems. Now, they are singing a different tune. The chairman and some of the INEC Commissioners, ab-initio, felt beholden to the executive instead of upholding its independence.
How do you mean?
The candidate of the Peoples Democratic Party (PDP), Alhaji Atiku Abubakar, won the election and at least 80 per cent of Nigerians are aware of this. The streets of Nigeria would have gone agog, had the right election results been announced in Kano, Kogi and other places. But what we see now are increased aggression, violence, and protests across the country. Now INEC and all the agencies that colluded to cause this national embarrassment are in hush-hush mode. They have belittled themselves and our nation by their brazen and fraudulent acts. I do not see the big deal that an incumbent President did not win re-election. It has happened in this country before; President Jonathan lost election and made himself a global statesman by his ennobling conduct. He was not selfish about power, but mindfully used a bitter situation to promote and leverage democracy and country. People in high positions should try to stay very careful, no matter how things turn out in a tenured, constitutional democratic system. How we end says a lot. After all, it is supposed to be about service. With all the uncertainties and misanthropy in the country, President Buhari could light up the way again by conceding defeat based on the actual results of the presidential election. Buhari can shock the world if he stops the entire judicial process and calls up Atiku to prepare to be sworn in. He has enough intelligence at his disposal to know the true outcome of the election. I bet you, if he acts in a way that he brings the whole scandalous electoral fraud and ridiculous falsehood of trying to cover naked scam. Buhari will become a hero and Nigeria's rebirth superman. Anything less is self-serving, unpatriotic and diminishes the man and our country.
The beauty of our democracy is that there are processes of redress if any candidate or party feels cheated. Isn't such path those aggrieved on the elections should take?
Sure, the judiciary has a role to checkmate politicians, especially the executive wing from undermining the constitution of the country. So, I am glad that Atiku has gone to the President Election Petitions Tribunal, and from the weight of evidence I know exists, I am sure he is ready for the case. The judiciary is on trial and they can stop the reckless behavior and impunity of incumbents and politicians generally. Politicians need to be thought a lesson in democracy; in our democracy the president is not absolute as we have been seeing in practice. The Judiciary has to redeem itself. They need to show that they are not appendage to the executives. In this way, they can check the excesses and impunity within our system to save the country. Except such is done, we become a fascist state, a banana republic or we fail and fragment. It may not take long because we are already at the verge of it.
You sound so pessimistic? Is this derived from your closeness to the former President Olusegun Obasanjo?
You should know me very well by now. I am a missionary involved in a nation-building struggle. My politics is different. I am not a desperado and have never been a jobber. Many people may keep quiet for selfish reasons or out of fear. But I cannot keep quiet when things are obviously wrong and no one can compromise me. Our problem in this country is leadership and elite hypocrisy. This is the truth, whether under military or civilian rule. Check some of the persons, who were part of the National Democratic Coalition (NADECO) during the Babangida and Abacha era; take Bola Tinubu for instance,, what has he done with power in a democracy. Now Buhari ousted the Shagari civilian government as a military general in 1983. And during the democratic government of Obasanjo, Yar'Adua, and Jonathan, he pretended to be an apostle for credible and transparent electoral process. Then now that he found himself on the driver's seat as president, the same Buhari has conducted the worst of elections and refuses to sign the amended Electoral bills. As we speak, there are a lot of persons angling for appointments, and playing ostrich, see no ill and speak no ill of the rotten system because they want to protect their oil wells or ill-gotten wealth. This applies to all parties and even non-politicians. You should not have brought Obasanjo into this. I have been around and I have been involved, and I say my mind without fear. Former President Obasanjo is a human being; he is not God, and not a saint either. But he has shown up for the country like no one else at different times. He has done exceptionally well for democracy and the country. As a military head of state, he defied the tradition in 1979 when he handed power to the civilian administration of late President Shehu Shagari berthing the Second Republic. Across the globe, it is rare for military heads of state to voluntarily cede power. You cannot take it away, the former President is a man of destiny.
Many still believe that Obasanjo should be blamed for all that is wrong with our democracy; that he was instrumental in emergence of all successive civilian president in Nigeria since the country returned to civil rule on May 29, 2019?
That is absurd. So long as Nigeria democracy is concerned, Obasanjo remains a recurring factor, and positively so. We tend to forget that leadership does not happen in a vacuum. We lead within a space and time, in organisations or nations, big or small. It must be a human ecosystem, a prevailing environmental condition, and within a given period. So, leadership happens in a context. The contextual space of our democracy today is not what it was when Obasanjo was elected 20 years ago. Until Obasanjo's Presidency, Nigeria was not able to navigate civil rule beyond the constitutional one tenure without disruption. Obasanjo solved this problem that started from our independence. Democratic process was disrupted during the First Republic; there was the pogrom, military coups and counter-coup, and there was civil war. The Second Republic lasted from 1979 till 1983.
For someone to be able to lead and more or less make permanent the democracy we enjoy now, nothing could be a greater achievement: from one term, two terms, and able to orchestrate the continuation of the democratic system till this day. So long as he remains alive, we should expect him to shout and act when things are not going well. Former President Obasanjo deserves all the encomium. We should not take what he has done for granted.
In adopting ADC also, again he has seen what many may not know yet, and I am very proud my party was identified by him. Obasanjo is not a man with a pigeon-hole mentality. Rather, he is a big picture thinker and a large spectrum operator and leader. Because of his relational capacities, and open nature, he has many funnels to access and process information. So, his knowledge base and antennae could be described as broad band. This is also aided by his kindred spirit. No matter what you may say, his very open and kindred spirit magnetises men and women of all ages, big and small, from all regions, nations, and continents to him. Certainly, a man of destiny and he is highly endowed.
Don't you see a link between Obasanjo ways and Buhari's government, given the role the former played in the emergence of Buhari as president in 2015, though they later fell apart?
The Buhari government is amorphous and clueless. The quality of the team is of concern; propaganda and governance are not the same. They all seem to be missing in action in governance. Can you compare the composition of government of Nigeria under the presidency of Obasanjo, Yar'Adua, and Jonathan, and that of Buhari since 2015? Again, Buhari seems to be comfortable with fueling division. Can you imagine another President from any other region playing Buhari kind of ethnic politics! To show that Buhari has caused so much strife for Nigeria, just imagine that a southern or a Middle-Beltern president follows in Buhari footsteps and simply juxtaposes the government structures and personnel in favour of his/her ethnic group or region, filing slots of Ministers, security council, government agencies and parastatals as skewed as they are at present. A security structure where no one from the North-East and North-West is part of, or the Judiciary so composed. So, this kind of politics will only undermine Nigeria. We must start to have leaders to unite us. No head of state has taken the rest of the country for granted as Buhari and the APC administration. Not leveraging our diversity has been one of the major challenges of the APC as a party and government.
They struggle in many other areas, but their seeming cluelessness of the fact that the strength of the country is in its diversity, and it is as good as its weakest constituents create all the tensions in the country today. And they will attack every other Nigerian except themselves for their failings. During the Jonathan presidency, all parts of the country had their fair share of federal presence and patronage. Obasanjo and Yar'Adua's governance structures are clear testimonies that our country has gone far beyond where APC inertia-government has dragged us. Please, do not try to compare President Buhari and the former President. They are opposites and miles apart. Obasanjo believes in and thinks Nigeria, with Buhari and especially with his recent performance, there is nothing. As a military head of state, his colleagues ousted him, and as a civilian president he has added nothing to our democracy and country than trouble and division. There is only one way he could reverse all this. I said it before he should shun all those powers hungry persons around the villa and do the right. I pray for him and hope he takes this window.
All the hard knocks associated with Obasanjo's time from 1999 to 2007, looking back, you can see a man using wisdom and strategies to overcome whatever the albatross there was with civil rule in Nigeria. Obasanjo's leadership may be a complex hybrid, but people must give him credit. Even the so-called Third Term attempt, he still scored; he let the National Assembly find and use its power. The National Assembly have not been able to assert themselves since our independence. But Obasanjo made them to assert their power as is proper in a tri-cameral polity. He is a very strategic person; I will not be too surprised, when he finally opened up on some of his actions and their strategic import. By 2015, civilian government has already gained the rhythm of a stable democracy. There is no way to explain what Buhari and APC have done with the presidential election, rather than self-serving, egocentric, and abuse of presidential power. This brings our democracy and country to a shameful crossroads after the statesmanship display of President Jonathan. The only saviour we look to is the judiciary. The Judiciary now has a chance to assert its powers, just as the National Assembly did. Although they have done so at the state governorship and legislative levels: former Governors Adams Oshiomole, Peter Obi, Mimiko, Aregbesola, and Fayemi recovered their mandates in 2005, and 2007. The Judiciary must exercise due power in presidential election without fear to make our democracy stronger, and earn its rightful place in the governance tripod.
This Professor Yakubu Mahmood-led INEC has been disgraceful. As the chairman, he allowed critical decision of an independent electoral agency to be warehoused by people in the Presidential Villa, working with a serving governor from the North and two former governors in APC to manufacture and doctor results. By so doing, as the chief executive of INEC, he exposed his subordinates, lieutenants to all sorts of abuse, manipulation, and torture, making some to mortgage the organisation and their conscience, and destroy their career for dirty money. The democratic system has grown beyond this kind of Yeoman's job. The constitution and our country were violated. He owes the people a serious explanation, and apology. So, not all retired military officers are bad. Far from it, they have the strongest leaders when you think of their training, patriotism, discipline, and commitment. Any suggestions that the retired military people should not seek office at any level in a democratic setting is wrong. Buhari does not represent the best of the Nigeria military. So, we should not use him to judge. A lot of top military officers have contested other electoral position; it has not been do or die. Many lose and we see them accept the outcome. What is happening now is the very nature of Buhari and his handlers. It happens that some bad eggs exist in any group; today imagine the activities of El-rufai, Oshomhole, and Tinubu. The latter was a PRONACO and NADECO chieftain, Oshomhole a labour leader and comrade, and el-rufai, an intellectual and technocrat. You can see what power has made of them; power has exposed their true colours.
The media always wanted to box the Coalition of United Political Parties (CUPP) to their own expectation. You do not compare CUPP to the APC pre-2015 approach. CUPP is different. We are a coalition of independent patriotic parties who coalesced rescue mission. So we had a different modus operandi for winning the Presidential election for Nigerians. The APC were divisive and hate-mongers, and the President takes responsibility for nothing. So, the party was toxic and dangerous and needed to be eased from the Presidency strategically. The party has de-marketed itself already by all their actions and the state of the nation. So, CUPP was not designed for overkill. President Buhari and his team deliberately marginalised the South-East and South-South; so in these areas, APC is like a dead horse. No magic will make the people bring the dead horse to life, even with former Governors Rotimi Amaechi and Akpabio's shenanigan. With all the military battalions and police, it was like swimming against the tide. Akpabio and Amaechi have attracted the wrath of their people; it is not discrimination but Buhari remains very unpopular in the geopolitical zones due to his own attitude with power. In the South-West, the elite and the grassroots are tired of the closed, divisive and antagonistic mentality of APC, and the poverty and economic meltdown. They are tired of the lies, propaganda and herdsmen wahala. The killings in the Middle Belt, herdsmen activities, and disruption of economy of the region. In the North-West, why would Kano, Sokoto, Kaduna, and Zamfara states want to associate with APC. The North-East has witnessed more disruption within the last four years than any other part of Nigeria. You have Internally Displaced People camps; daily Boko Haram invasion, and the states within the region are in comatose economically. So, without even CUPP doing much campaign, their joint candidate would win. CUPP is more a psychology and confidence strategy than a racing horse; to show that the political class were united in redeeming the situation. The coalition has worked, and  Atiku beyond all doubts, won the election. The falsification of result will destroy our democracy and may lead to more severe consequences.
Ongoing debates indicate that both the APC and PDP might zone their Presidency to the South-West and the North respectively, leaving out the South-East, which has consistently clamoured for an opportunity to lead the country in the interest of equity and fairness. What do you think?
The Igbo question is what Nigeria must deal with. It is the most crucial matter on the table now outside the rigged and fraudulent elections. Unfortunately, the APC national leaders and the incumbent President lack the leadership and vision to address this problem. They think power for power sake, and are too consumed by self-righteous parochialism to think of the good health of Nigeria yesterday, today and tomorrow. At this stage of our nationhood, no ethnic group can dominate the others, without causing serious dislocation. Any person having such agenda is not thinking well for the country. We should be strengthening the bond of unity and building diversity values into our culture. I have not heard of PDP 2023 plans.
But El-Rufai and Tinubu cannot be president. The Northwest has served two terms with Buhari's first term. Yar'Adua served one term. The South-West has done eight years. The North-West should be careful and exercise restraint, even their Northern brothers may become disillusioned with them if they wish to dominate the rest of the country, and continue to want to take more than a fair share in the Nigeria enterprise. Good governance, and leaders being deliberate in promoting diversity in governance will help the country. Continued parochialism will kill Nigeria, lead to tragic end and obvious ugly consequences. The North-West and the South-West zones cannot afford to come from their Olympian position to become the cog against building a great unity Nigeria.
After two terms, one of the other regions, especially the South-East deserves the Presidency. I say the South-East not only because I am from there but it sends a strong message for the Nigeria project. Equity is critical. We need complete closure to all past mistakes and move together as a country, it benefits the whole. On the final note, I want to say that the country is really before God's eyes. On the Igbo question, the fact that the Gowon, Obasanjo, Danjuma, IBB, and Abdulsalam are alive shows this manifest God's interest and grace. They have seen the best and worst of the country and God expects them to consolidate this country. They fought and some of them still carry the scars, which to me represent the 'Star medal' of a true general. The pre-independence statesmen that ushered in the republic like Chief Mbazulike Amaechi, and forthright activists like Tanko Yakassai, and Balarabe Musa are alive for their voice and counsel to be heard. The royal fathers, religious leaders, and eminent statesmen must speak out for the glory of the nation to come alive. These persons have a chance to take steps to unite and make our country whole again. On the current election debacle, the judiciary has the opportunity to give Nigeria a quality rebound; this is a historical chance; they should stand and give the system a new lease of life.