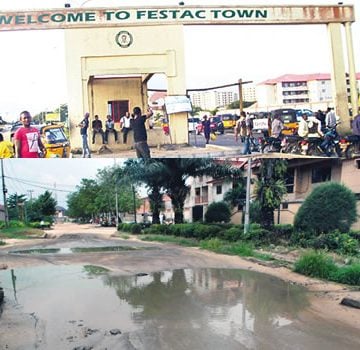 General Overseer of the Signs and Wonders Prayer Ministries Evangelical for All Nations, Lagos, Evangelist Felix Adunpe, has said that Nigeria is still wallowing under demonic powers following hosting of FESTAC '77, insisting that the country needed deliverance from such self-imposed bondage to move forward and not periodic change in government.
Adunpe made this known while speaking with newsmen, contended that it was false to believe or think that periodic change in government could bring desired progress and development to the country, even as the citizenry prepared to elect a new set of leaders, come 2019.
According to the cleric, Nigerians need to come together and pray to God regardless of religious beliefs for the country to be redeemed from the sin of glorifying idols above God.
"We need to come together and pray to God regardless of our religious beliefs if we must move forward as a nation. We have tried both military and civilian governments and yet hope of
the better life for Nigerians remains a mirage.
"Nigeria must be redeemed from sin of glorifying idols above God; we
must pray for the country to be free from all forms of demonic powers troubling the country since 1977 FESTAC," Adunpe said.
The cleric, who disclosed that God directed him to hold an Inter-denominational Crusade, tagged, "Nigeria Must Be Redeemed" and coming up on between April 21 and 27 at Mount Ikoyi (Ori-Oke, Ikoyi), in Isokan Local Government Area of Osun State for liberation of Nigeria, said the country would move forward if all political, traditional, religious and community leaders would join in the fasting and prayer.
Quoting Psalm 127 Verse 1, the cleric said: "Except the Lord builds the house, they labour in vain that build it, except the Lord keep the city, the watchman wakes but in vain.
"We cannot be doing the same thing the same way and expect different results. We should not continue to waste money on elections periodically with false hope; we must go back to God.
"This crusade, as directed by God, is very critical to our moving forward a people, so everybody must participate-the politicians, government officials, the ruling class especially must support it.
"We should leave our comfort zones to join in this prayer programme.
Let's the President, Governors, federal and state lawmakers and others in the corridor of powers join me in praying for this country. We have suffered enough.
"They have to come to Mount Ikoyi where God said we should pray. If all Nigerians will join hands with this fast and prayer, Nigeria's numerous problems are solved according to what God told me.
"If we can leave seven days to call on God and settle our problems spiritually, it is better than our struggling these many years without result," the cleric said.
He said Nigerians must pray for the country to enjoy peace and unity and for removal of all spiritual hindrances against the nation's economic growth, adding, "Nigeria must pray for the eradication of occultism, terrorism and all other social unrest as well as against frustration, internal strives and war.