Nigeria wasn't prepared for the COVID-19 pandemic —Omowumi Okedare, epidemiologist and advocate against IPV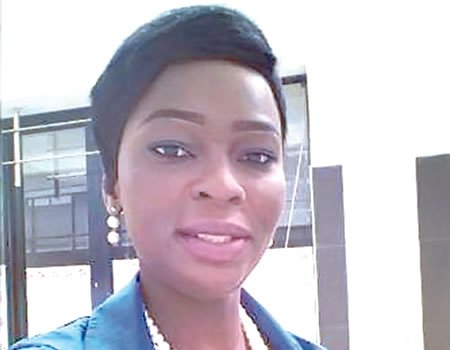 Omowumi Okedare is an epidemiologist, a doctoral student of the Faculty of Public Health of the University of Ibadan, and an advocate against intimate partner violence (IPV). As a researcher, part of her work involves adolescents' and women's health. In this interview by KINGSLEY ALUMONA, she speaks about why she decided to become an epidemiologist, the COVID-19 pandemic in Nigeria, the proposed Infectious Disease Bill and what she would do if she were the Minister of Health.
You studied microbiology for your first degree. Why did you opt for epidemiology in your higher degrees?
I became interested after I took an epidemiology course in my undergraduate days. I started to read about it and ask questions even as an undergraduate. From then, I knew that was what I wanted to do.
Briefly tell us about your doctoral research and its possible contributions to humanity.
The focus of my doctoral research is intimate partner violence (IPV) among young women. Young women are understudied in IPV research, whereas majority of first-experience victimisation occurs in young age. They've similar or worse outcome than older women. Experience of IPV at this age sets them up for more abuse in their future relationship.
Reducing IPV among young women will improve their wellbeing and their children's, increase their productivity and hence their contribution to household income. For the society, it'll reduce economic loss due to IPV. Results from my study will provide baseline information for intervention programme appropriate for young women.
You were a senior programme officer at Lifebuilders. Tell us what Lifebuilders is about and how people are benefiting from it.
Lifebuilders is an Ibadan-based NGO that focuses on promotion of sustainable livelihood issues among young people through health promotion and climate change activities. It organises annual Life Skills and Leadership Training (LSLT) for young people to develop them into responsible adults. Over 30,000 youths from 25 states have been reached through the LSLT. Lifebuilders also create awareness on HIV/AIDS, family planning and wealth creation using Moringa products.
Many people believe that some men are violent because women drive them to do so, and that domestic violence is genetical/biological. What is your take on these assertions?
We're all products of nature and nurture. Violent behaviour is more of nurture. There's no genetic or biological evidence that supports perpetration of domestic violence. Many of today's perpetrators of violence were yesterday's witness. Many men use violence as a means of power and control.
Factors that enhance violent acts include low level of education, low socioeconomic status, poverty, alcohol use and abuse, witness of abuse as a child, societal acceptance and traditional norms.
With the lockdown/stay-at-home, there has been a spike in domestic violence in the country. What do you think government, while battling with the COVID-19 pandemic, could do to address these issues?
Unfortunately, while the lockdown can reduce COVID-19 transmission, it has the potential to increase victimisation. Law enforcement agencies are the most responsible government institution that can help at this time. They should attend promptly and efficiently to all cases of domestic violence reported to them. Government should include domestic-violence response team as essential service providers. In addition, government should support NGOs that provide shelter and care for abused women and children.
It's saddening that many states in Nigeria don't have a gender-based violence response team, and the ones that have aren't effective in this lockdown. After this pandemic is over, government (federal, state and local) should establish functional domestic-violence response centres and shelters.
What four basic professional knowledge should spouses/partners know about, that most do not know, to prevent/reduce domestic violence in their homes and in the society?
Violence doesn't start in a day. The relationship goes through: (1) honeymoon stage—all lovey-dovey, apologies, gifts giving; (2) tension building stage in form of subtle criticism, yelling, talking down on, coercion and anger; (3) outburst stage—attack, threat. Abuse starts from stage 2, but many people don't recognise it; and this culminates in what people recognise in stage 3.
Couples should know that violence isn't only physical (beating, hitting, choking, etc.), but also psychological (humiliation, abuse, threat to beat or harm, controlling behaviours, etc.), sexual (rape) and economic (husband not giving money for family upkeep, collecting partner's earnings, withdrawal of financial support, stopping partner from working, etc.). Recognising the different types and stages of abuse will help to deal with it.
In addition, the consequence of domestic violence isn't borne by the victim alone, but also by the children, family and society. Also, the laws of Nigeria frown at domestic violence. Violence is no longer a family issue, because it affects all of us. Lastly, couples should seek counselling when necessary, individual and joint.
As an epidemiologist, do you think Nigeria was prepared for the COVID-19 pandemic? And, are you satisfied with the way the Ministry of Health and the Nigeria Centre for Disease Control (NCDC) are handling it?
Nigeria, like other countries of the world, wasn't prepared for the COVID-19 pandemic. There was initial disagreement on whether the coronavirus was real or not, whether it was lab-generated or spontaneous. We should also not forget that the virus is novel and there're no established guidelines to follow in its management. Although the NCDC carried out a lot of health education, the messages were misconstrued. Initially, contact tracing, testing, follow up and case management wasn't satisfactory. Also, the citizens haven't helped in curtailing the spread of the virus. Many Nigerians still doubt the existence of COVID-19.
As a research student, had it been that the Academic Staff Union of Universities (ASUU) was not on strike during this pandemic, do you think medical academics would have come up with local research and medical solutions to the virus?
ASUU strike doesn't stop research. Research is an ongoing activity. In spite of the strike, researchers (medical academics, botanists, ethnomedicine, etc.) are working on finding solutions specific to us, using our local herbs and resources. We shouldn't forget that any solution found will have to be subjected to clinical trials before it's approved for use. And, this takes time.
There are assertions that the federal government wants to reopen schools and worship centres. Are you for or against this? And, how long do you think it would take for Nigeria to be free of the pandemic? 
The reason for closing up these places is to prevent local transmission, but people congregate in other places. However, before re-opening schools and worship centres, they must be fumigated. Then, there should be strict compliance with COVID-19 prevention strategies—social distancing, use of face mask, water and soap for hand washing, provision of hand sanitizers. If all these are in place, then the worship centres and schools can be re-opened.
I think the COVID-19 will be around for a long time. Even after flattening the epidemic curve, there'll still be pockets of cases until all contacts with infected persons are traced and tested.
As a public-health advocate and policy influencer, what is your take on the proposed Infectious Disease Bill before the House of Representatives?
The bill is important so that outbreaks/pandemics are better handled. But, stakeholders in the health sector should be involved before passing such bill. Also, the bill should be situated to our local context. The proposed bill has some human rights infringement embedded in it—for example, the provision on vaccination and other prophylaxis. The bill vests too much power in the NCDC DG which doesn't go down well with majority.
If you were the Minister of Health, what would you do to improve the healthcare sector and make it affordable for all Nigerians?
For our healthcare sector, a lot of upgrade in terms of facilities, equipment and personnel will be my goal. For affordability, I believe all Nigerians should participate in the health insurance scheme and I will encourage this by all means.
What do you like doing at your leisure? If you were to go on a tour in a foreign country, which country would that be, and why?
I like to read non-academic books and cook. I sometimes write and do volunteer work. I would love to visit France. I would like to hear French language spoken the French way, visit their fashion stores and enjoy their cuisine.
What advice do you have for young people, especially the female ones, who are aspiring to be like you?
Every young girl must believe she can achieve greatness. They should dream big and work hard. All things are possible to them that believe. In all their getting, they should get educated or learn a skill and have a means of livelihood. Lastly, they must have a mentor.
YOU SHOULD NOT MISS THESE HEADLINES FROM NIGERIAN TRIBUNE
Buy and read digital replicas of your TRIBUNE titles by subscribing through E-VENDING
President Buhari's Full Democracy Day Speech
Fellow Nigerians,The 2020 celebration of Democracy Day marks 21 years of uninterrupted civil administration in our dear country. This day provides us an opportunity to reflect on our journey as a nation, our achievements and struggles.
It is a day to honour our founding fathers who toiled to establish our republic and every Nigerian who has worked tirelessly to sustain it… Read full story
Democracy Day: NADECO lists 12 conditions to unity, peace •Insists on return to federalism
TWENTY-ONE years after it led the struggle that culminated in the restoration of civil rule, the National Democratic Coalition (NADECO) on Thursday declared that Nigeria remained in dire straits. Accordingly, it listed about 12 fundamental conditions, including a return to federalism, coupled with the convocation… Read full story
Governance: Our best not good enough since 1999 —Atiku
EFFORTS by Nigerian leaders to govern the country rightly since 1999 have not been "good enough to improve on the lives of the citizenry and grow the nation in all facets of development needs," former vice president, Alhaji Atiku Abubakar, has said… Read full story
ASUU Challenges FG To Provide Proofs It Saved Money Through IPPIS
The Academic Staff Union of Universities (ASUU) has again challenged the Federal Government to present to the public a verifiable proof that it has saved huge amounts of money through its newly introduced Integrated Personnel and Payroll Information System (IPPIS) for workers… Read full story
Reps Increase 2020 Budget From N10.805trn To N10.810trn
The House of Representatives on Thursday passed a resolution to increase the revised 2020 budget from N10.806 trillion to N10.810 trillion. The resolution was passed after the adoption of a debate on the motion sponsored by the chairman, House Committee on Finance, Hon Abiodun Faleke, who underscored… Read full story
COVID-19: Reject Patients, Have Your License Withdrawn, FG Threatens Medical Doctors
The Federal Government on Thursday threatened to withdraw licenses of medical doctors who deliberately reject and turn back patients from their hospital without attending to them or offering necessary advice on what to do. Describing it as unethical and unacceptable, the Minister of Health, Dr Osagie Ehanire, while speaking… Read full story
Reopen Schools For SS3 Students First, Proprietor Tells FG, WAEC
A school administrator and principal of Adesina College, Ibadan, Mr Adejare Adesina, has advised the Federal Government to liaise with the West African Examination Council (WAEC) and other West African countries that subscribe to the council's examinations to reopen schools for all the Senior… Read full story
COVID-19 Lockdowns Deny 500m Children Access To Education ― IMF
Over 500 million children all over the world have lost access to education as a result of the lockdown occasioned by the COVID-19 pandemic, the International Monetary Fund (IMF) said on Thursday. The IMF Managing Director, Kristalina Georgieva, said in a statement that "More than half a billion children worldwide have… Read full story
Nigeria Is 3rd Worst Country On Child Marriage Index
United Nations Children Fund (UNICEF) has said that with a figure of 3.5 million, Nigeria has the third-highest absolute number of child brides in the world and the 11th highest prevalence rate of child marriage globally. Tribune Online reports that only Bangladesh with 4.4 million and India with 15.5 million child brides are… Read full story
Anxiety Over More Deaths, Rising Cases Of COVID-19 In Nigeria
THE geometric rise in the number of confirmed cases of COVID-19 and the increasing casualties arising from the infection have continued to raise concerns among Nigerians. The deadly virus is still running riot despite concerted efforts to curtail it, crippling many facets of the economy as it passes the first 100 days of… Read full story
Senate Threatens To Issue Warrant Of Arrest On Heads Of MDAs
The Senate has threatened to issue warrants of arrest on some ministries department and agencies of government over failure to appear before it and respond to queries by the Auditor General of the Federation. Tribune Online reports that the threat follows the refusal of the agencies of government to honour the invitation of… Read full story
June 12: A Milestone For Democracy – Tinubu
The election of June 12th 1993 changed Nigeria profoundly. That it would have this deep and positive effect was not always certain. Many people laboured, struggled and sacrificed for democracy. They fought not that we would have democracy day but that Nigeria might exist as a democracy every day. When I say democracy… Read full story
EDITORIAL: Defence Minister's Lamentation
THE Minister of Defence, Bashir Magashi, has lamented that Nigeria's military is too understaffed and underfunded to tackle the various security challenges facing the country. He made this lamentation while briefing journalists after a Federal Executive Council (FEC) meeting where he said he had made a presentation on… Read full story