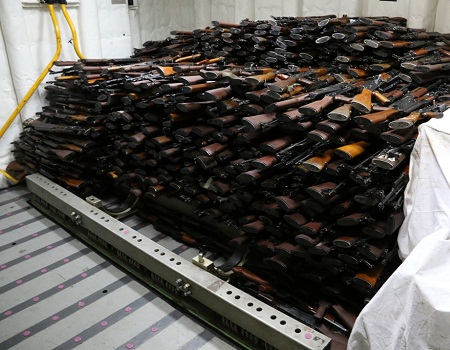 THE Nigerian government and the South African government are currently in discussion over a Russian vessel carrying dangerous weapons to Lagos ports.
Disclosing this to Sunday Tribune, Spokesman of the Nigerian Navy, Commodore Ayo Olugbode stated that contact has already been established with the Nigerian mission in South Africa and investigations is already ongoing.
According to Commodore Olugbode, "Very clearly, a vessel was detained in Port Elizabeth, South Africa, but because of investigations, we cannot really start talking now.
"A lot of investigations is going on now, and we wouldn't want to predicate the investigation by saying anything now. I have some facts, but they are not for public domain. Facts that were gathered not just today."
When asked if the Navy has established any contact with their counterpart in South Africa, the Naval Spokesman explained that "This is not a Navy issue. This is a government to government issue. This goes beyond the Navy.
"There has been intervention on the issue at the level of the Ministry of Foreign Affairs. So you see it is not a Navy issue. It has gone beyond the Navy. The crime was intercepted at a port, not at sea. If it was intercepted at sea, then it would have fallen under the Navy jurisdiction; but it occurred at the ports, so its a government to government discussion.
"The Ministry of Foreign Affairs is currently in discussion with South African authorities. However, we have established contacts too. We have a mission there, and discussions are ongoing. Hopefully, by early next week, we will have clearer details. There is no point making statements when there is nothing yet on ground."
In a separate chat with the Spokesman of the Nigerian Customs Service (NCS), Joseph Attah, the Service said that its officers are well positioned at the seaports to nip in the bud any effort to bring in dangerous shipments into the country.
"Our job is to ensure that any shipment that will harm Nigerians is not allowed into the country. This we have been doing by the numbers of arms and ammunition seizure that we have intercepted in the past. Anything that is harmful, that arrives our shores, we will make sure we seize it," the Customs Spokesman explained exclusively to Sunday Tribune.
It would be recalled that 
South Africa recently detained a Russian ship laden with weapons and allegedly bound for Lagos, Nigeria. The vessel said to have left Madagascar was stopped near Port Elizabeth in South Africa ' s Eastern Cape Province.
"We are aware that she has dangerous cargoes – explosives and weapons – on board, " Olwethu Mdabula, spokeswoman for the Transnet state transport company told AFP, declining to give further details.
"This is a very, very sensitive matter. It is receiving attention, " spokesman for the Hawks police investigative unit, Brigadier Hangwani Mulaudzi, told the news agency, confirming the vessel was carrying weapons. The discovery of the ship said to have been stacked with " weapons and explosives worth about $ 3. 5m in 20 containers" followed an anonymous tip-off.