N22bn benefit: Tragic as former Nigeria Airways worker died at venue for payment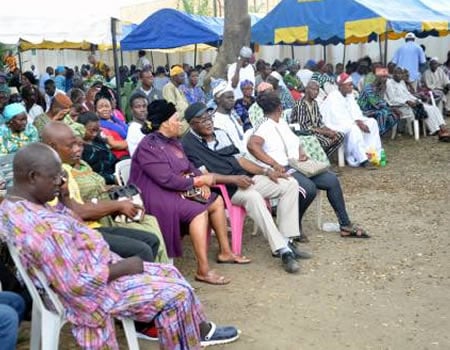 One of the former workers of the defunct Nigeria Airways who attended the ongoing verification exercise preceding the payment of their N22 billion final settlement expected to commence today, Wednesday gave up the ghost while at the premises for the exercise.
The deceased who was brought to the verification centre in an ambulance from an undisclosed hospital passed away shortly as he was not able to undergo his verification before he passed on and his corpse was hurriedly taken in the same ambulance to possibly the mortuary.
Besides the death of the man, also around for the exercise were very elderly men, women very sick men.
Some of them were wheeled to the place while others came in crutches even as their situations were not helped as the whole exercise was rowdy with many of them proceeding from the first point of checking their names.
After that, they were asked to proceed to the second stage which was to get a long form in which they were asked to fill their bio-data and other information required of them.
The third stage is the data capture area where their entitlements are spelt out and computed for final payment.
ALSO READ: Still thinking of ex-workers of Nigeria Airways
Over 1,000 out of the 5, 968 workers of the defunct Nigeria Airways, however, may start receiving their severance benefits from today, Wednesday fifteen years after the airline was liquidated.
This is coming following the verification exercise which the Presidential Initial on Continuous Audit (PICA) commenced on Monday and expected to end next week Monday.
The verifications are expected to end October 22, 2018.
According to the Chairman of Aviation Union Grand Alliance (AUGA) former Nigeria Airways branch, Mr Lookman Animashaun, 1, 000 of the ex-workers turn up each day for verification exercise just as the situation is fraught with logistic problems.
He disclosed that the government had concluded plans to pay them 50 per cent of the entire entitlement, stressing that the other 50 per cent would be paid in the next six months.