My experience as Spiritual Leader —Apostle Omoregie
Apostle Wilfred Omoregie, is the spiritual Leader of the St. Joseph's Chosen of God. He took over from the former Director General of the Nigeria Stock Exchange (NSE), Apostle Hayford Alile who died in 2018. In this interview with HENDRIX OLIOMOGBE, the cleric spoke on the sidelines of the recent 59th biannual conference of the church held in Benin, Edo State relating his experience since he took over the mantle of leadership of the church, among others.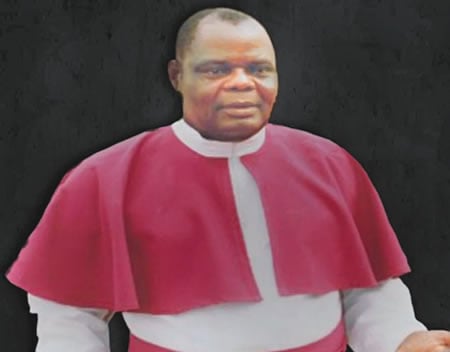 How have you been able to confront some of the major challenges facing the church?
Looking back in retrospect, even with my eyes closed, I can vividly recall where we were as a church some years back, the major challenges that confronted us, the pressure we were subjected to, the battle for acceptance and establishment; in a nutshell our humble beginning is remarkable, but when juxtaposed with the grounds we have covered so far and chains of successes recorded in such a short space of time, it is evident that it is not by power nor by might but by the Spirit of God. It is the Lord's doing and it is marvelous in our sights. It is with this breath and joy unspeakable I raise the curtain for the commencement of our historic Church Conference 2020 with the theme: "The Covenant".
How has it been in the last 73 years since it was founded?
Having been around as a ministry for 73 years, it became imperative that at this point in our history, we undertake a reality check on our organisation by re-evaluating our modus operandi and modus Vivendi. It is evident that when growth stops, decay begins. Today, there remained a need to preserve our relevance in this dispensation and retain our place of pride in the league of Churches. It is crystal clear that a lot of energies and rugged determination must be channeled towards achieving and retaining our brand of Christianity.  In order to have more inclusiveness in governance and to ease the stress of administering a church of this magnitude and grace, the directorate model of administration was adopted. Today, we have three major directorates operating from different fronts. They include: Ecclesiastic, headed by Apostle S.N Ogb; Education, by Apostle Joseph Jacobson and Administration by Apostle S.N Obasuyi. In addition, we have a new secretary general in person of Staff Pastor David C. Eleogu while Staff Pastor Victor Mukwuzi continues as the Personal Assistant to the Spiritual Leader. This team has been working since the inception of this administration and the grace of God has been the sustaining power. It is an indisputable fact that there is nothing more difficult to take in hand, more perilous to conduct or more uncertain in its success than to take the lead in the introduction of a new order of things, and this I have done.
How about the role of women in the church leadership?
I undertook a major review on our pulpits by strategically reassigning our women in ministry into the evangelical fold. This development consequently, excused them from the Altar. Their new evangelical portfolio which was operational for a year relapsed only recently with all their benefits and entitlement intact prior to their relief. Let me also seize this opportunity to commend the stewardship of our women while the pulpit engagement lasted, especially, their rugged determination and righteous enthusiasm to do the work of their father. The importance of women not only in nation building and home management but also in propagating the gospel of our lord and saviour, Jesus Christ, can never be overemphasised. From biblical times, women have played pivotal roles in establishing the Kingdom of God right here on earth, and the women of St. Joseph's Chosen Church of God, just like those matriarchs and mothers and daughters of destiny have contributed in no little way in the making  of our church.
What major projects has the church witnessed recently?
I have constituted various committees to look into some ongoing major projects of the church such as the International Conference Centre in Sapele, City Centre Cathedral, Abuja etc. Others to be given detailed attention as we settle down includes: Obadan University, Women Development Centre, Printing Press etc. Details on these and others will be presented during the Report of Ministries, Fellowships and the Secretary General's presentation.
Still on projects and facility management I will like to use this medium to solicit the support of our membership especially those with technical and professional acumen to partner with the church by making themselves available for the work of God. We have never been in lack of gifted people both spiritually and otherwise. So, we want to harness our spiritual, technical and professional resources towards taking the church to greater heights.
What informed the theme of the conference?
"The Covenant" is retrospection into where we are coming from, taking us back to our foundation, and the basic tenets of our faith and a bold reminder of those things that make us unique as a body of believers, a total evaluation of our journey so far. Although, the past we have had a Conference with a similar theme, but we cannot and never be tired of talking about that word covenant not when we are at the threshold of entering into the third dimension of leadership; covenant is what we are and that is who we are, a covenant people. Everything about St. Joseph's is covenant based. We are a product of covenant and we are sustained by covenant. Covenant is the sum total of God's commitment to an understanding with humanity. If we must attain the height God has destined us to be, fulfill our divine mandate as a people then we have to adhere strictly to the spirit, the dictates and tenets of our understanding with God which was encapsulated in these few words "Whatever I ask you to do, do it, and whatever you ask me to do, I shall do it". Faithfulness is God's requirement, and fruitfulness is His reward. Our God is a God of covenant and a covenant keeping God. It is the policy thrust of this administration to follow through to the covenant we have with God, harvest and harness the full benefit in the package. Just like the recently concluded Pre-Conference Ministers' Summit for 2020 we sourced for instructors from within. It is worthy of note and commendable that, the church is blessed with sound and anointed resource persons. Teachings on the covenant have been dissected into sub topics in order to drive home different dimensions to different target audience. In all, the essence is for the church to have full grasp of the dictates of the covenant, and reap the full benefits of obedience to the will of God.