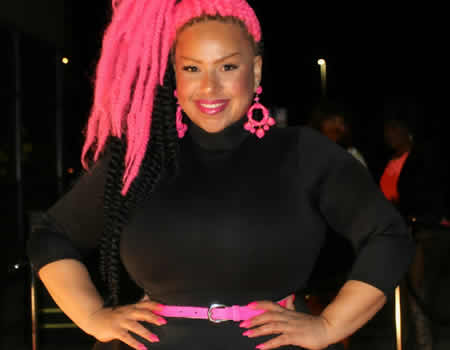 Afro-Caribbean-Latina artiste-cum-actress, Karina Theresa Martinez, (a.k.a Miss-K), has announced her official return to showbiz in a grand style.
Miss-K, who is also a model, was the focus of one of the VIPs that graced the premiere of a movie entitled: Just one Blood.
The event, held at the eve of the royal wedding in London, had in attendance popular Nollywood actors, who were also the brains behind the movie. The  list comprised the movie director, Teco Benson featuring other Nollywood icon, Zack Orji and Actor Mofe Duncan; Honourbale Desmond Elliott; President Producers Guild of UK, Malcom Benson, and CANUK Chairman Dr Boma Douglas and his wife, among others.
ALSO READ: Korede Bello, DJ Turbo D set for new single
Miss-K stole the show at the red carpet of the event, marking the return of her two-year break, while she excited everyone with her elegant outfit.
Miss-K unveiled the cover of her up-coming book, entitled: Powerful Beauty: Breaking barriers with Kurls, Kurves and Konfidence, that marked the United Nations International book & copyright day. The book is to be release later in the summer.