Miss African Roots will deepen the conversation about African heritage in America —Makita
Cindy Makita is the crown queen of the 2019 Miss African Roots cultural pageant, which took place in Miami, Florida, United States of America recently. In this interview, she speaks with Newton-Ray Ukwuoma about some of the moments and her goals for African women and girls among others. Excerpts: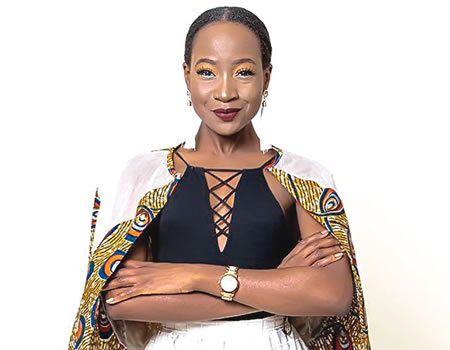 How does winning an African pageant in the USA makes you feel?
It makes me feel I have more to deliver. This is more than a title for me; it is a platform. It is a platform I intend to use to make an impact in the world.  The title is lovely, but there is a lot of weight behind it.
Before we talk about the impact you want to make, tell us how Miss African Roots cultural pageant directly impacts on the question of identity in the USA with your own experience?
I think being born and raised in South Africa, even though I am  Congolese and relocated  to the United States five years ago; I would say my identity is basically African (no doubts). And I am proudly African. But I know that many years ago,  being proud of Africa didn't use to be a privileged thing in the United States. I have friends who are African Americans who tell me the struggle of being African in America.
There was definitely a disconnect between African Americans, Africans from the continent and people of African descent. There is now a sense of unity among these sets of Africans; people are beginning to take up their heritage. This is why being Miss African Roots ambassador, I am able not only to embrace my roots which is Congolese, but also I am able to inspire some of Africans living here in the United States to continue to embrace where they are from.. I believe this pageant is going to inspire the next generation to connect with the continent and become authentically African.
You represented DR Congo. What other countries were represented in this cultural pageant?
We had contestants for Jamaica, Haiti, United States of America (African America), Nigeria, Ghana, Congo, which is me, among others. But the competition is not limited to these countries. As long as you are of African descent, from the Caribbean, the Bahamas, The Haitians, the Brazilians living in the United States of America, you are qualified to participate.
Do you foresee any new narrative coming out of this cultural pageant about Africa and people of African descent in the United States and around the world?
It is a great way to attempt to connect people from different African nations and different African heritage in the United States. Events like this enable people to showcase where their specific African identity, their cultures, their histories. It also enables young women to educate other people about Africa and to showcase their talents. I believe what it would do is to provide a platform or an outlet for many Africans in the United States who are looking for their roots.
How did you win?
I saw the pageant as a golden opportunity to amplify my purpose, which is to empower women and girls. I went into this competition expecting to do my best and expecting God to do the rest of it. I knew it would be an amazing  journey and I really focused on the journey. It was not easy. There were periods of stress and fatigue. And a lot of hard work went behind the final product, which was the grand finale. I think focusing on and enjoying the journey really helped me take the much I could; I learnt a lot about myself, also.
What if you didn't win?
I went into the competition with the confidence that I would win, but if I didn't win I also would have had the courage to admit that the right person won. And I would have found  joy in knowing that at least, I represented my country (The Democratic Republic of Congo), I would have also used the platform to amplify my purpose. My focus was on the journey and I really enjoyed it. Putting in the hard work, making sure I gained as much as I could and representing the Republic of Congo and rallying support for the cause which is to empower women and girls in Congo helped me to the end.
As part of your talent presentation, you made a speech about the role of Nelson Mandela in Africa; you spoke on women and a solo cultural dance. Do you think a variety of talent exhibition contributed to your overall success?
I think the diversity of my presentation probably gave me more points. As you mentioned, I did a speech, I did a spoken word piece and went into a dance. I wanted to showcase my strong points; I also tried to exude confidence in everything I did. I had practiced my introductory speech; I practiced the question and answers, with lots of rehearsals I was confident that I would deliver to the best of my ability. I think the preparation that went behind it was my strongest winning trick.
Now, what are your plans going forward?
Like I mentioned earlier, the Miss African Roots platform is going to give me the opportunity to amplify the cause for women and girls globally and specifically in the Democratic Republic of Congo. I want to make sure women and girls in DRC are free from violence, that they have equal rights that they are equal access to education and healthcare; that women and girls have equal opportunities to fulfill their greatest potential and that women and girls can live free.
Beside the car and the cash prizes, the Royal Air Maroc will be flying you to any country of your choice. Which country have you chosen to go to?
I will be going to the Democratic Republic of Congo, but I would like to stop at Nigeria. Nigeria is one of the places on my list to visit.
Why do you want to come to Nigeria?
Some of my favourite artistes are from Nigeria.
You teach Afrobeats dance in the US.
Yes, the African beat has become more popular, more modernised that everyone is loving it. It is like a new genre in the United States.
What role does dance play in entertainment?
Dance is a language. It brings people together. Although, there are different cultures, regions, beliefs, everyone can connect with dance. It is a language of unity and joy. People dance when they are happy, people dance at weddings and parties. It can be enjoyed by people of different regions and stripes. The fact that dance is also a huge part of the African culture that is what amplifies it in society. You see a lot of Afrobeats artistes when they come out with a song, they also come out with a dance for their songs and get people to do it. This is because dance is a universal language, because if Afrobeats artistes can get people to dance to their music, they will love their songs. That is how it goes. Dance is impactful because it brings people together. No matter where you come from you can learn any dance.
Which Afrobeats dance is popular now?
I think it is Shaku Shaku. I am not good with the name, but I know how to do it. The dance is cool.
As a trainer, do you also have non-Africans as trainees?
Yes, I have a few.  Not as many, but I have had non-black people coming for my training.
Do you know the originator of shaku shaku?
I don't.
Do you know which country it is from?
I would say Nigeria.
How many Nigerian artistes are you familiar with?
I know Psquare (are they back together?)  I know Burna Boy, Davido, Wizkid, Maleek Berry, Tiwa Savage, Mr Eazi and Patoranking. (I like him a lot.) I have actually worked with him before.
In the US?
No, not in the US. At the MTV Music Awards in South Africa, 2016 or 2017. I was one of his dancers.
How did it happen?
I used to dance professionally in South Africa before I moved to the US. One of the gigs I got was to at the MAMA (The MTV Africa Music Awards).  I was in the industry when I got a call  and I was asked if I wanted to dance for the artistes at the MAMA, I accepted and we danced for him and Yemi Alade.
You asked earlier if Psquare was back together. They are not together. But will you be happy if they are together?
Of course, because they are among the first Nigerian artistes I knew that had this different sound.  I was used to listening to Congolese music, until I discovered Psquare. The music kind of opened me up to other Nigerian artistes. I was in South Africa at the time. And I used to listen to other South African and Congolese music, until Psquare happened on me. If knew they would be back together I would totally love it.
How did you feel when you heard they were not together?
I was disappointed because they were the first artistes that introduced me to a new African music that was different from what I was listening to.
You talked about going to Congo on a sponsored trip with Royal Air Maroc. Shed more light on why you chose the country?
There is an urgent call for action. Here is some statistics: one in three women has access to work, most of which is informal. 43 per cent of girls under the age of 18 are forced into early child marriage. And when they go into these marriages it means they will not go to school, they will not work. In Congo, there is a high percent of young out of school girls than anywhere else in Africa. This is a big problem. Four in ten girls go to school and of the four girls fifty percent of them do not make it to high school. On top of that Congo has an ongoing violence and war. Sexual violence is used as a weapon of war. Another issue is mining. People that are forced to mine coal tar metal are mostly young people, mostly women. The mining industry, which US and the UK, is benefiting from force children to work. I want to work with the local authorities to see how we can ensure that women and girls live free in DR Congo first and the rest of the world.
 When was the last time you went to Congo?
When I was little, before the age of three, when we went on a trip. So, Miss African Roots pageant, Royal Air Maroc and, the organizer, Mr Murphy Folorunsho are giving me the opportunity to go to a nation that is close to my heart because this is where I have many family members. I am very excited that this trip will give me the opportunity to not only see my family, but also to make a difference.