Mabel Segun: Celebrating a productive, eventful life of service
Writer, teacher, broadcaster, sportswoman and multiple award winner, Mabel Segun, who clocked 90 on Tuesday has lived a principled and impactful life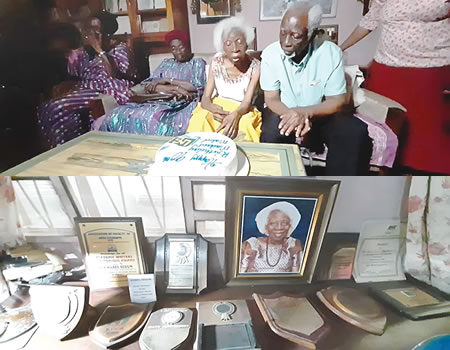 THERE was a big do at Terra Kulture, Victoria Island, Lagos 10 years ago when the matriarch of children's literature, Mabel Segun clocked 80. The birthday celebration featured students, writers, family members and fellow octogenarians, with riveting performances, tributes and readings. It featured eminences and upcoming members of the arts and culture family.
The late culture patron, Chief Rasheed Gbadamosi, who chaired the occasion, Professor Akachi Adimora Ezeigbo, joint winner of 2007 The Nigeria Prize for Literature with Segun, Odia Ofeimun, Kunle Ajibade and Paul Adefarasin of the House on The Rock Church, were all present to celebrate with her. There were also writers Mobolaji Adenubi, Jumoke Verissimo, Dr Bimbola Silva, mother to popular actress Joke Silva, and Yeni Kuti, ex-wife of Segun's son, Femi.
On Tuesday, February 18, when the writer, broadcaster, sportswoman and educationist, clocked 90, there wasn't an elaborate celebration like that of 10 years ago. This time, it was only close family members and some journalists that shared in the joy of the occasion with her in her Lagos home. But the low-key celebration was understandable. Mama was still convalescing from a diarrhoea incident some days previously and was a bit weak.
But though she was still recovering, Mama shared her life's story with the journalists, showing that her famous wit and sense of justice, had not deserted her. She lamented the low quality of formal education and lack of necessary infrastructure like power has affected the reading and writing culture. The thorough Editor and publisher didn't fail to express concern on the spate of vanity publishing and how publishers now shy away from being responsible for the production and distribution of books.
"We are living in the most unnatural condition. In the olden days, we wrote with oil lamps. But we have gone back to it now. I told my daughter that I wished we had not given away our oil lamps. We had about six of them in the kitchen, taking up space. It's a pity. Why are we not progressing? Why can't we have a proper electric power supply? The authorities don't know that this affects the attitude of young people to reading," she said.
On her preference for children's literature, she said: "When you write children's literature, you write for different ages. You have to know children and study their psychology; I can't write for teenagers. I don't know them. The reason Cyprian Ekwensi could write for children was that he could talk to children."
Though age has now slowed her down, the daughter of Isaiah Aigbovbiose Imoukhuede from Sabon-Gida Ora, Edo State has lived a productive, eventful and impactful life. She has touched generations of people, travelled the world and never compromised her principles. A keen sportswoman and lover of a healthy diet, the setback of her father's early demise didn't hold Mama back. After elementary and secondary education at schools including St Peter's School, Edunabon, Akoko Jubilee Central School, Ikare, St Paul's School, Ikole and St David's School, Akure, and CMS Girls' School, Lagos, she gained admission into the University College, Ibadan (UCI) in 1949, a year after its founding.
She graduated with a Bachelor of Arts Degree in English, Latin and History in 1953. It was at the UCI that she first started displaying her competencies as a writer and sportswoman. She attended the university with titans including the late Professor Chinua Achebe, late Professor Chukwuemeka Ike, the late Bola Ige, Professor Grace Alele Williams, Professor Akin Mabogunje and later Professor Wole Soyinka.
She was a close ally of her classmate, Professor Achebe. While he was Editor of the pioneer students magazine, 'University Herald', she was Deputy Editor/ Advertisement Manager. Apart from co-editing, Mama, whose brother, Frank Aig-Imoukhede, is also a writer, contributed poems, short stories and articles to the magazine. Her 'The Surrender', which she wrote in her final year, won the maiden Nigerian Festival of the Arts Literature Prize in 1954.
Mama also excelled in sports. She holds the record of being the first woman to play table tennis at the UCI. Segun became an honorary male by entering for Men's Singles tournaments and was awarded the University's Table Tennis Half Colour. She proceeded to win more laurels on the national scene. She would later chronicle her experiences in 'Ping Pong: Twenty-five Years of Table Tennis' (1989).
Her preference for speaking truth to power, lively disputations and impatience with fools, is legendary. Odia Ofeimun, one of her favourite intellectual jousting partners, commented on this at her 80th birthday. "Mabel Segun may be 80, but she ought to know that we won't stop quarrelling with her because of that. If we are no longer able to quarrel with Mabel Segun and she's no longer able to quarrel with us, what kind of Mabel Segun would that be? One great thing about this great woman is that she picked the way she was going to live, and she was not afraid to stand by it."
However, that impatience with fools and thoroughness has served her in good stead in an illustrious career that spanned teaching, broadcasting, writing, publishing and foreign service.
She is the author of the famous autobiography, 'My Father's Daughter' (1965) and its sequel, 'My Mother's Daughter' (1986). Her other works include 'Youth Day Parade', 'Olu and the Broken Statue', 'Sorry, No Vacancy', 'Conflict and Other Poems', 'The First Corn', 'The Twins and the Tree Spirits', 'The Surrender and Other Stories', 'Readers' Theatre: Twelve Plays for Young People' and 'Rhapsody: A Celebration of Nigerian Cooking and Food Culture.'
Her stories and poems have been published in over 30 anthologies in Nigeria and abroad. They have been translated into German, Danish, Norwegian, Greek and Serbo Croat.
In 2007, Mama Segun's 'Readers' Theatre: Twelve Plays for Young People' jointly won the highly coveted The Nigeria Prize for Literature sponsored by Nigeria LNG with Professor Akachi Ezeigbo's 'My Cousin Sammy'.
In 2009, her illustrious literary was recognised with the conferment of the Nigerian National Order of Merit for academic excellence in the humanities.
Outside writing, she was Hansard Editor to the Western Nigeria Legislature;
Overseas Publicity and Features Officer, Western Region Information Service; Head of Information, Publications and Broadcasting, Federal Ministry of Education; Pioneer secretary to the Nigerian Book Development Council; Deputy Permanent Delegate and Acting Permanent Delegate of Nigeria to UNESCO, Paris; Chief Federal Inspector of Education; Senior Research Fellow, Institute of African Studies, University of Ibadan and Editor African Notes and other Institute publications.
Though she retired from the University of Ibadan in 1989, Mama has remained active. She established the Children's Literature Documentation and Research Centre in Ibadan facilitated workshops for writers and also read for children in schools. She also speaks occasionally at literary events.
Notwithstanding her frailty, Mama's mind remains analytical, and her recall is prodigious. Long may she live.