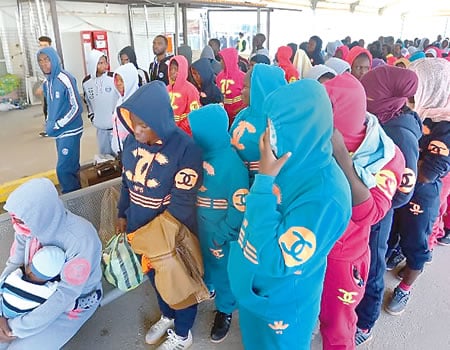 A returnee from Libya, of Oyo state origin, simply known as Oluwatobi, recounted his ordeal, at state Secretariat, Ibadan, as Governor Abiola Ajimobi received 11 Libyan returnees of Oyo state citizenship on Monday.
Oluwatobi, who spoke on behalf of ten others, comprising six females and 10 males, decried that many parents in Nigeria were being lied to about the whereabouts of their children or wards or ripped of cash whereas those children had died on their journey to Europe through the desert.
According to Oluwatobi, an Accountancy graduate, many of them subscribed to going to Europe due to their inability to get a job in Nigeria.
While noting collaborations between Nigerians and some Arabs on the continued export of Nigerians through Libya, Oluwatobi said he parted with N430,000 under the guise that their journey to Europe by land would be easier.
"We were told that the journey to Europe will be easier by land and I paid a woman N430,000. My journey through Sahara desert was tedious. About 50 persons are packed into a Hilux vehicle. Throughout the journey, many faint and others die.
"Thousands and millions die in the desert. They spray the Hilux with guns if he fails to stop because the driver knows that what he is doing is illegal.
"In a part of Libya, most people are kidnapped because most times those who you paid to in Nigeria failed to pay your transport fare in full. They put you in a separate place where you are tortured and starved. You are given a phone and asked to call your family home to ask them to send some money.
"Apart from the money we paid in Nigeria, you call your people in Nigeria to pay millions. When the person dies, they call the person's family and say the person's son or daughter is in Europe. This is a lie.
"I have HND in Accountancy. I got a contract job with a bank for four months but the job was not renewed. My efforts to be a man proved abortive so what else can I do? I have big dreams so that was what prompted me to see to want to go to Europe.
 "My plan is to be strong again and I hope government helps with a job. I am here with my certificate. But you know sometimes, it is hard to get up. Many fail to help you, they tell you to go to the street and be a man. You think it is easy? I hustled to get that certificate and you expect me to learn a trade. I hustled to get tuition fees. Since I graduated, I have been struggling to get a job. If I got a stable job, I will not have to go to Europe," Oluwatobi said.
While receiving the returnees, Ajimobi assured that the state government will ensure that the Oyo indigenes are helped to return to their homes.
Ajimobi, represented by his deputy, Mr Moses Adeyemo, however, harped on the need for Nigerian youths to go beyond getting academic qualifications to being equipped with some handiwork.
"We thank the federal government for bringing them back from Libya to Nigeria. Oyo state has taken it upon itself to ensure that all Oyo indigenes brought from Libya to Nigeria are brought to the Secretariat and sent back to their various houses.
"Youths must learn some trade or handiwork outside their certificates. The most important thing is for us to make sure our wards learn some trade outside their academics. Our youths should not totally rely on getting white collar jobs.
"Nowadays, to get a bricklayer, you have to go to the Benin Republic. Our boys are not learning anything anymore and have left it to foreigners to take over. This is a time that everyone must be entrepreneurially minded," Ajimobi said.
Speaking, Secretary, Oyo State Emergency Management Agency, (OYSEMA) Mr Akin Makinde said the agency had been charged by the state government to help resettle the returnees.
This is as he said that eight Oyo indigenes were among a batch of Libyan returnees that had just arrived Nigeria.