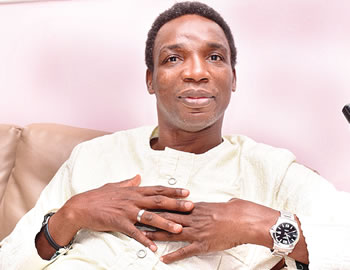 A chieftain of Lagos State chapter of Peoples Democratic Party (PDP), Otunba Segun Adewale (Aeroland), on Friday announced his withdrawal from the chairmanship race in the state, based on planned harmonization arrangement currently embarked upon by the State Caretaker Committee of the party, which he insisted amounted to imposition of choice candidates by party elders.
Adewale had earlier announced his ambition to become the party chairman, promising to ensure victory for PDP in the state, come 2019.
"I hereby withdraw my interest in the party chairmanship in Lagos. My supporters and I will not be part of a predetermined congress which will culminate into another round of lost elections. We are interested in a victorious PDP not a party that is devastated by imposition and overbearing influences of a few elders," he said.
The party chieftain, while announcing his withdrawal from the race in a statement made available to newsmen, describing the planned harmonization arrangement as anti-democratic, called on the PDP National Caretaker Committee Chairman, Senator Ahmed Makarfi, to urgently call elders of the party in Lagos and the State Caretaker Committee members to order.
While also saying the planned harmonization was against the party's constitution and interest of grassroots members of the party, Adewale contended that the call to the PDP leadership was also not for selfish reasons or out of disrespect to party elders in the state, but to ensure a viable PDP in Lagos, declaring that the attitude of imposing men in their 80s as local government delegates in the state had never yielded any good result.
"We appreciate the efforts of our National Caretaker Chairman towards ensuring peace in the South West. However, I wish to call his attention to ongoing plans by caretaker committee members in Lagos to flout his instruction for an elective congress. We can't afford another round of crisis in Lagos.
"This call to the National Caretaker Chairman is not for selfish reasons but to ensure a viable PDP in Lagos. It is also not out of disrespect to our elders but a call to consider a change in strategy," he said.
Adewale warned that any arrangement contrary to an elective congress in Lagos was another step into crisis and failure, declaring that the party cannot continue to approach elections in the state with same attitude and expect a different result.
"We can't continue to approach elections in Lagos with the same attitude and expect a different result. Since 1999, our elders have always appointed their cronies into party offices against the wishes of grassroots members. This accounts for our perpetual loss at the polls," Adewale said.
"If the National Caretaker Committee refuses our plea for justice and equity in Lagos, we will be left with no option than to step aside for the elders to run the party affairs. We will return in 2023 to rebrand whatever is left of the PDP in Lagos," Adewale submitted.
Speaking Adewale, who said he was a victim of harmonization by party elders, recounted his experience during the 2015 Senatorial election.
According to him, "My victory at the polls in 2015 was frustrated due to the aftermath of this same harmonization of party positions. A number of those selected by harmonization abandoned their duties on the election day, allowing the opposition to perpetrate their rigging plans.
"Harmonization simply encourages a weaker group headed by a privileged party leader to usurp all positions at the detriment of stronger ones and prevent even spread of party influence. The same elders that selected those individuals who sold us out during 2015 General Elections are again saddled with the responsibility of appointing their cronies." Adewale said.
The PDP chieftain said though he could lobby his way on the harmonized list, yet he had chosen to stand on the side of justice, assuring that he would not be part of those seeking political party positions at the detriment of grassroots members.