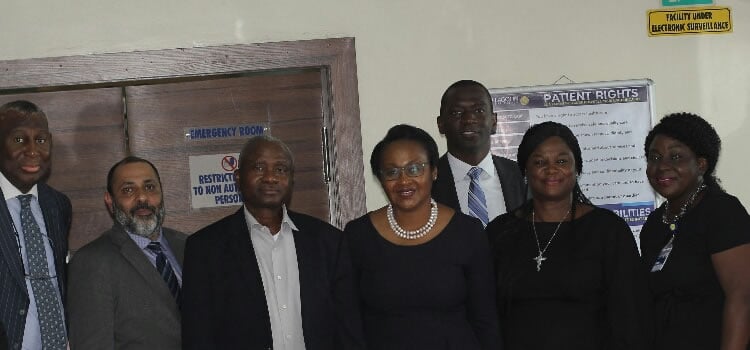 The Ikeja branch of Nigeria's leading healthcare facility, Lagoon Hospitals, was recently commissioned by the Lagos State Commissioner of Health, Dr Jide Idris, having been newly upgraded.
According to 

Mr. Rajeev Bhandari, the Chief Executive Officer, Lagoon Hospitals

, the expansion, which included an increase of the 22 bedded facility to 40, the widening of the Sick Baby Care Unit to a 7-bedded Unit with facility for CPAP, a new Orthopaedic and Physiotherapy suite with improved facilities, a new Health Assessment Clinic with state-of-the-art equipment with facilities for Mammogram Services, Exercise Stress Testing, Spirometry, Digital X-Ray, was part of concerted efforts of the hospital to stem the tide of medical tourism by providing international standard healthcare facility and experience to Nigerians.
Citing the statistical trends of medical tourism, Bhandari who was represented by the Chairman of Hygeia Nigeria Limited, Max Coppoolse, said that restoring public faith in the healthcare delivery system was integral to reversing the trends.   
Speaking to

Saturday

Tribune, he said, "The new improvements mean we can continue providing modern, high quality care, while focusing on enhancing patients' comfort, and dignity.
"The improved the quality of service and infrastructure will affect immediate and future perception of healthcare delivery system in the years to come. This is a step towards our journey and commitment to provide healthcare of international standards.
Dr. Jide Idris, who unveiled the upgraded facility commended the hospital for its efforts.
Part of the upgrade to the Ikeja facility also included a newly built ultra-modern theatre with increased capacity for more surgeries, such as laparoscopy, gastroscopy, colonoscopy and urological procedures was part of the changes in the hospital as well as
 an improvement in in-house staffing with the employment of an
 in-house Neurologist, a Neurosurgeon, Urologist and a Nephrologist.