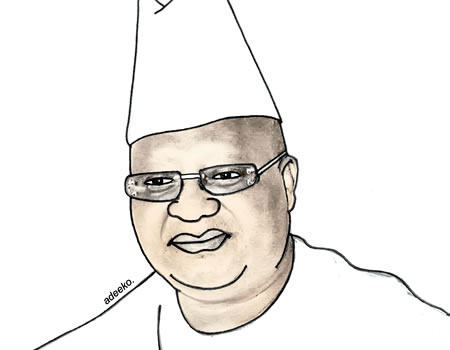 WHETHER by a combination of diabolical means or natural consequence,  a year ago today, on April 23, 2018  His Excellency, Senator Isiaka Adeleke, paid the supreme price. So much has since been written about him that one would think enough is enough. But he is not one to be forgotten so soon or wished away so quickly.  The history of Adeleke is the history of Osun State. His political detractors would have thought his demise is the end all and end all. But being the politician with antecedent and a solid political structure as he was, Adeleke is as potent in death as in life. For a starter, the historic Osun West Senatorial election that brought his younger brother into the main political limelight as a PDP Senator within a short space of change over from APC into PDP was a show of public discontent for the discerning mind.
The history of Osun State is interwoven with the history of the Adelekes. The progenitor of the Adelekes, High Chief Ayoola Adeleke, the Balogun of Ede, who was himself the first Senator of Osun West, was in the forefront of the struggle for the creation of Osun State and nearly lost his life in the process. Until Mr. Rauf Aregbesola now Gov. Aregbesola came from Lagos to contest the political space with sitting Governor Olagunsoye Oyinlola, a prince of Okuku, and pushed him out of Office through litigation, he was not well known. And the relationship between Adeleke and Aregbesola could be described as very cordial until the people of Osun State, especially the civil servants, market men and women, and farmers made an overture to Adeleke to come and help them by showing interest in governing the state once again.
ALSO READ: 3 dead, 6 injured in Abuja auto crash
As the first executive governor of Osun State, he wrote off the one-month salary advance paid the workers when they left Oyo State at the creation of Osun State. Furthermore, he did not owe the workers a dime throughout the duration of his tenure. The economy in Osun State at the time was buoyant. The Adelekes have a number of companies and a fairly large number of workers. They know the importance of workers, and they believe a labourer's sweat must not dry before getting paid, in other words, a worker is entitled to his wage as at when due. That was the philosophy that Adeleke brought into governance as the first Executive Governor of Osun State. So much has been written about his large heartedness and kindness to whoever came his way. He was one politician who was always available to all who came his way whether in his house, in his office, on the road, at any social gathering wherever and whenever.
He was considerate and gave freely. He did not have to know you to extend his milk of human kindness to you. By his actions and utterances and disposition, he wrote beautiful stories and history about his family and himself. Towards the end of Gov. Oyinlola's tenure, they became close. What later brought the duo closer till he breathed his last was their membership of APC. The rest is now history. Fact is that Adeleke never contested any election and lost except he was rigged out. Some of the perpetrators of the Abuja act against him are still alive today and are aware of this. Some of them did not live to enjoy the fruits of their act. Some of them still alive today are living in the shadows of their former selves.
Adeleke, an iconic  impresario in his 22  months in office, concentrated on road construction, rural electrification, rehabilitation of dilapidated school buildings and workers welfare. He also built a five-star hotel which would have been his unique legacy near the state secretariat, Abere which was almost completed but which was demolished to make way for a golf course. What his political opponents failed to do or found impossible to do was to erase the fact that he was the first executive governor of Osun State. History would always accord him that pride of place. Had time allowed him, he would have lived his vision of bringing succour to the people of Osun State as their governor. The liberation of Osun West Senatorial District will be incomplete and meaningless if the whole of Osun State is not liberated.  Lovers of Senator Adeleke, CON, who like to keep his memory alive will be helping themselves out of political oppression and bondage if they vote en masse for Senator Nurudeen Adeleke in the forthcoming governorship election to enable him effect the vision of Senator Isiaka Adeleke, CON, for Osun State.
Had time permitted him, he would have won the forthcoming governorship election and would have brought into governance non-discrimination, large-heartedness, free-giving spirit, forgiveness, fairness, and equity which are the hallmarks of the Adeleke family as he exhibited to workers during his first tenure as governor. "Count no mortal happy till he has passed the final limit of his life secure from pain."(Sophocles) Senator Isiaka Adeleke, CON, is at peace with his Creator. He can no longer feel the pain or hardship of this wicked world any further. The glamorous and respectful senator carved a niche for himself and left indelible imprints on the sands of time which any foe cannot obliterate. He lives on in the political space of Osun State and Nigeria as a whole. May his gentle soul continue to rest in peace.
Ojo, a media consultant, writes in from Ibadan