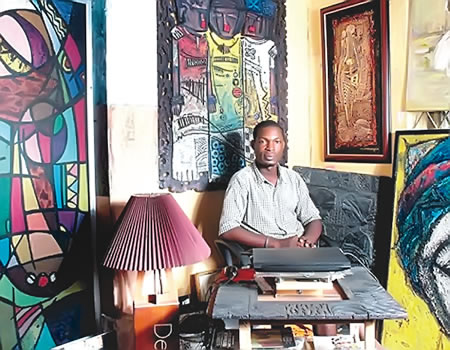 Mix media is a new dimension in art which involves the use of materials which mostly are seen as waste or non-useful to construct beautiful art pieces. This creative trend is the focal point of the works of Adetola Adenuga. In this interview, he reveals how he is set to give the form a face in the Nigerian society.
USING different materials mostly considered to be waste to create art piece takes huge creative sense and diligence. According to Adetola Adenuga, some of his works take duration of over two to three years. Although he is a graduate of photography, he embraced mix media using metal, wood, paper, foil, fabrics and all sorts of materials to create art due to his passion.
This passion for art has been aglow since childhood. "I have always loved paying attention to details and creating things out of nothing. I can remember clearly from the tender age of eight when I pick up things by road side and add them to my collection, which I use in decorating the home. My father was an artist, so I probably followed my dad's step. I enjoy using materials like fabric, metal, wood and other materials to express myself through art.
"I currently express myself in various techniques of two and three dimensional art, such as mixed media, painting, photography, serigraphy (screen printing), stained glass art, art installation, and other aspects of print-making and functional art.''
ALSO READ: Ali-Modu Sheriff to join APC Thursday
Most memorable moments:
His most memorable moment goes down to several years back when he created a sculptural piece he titled, Deep Thought. He said, "it was a sculptural wood construction that attracted huge attention from renown artistes, including professors of art, who marveled at the innovation behind the sculptural piece which was done by someone who never studied Fine Art at tertiary institution.''
When asked how much he sold the sculptural piece, Adenuga said he is yet to sell it, as he cherishes it like a child. "I may not sell it because I really cherish it and that is the reason behind the name, Deep Thought. It's really deep," he said.
Role models:
Adenuga, who is married with kids, idolises El Anatsui, a Ghanaian mix media artist. "I admire him so much because he is dynamic and works with cans, mats, wood and other materials which many people regard as useless. He creates beautiful pieces from them. Other mix media artists that I admire include Olaniyi Taiwo, Peju Alatise, and Dr Kunle Adeyemi.''
Challenges of Nigerian artists:
The challenges of Nigerian artists, according to Adenuga, are as numerous as the challenges of the average Nigerian. He lamented the manner in which gallery owners look down on promising artists and focus more on established artists, not taking cognizance of the fact that the known artists were once unknown at a point in their lives.
In his advice on how art can be celebrated more in the Nigerian society, he said the government has a role to play. "More art festivals should be organised to enable artists exhibit Nigerian culture in ways the world has never seen before. The Lagos State government is doing something like that, especially through Itesiwaju Eko Festival, so more states should emulate this. It will  enable artists showcase Nigerian culture through various dynamic art works.''