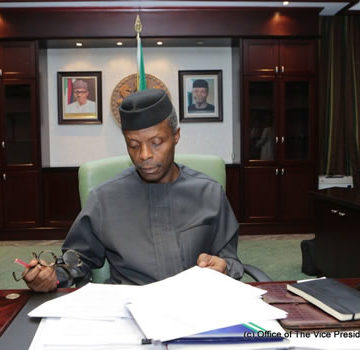 THE Board of Trustees (BoT) of the Peoples Democratic Party (PDP) has praised acting President Yemi Osinbajo over his handling of the issues surrounding the south east agitation and Arewa youth quit notice for Igbos to leave the north.
Chairman of the board, Senator Walid Jibrin, who gave the commendation, also said in a statement issued in Abuja on Friday congratulated the Senate for standing up for the unity of the country over the issues.
He congratulated the acting President for holding consultative meetings with regional stakeholders and for his tough talk on the perpetrators of hate speech.
Jibrin said: "I wish also to congratulate the acting President for quickly coming out to address regional groupings, warning that anyone who encourages hate speech and discourages people from unity will be dealt with squarely
"The Igbos that are asked to leave the north must continue to reside there and all northerners living in the south should remain there. All singing war must stop."
On Senate's motion for unity, the BoT was of the view that the upper chamber of the National Assembly deserved accolades, saying that all sections of the country must remain united.
He said: "I want to congratulate the Senators of the Federal Republic of Nigeria for their patriotism for the Senate boldly adopting a motion by 106 Senators in favor of national unity and peaceful coexistence.
"The Senate deserves a big congrats for 106 Senators out of 109 who did Nigeria proud.
"All tribes, religions, and regions must be united and use our differences positively for c-oexistence of Nigeria.
"May I therefore move a motion for a vote of confidence on our senate and House of Representatives who had already passed similar motion."