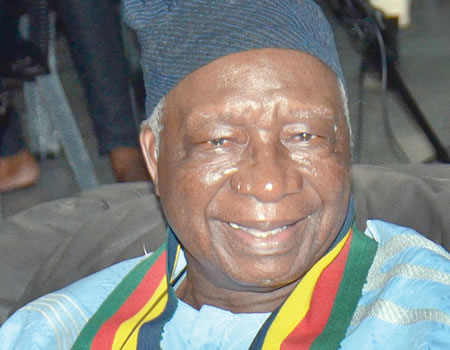 Major General Ibrahim Haruna (retd) was the federal commissioner for information and culture between 1975 and 1973 and the chairman, executive council of the Arewa Consultative Forum (ACF) between 2009 and 2012. In this interview with AYODELE ADESANMI he speaks on restructuring and how General Yakubu Gowon bonded Nigeria, among others
THERE is apprehension over the 2019 general election, especially with crisis said to be hovering over the country on the issue of herdsmen and tribal agitations.
In my own opinion, regarding different developments in the country, I do not see any crisis ahead because there had been security challenges in the country before now.  There are bound to be challenges inasmuch as the citizens are sensitive, emotional, have dreams, hope and aspirations which are not only for themselves but for the future generation. So, what is happening before the 2019 elections is nothing unusual in a democratic process. You will find the same scenario in other jurisdictions or countries. However, if the type of challenge we have now does not exist, then there is something amiss. There is nothing to fear ahead of the election. I have no fear.  I am reinforced by the fact that we have a democratic government under the leadership of a man that is trusted to keep the country together.
Looking at the administration of President Muhamadu Buhari in the last three years, will you award him a pass mark?
Yes, I will give Buhari a pass mark, but not for the reasons why some people are faulting him or for the reasons why other people may give him a pass mark. Personally, l see the Buhari administration succeeding because it is  restructuring,  re -characterising, re-evaluating, and re-directing  our attitude and he is doing that quietly. But one can ask why we have Boko Haram? I would say it was because some of our leaders took advantage of some disadvantaged people and sacrifice them on the altar of politics. These people have engineered this for their own political gains and some of them, of course, are still very alive. They are still enjoying their wealth. They are still creating wealth. They are still extracting the wealth of the common man to exploit political power which they enjoy. Buhari's silent revolution is going to bring a change even if he does not win the next election. He is doing something that is planted in the hearts of the common Nigerians today.
Under this present administration, people are in pains to the extent that they can no longer meet their daily needs.
Yes, I agree with you. All of us are feeling the pains, including myself as you know that I'm a pensioner. But I can't say I have made tremendous wealth. I cannot boast like some of our colleagues who have oil wells, who own universities. But nowadays, the free money is no longer available as they themselves feel pains because where they have been employing cheap labour before is no longer available then everybody must bear the pains. Therefore, Buhari's government is painful, harsh, hard, but it is a change that the democratic process has brought. But people wanted to fault him on the issue of herdsmen because he is a Fulani and the head of state.  Don't blame Buhari. Some of us have cattle. But we have never gone to work with those who are rearing our cattle. Buhari cannot be responsible; the states must also take responsibility.
What is responsible for the cold war between Olusegun Obasanjo and Buhari. Was it over the allegation of $16bn alleged to have been wasted on power project?
I don't know about any infighting between them in terms of physical struggle. Perhaps one can say they had an ideological fight because in the military you can have your own factions that can  make use of  political powers and grow its alliances. But in the military, you can't have this type of fight because the military is a hierarchical institution. However, both of them in the past must have done some things that are in the best interest of the country. Whatever Buhari alleges today is nothing new because it has not been proved and tested. In the past, people have also alleged and accused Buhari of misappropriation of funds during the regime of Petroleum Trust  Fund (PTF). But whoever is advocating probe is wasting his time. Who will come and give evidence? If Buhari chooses to investigate the allegation, that will depend on his plan and priorities.
We have had investigations in the country before that have not taken us anywhere. We have come to realise the colossal corruption that have taken place in the system and we need to change it and if we want the change to yield the expected result, it can't be instantaneous. But lets give this regime a chance for his policies to take roots and mature because it's on the right track as we cannot continue with impunity. We just need to restructure our character because we cannot be going on like this. We have the potential to build a nation of people with better character as anytime you give Nigerians any opportunity they hardly fail, if you give them the opportunity today, Nigerians will be in the moon. One thing is that you cannot have extractive leadership  and expect that what your country can do for you or what you can do for your country. This administration has laid the foundation for the second term and whatever alternative that is chosen will not reverse the anti-corruption crusade.
What is your opinion about restructuring?
People want restructuring so that they can swallow others and be very fat and continue as oppressors. They want smaller unit so that they can make use of their resources and live within the Nigeria federation. With their capacity, they can either develop or migrate for other opportunities so that they will be left alone to do their things within the laws of the country in their own way and preserve their own contacts. The bigger you get is no guarantee that you are going to be more efficient. The colonial experience is that you must grow big and swallow others instead of giving them the liberty to progress because everybody has its own talent, natural resources. One thing that is required is to give the people the opportunity to use their talents within sovereign states of Nigeria controlled by the freedom of the citizens and equality before the law.
As a military officer who operated under former Heads of Government like Generals Yakubu Gowon, Murtala Muhammed and Olusegun Obasanjo, how would you assess them?
We are still Nigerians today because the administration of Yakubu Gowon succeeded. But what the people are saying today was that he reneged on his handover government date to the civilian administration. Whether he was justified not to hand over to the civilians when he said he was going to, that was a political judgment, that was a choice to him as he had the opportunity to say yes or no. He extended it as a result of which he probably did not know how intense the feelings were in the hearts of those who wanted to replace him. I saw that clear right from the onset of the counter coup in 1966 as he was working on a tight rope to have a balance to keep Nigeria one and he worked that tight rope right to the end of the Civil war.
Nigerians should learn a lesson from his leadership style as he was not an extractive leader. He  did not have a Swiss account. He didn't have a house in London and that was why he could not bail himself out when he was stopped from coming back home to Nigeria after the coup. He was bailed out by the association of African leaders and head of states. But how many leaders can you count on who did not become extractive, corrupt, self centered, egocentric, who saw their own needs first and foremost. He is one humble Nigerian that Nigerians should copy.
The late General Murtala Muhammed was a very dynamic leader and he guided very purposefully. In fact, if you talk about kitchen cabinet or what do you call them now, the cult of leaders in the power house and the young visionary leaders, he had many of them. The Kaduna mafia and so on were constituted by intellectuals and the press was supportive of his administration. His policies were mark of the liberation of Africa, South Africa, Angola so on, but the international conspiracy made sure that he was edged out.  In the six months that he was there, he was effective. But the military became part of the conspiracy of change without essence or without objectivity.  His death was as a result of inner conspiracy. But since there were no judicial enquiries to investigate how it happened, what do we do.
Former President Olusegun Obasanjo failed in his third term attempt, but I was actively involved to ensure that he did not make it as I was part and parcel of the Arewa Consultative Forum (ACF) who were in the opposition. I was Obasanjo's main commander. He was then my subsidiary commander when both of us were commanding during the Civil War. He just retired me suddenly, but the late Major General Shehu Yar'Adua told him "please before you retire General IBM Haruna, please call him  and tell him." But Obasanjo never informed me. Later Yar'Adua called me and said "sorry sir, we are retiring you. It will be announced by 7:00 p.m. on Nigeria Television Authority (NTA). Is this how to treat a senior officer that served with him? Obasanjo served under Murtala Mohammed who was my contemporary. We were cadet contemporaries. I joined the Army at the age of 14 as a boy and I retired at the age of 37 as a general. Obasanjo wrote all his five volumes of books. I've read them all, but he never mentioned my name and I wondered why.