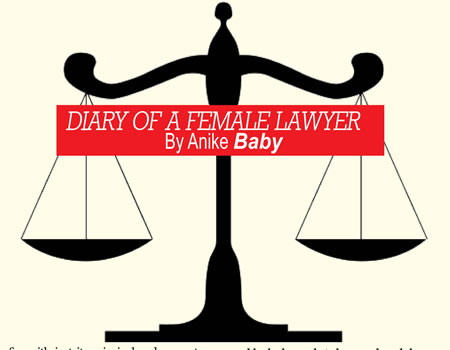 THIS morning I took a good look at myself. Though I had worked in a law office for close to eighteen months, my interview this morning with Gentlemen's Chambers looked like the real deal.
I am used to dressing smart which meant my clothes were always fitted and always displayed my wide hips, big bum and big boobs to great advantages. I turned heads. And I was lucky to even have a pretty face to go with it. My legs were firm but not thick, I was lucky, and went very well with my figure. But this morning I intended to tone my obvious curves down. If I can. My bed was a mess and as I tried on and flung clothes one after the other, I  realized I had few clothes that were loose but whether I liked it or not I had to hide all these luscious packages somewhere!
I finally found help in a black nun-like gown that I had bought on a whim some years ago. I tried it on. It was conservative and I only needed a habit to complete the picture of a nun. There was nothing I could do about the bodice, but at least it was buttoned up to my throat. The dress was loose and flared gently at the hips which at least toned down their width. Sigh. I packed my full braids into a tight bun, opted for small earrings and wore an almost nude makeup and a slim leather wristwatch. I surveyed myself in the mirror. Serious. Modest. Conservative. Perfect picture.
Getting ready for an interview is one of the most difficult things on earth. I mean, the tension puts a PHCN livewire to shame. It is compounded when you are a woman, well-endowed as I am and having to choose your attire. Further complicated when you are a lawyer and are about to make a first impression.
I couldn't afford to run late and so I got into my shoes and I hurriedly left the house ignoring the shocked look of my roommate and friend who was just waking up and who simply stood gaping as I shouted. "Wish me luck!" And ran out of the house.
Thirty minutes later, I sat at the reception of Gentlemen's Chambers and waited to be called for the interview. It was eight thirty. The interview was nine this morning. So I had thirty minutes to survey my environment. I looked around. I appeared to be the only lawyer waiting. It was a modest law office with just its principal and no partner. He was a partner unto himself. He was a litigator. The city where I worked boasted of many litigators. The level and expertise and exposure was another story entirely.  The receptionist was pretty, fully busted from what I could see from the low cut fitted gown she wore and wearing a heavy make up. She rolled intermittently on her swivel chair and giggled.
For some vague reason, I was annoyed.
She was doing more of watching the television and giggling at some movie going on. The reception was modestly furnished and adorned with few pictures of the principal. He was middle-aged, chocolate complexioned and quite handsome. And from rumours, he was brilliant. Good. I needed that.
He said it was an abomination asking him for feeding allowance, burnt all my clothes —Wife
I sat at one of the chrome and leather seats and looked around. A door cordoned the reception off and was shut and I assumed that it separated the inner office that housed the other lawyers. She placed a call to a "sir" and I was told to wait.
I am three years at the bar which still classified me as a junior but I am determined to rise through the ranks. The first two years were tough. I worked for almost eighteen months in a small dingy law office where the principal paid me a stipend when he felt like. According to him, we (I and two other lawyers) should be paying him because we were learning from him. See, that's a fraud! I was soon to realize that once you are called you are qualified. I was lucky to get called for an interview at this chambers after several attempts at different law offices. I never knew it would be so tough getting to work in the law office. For heaven's sake, they weren't oil companies or telecommunication firms!
Newsflash! It is tough. Law firms were not employing. Those that did were not paying much. But used lawyers. It is called paying your dues or earning your stripes. But finally, a light came at the end of the tunnel. In one of my trips to court with my then principal, I got the bar gossip that this chambers were quietly recruiting and that I could try.
And so with boldness, I asked for an introduction to the principal from a friend and was told to send my –e-mail. I did and wrote a test and passed hence the oral interview.
I was excited. I was terrified. I was hopeful. It was a heady mix of feelings.
After fifteen minutes after nine o clock, the intercom buzzed and the front desk officer said I could go in. First door on the left. I nodded my thanks. And opened the adjoining door and stepped entered the bowels of Gentlemen's Chambers.
I knocked on that door and was startled to hear the voice that answered. Female and crisp. "Please, come in."
I stepped in and almost turned tail and run, for staring at me was a pair of dark eyes. I didn't see the rest. The eyes so dark and frosty froze me up. Who was this? Certainly not the principal….
See you here next week.