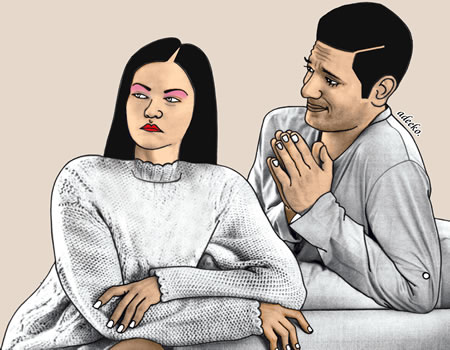 Oja Oba/Mapo Court C Customary Court, Mapo, Ibadan, Oyo State has dissolved the two-year-old wedlock between a couple, Kehinde Ibrahim and her husband, Kasali Ibrahim.
Kehinde had dragged her husband to court seeking that their marriage is terminated on the accounts of neglect, destruction of property and battery by the latter.
She further prayed the court to grant her custody of their only child who is six months old and mandate her husband to be responsible for her welfare.
Kasali, after listening to the claim against him, did not agree to divorce.
After listening to the evidence of both parties, the court president, Chief Ademola Odunade, stated that it was expedient that their wedlock is terminated since violence was involved.
The ruling, Odunade declared their marriage dissolved and awarded custody of their child to the plaintiff.
He also mandated the defendant to pay the plaintiff N12, 000 through the court as the fee for a year house rent because of their child. He was further asked to pay the sum of N5, 000 monthly as their child's feeding allowance and be responsible for her health care and education when she's ripe for school.
Giving her evidence Kehinde stated that: "My lord, I've had enough of my husband's irresponsible actions. He flogs me like a sheep and didn't stop even when I was carrying our child. He leaves me with body ache and bruises any time he beats me while I visit the hospital on a regular basis because of the wounds he inflicts on me when we fight.
"He considers it an abomination that I ask him for feeding allowance or money to run the home. He starved me for the nine months I was pregnant and neglected me. He refused to give me money for antenatal care and purchase the necessary items needed by our baby.
"I resorted to going to my parents to eat and have my other needs met, but he stood against this because he didn't want them to know what was going on in our home. He threatened to deal with me if I ever go to their place again, but I ignored his threat.  He, therefore, took to insulting my parents and raining curses on them in my presence.
"My lord, he can't boast of buying me a wrapper since we got married but has succeeded in destroying many of my clothes while I now go about almost naked. Anytime we fight, he will gather my clothes, take them out and set them on fire.
"He has frustrated me enough, I desire a new lease of life and pray to take my child along as I move out of his house, "she told the court.
"I don't agree to divorce, "Kasali stated in court.
"All she said about me are not true, she's fond of exaggerating.
"My lord, I still love my wife, I plead with the court to help me beg her not to leave, "he stated.