I used to sleep on bare floor but my 'level' has changed; I pray Nigeria gets better too —#RevolutionNow protester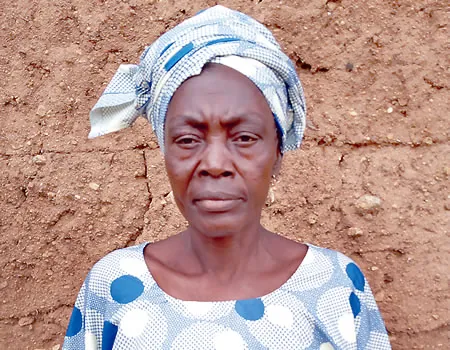 Mrs Sariyu Akanmu, the 70-year-old fufu seller who was allegedly assaulted by security agents in Osogbo, Osun State, during a recent protest by members of Revolution Now, in this interview by OLUWOLE IGE, bares her mind on her overnight popularity, state of affairs in Nigeria and her readiness to participate in future anti-government protests. Excerpts:
As you have suddenly become popular, are your relations, close and distant, asking of you or trying to get close to you?
No. None of them is asking of me except for my children who had been with me even before I became popular through my encounter with the security agents during the protest.
Group elects Prof Banji Akintoye as new Yoruba leader
Why?
I think God didn't put my love in their hearts but I thank Him for taking me to the level that I am at now.
How do you view the present state of affairs in the country?
Things are very bad in the country due to bad governance and poor policies. We are suffering in this country. The government is causing a lot of hardship for the masses. Majority of our youths who have finished from universities and served the nation through the NYSC are roaming the streets with no jobs to do. The people in government are only interested in the promotion of their own interests; they are not bothered about the welfare of the people. As they amass wealth, they tell young graduates to engage in farming without adequate support. How could parents be allowed to labour to send their children to school up to university level only to watch them end up jobless? It is really bad that many parents are subjected to another round of struggle to cater for their grown-up children rather than to relax and reap the fruits of their labour. Our political leaders are selfish. They don't care about the downtrodden. They are not concerned whether we survive or not. Many individuals are finding it extremely difficult to have even one meal in a day. Tell me if that is not suffering! Life has become a big misery for many families in Nigeria. Osogbo is the capital city of Osun State but we are not feeling the impact of such a status as residents. Social and economic activities are at low ebbs despite the presence of a university in the town.
What is your prayer for Nigeria?
My prayer is for Nigeria to prosper and overcome its numerous challenges. God should grant our leaders the wisdom to govern us well so that the people can live comfortably. God should remove the governance of this country from the grip of oppressors so that the masses can enjoy. The poor are hungry and the situation is getting worse.
If you had the opportunity of meeting with President Muhammadu Buhari, what would you tell him?
I would remind him that during his first coming as a military Head of State, there was suffering and now as a democratically elected president, Nigerians are still suffering under him. I would tell him of the need for all categories of people to enjoy under his regime. I would advise him to pay special attention to Osun State because the people are suffering here. I would also ask him to ensure that pensioners in the state are paid their entitlements.
Since your participation in that protest, have you been trailed by security agents or invited for questioning?
No, I haven't seen any sign that I am being trailed by security agents and I have not been invited by any security agencies for interrogation.
How do you feel about the support you have been receiving from all over the country after your participation in the protest made you a focus of attention?
I want to thank Nigerians for the kindness they have shown toward me since the protest. I am overwhelmed with joy and happiness. Some people from Ondo State visited me last week. They bought mattress and foodstuffs such as rice, beans and garri. They also gave me some money. Some youths from Ile-Ife also came to visit me in Osogbo. They were the ones who bought the bed frame for me. They also bought cooking pots for me and paid for the painting of my room. They equally bought plenty clothes for me. I am very happy for all the good things they have done for me. I am grateful for their kindness. They have done great things in my life. I used to sleep on bare floor but my situation has changed. My room was inhabitable until now, so I thank them immensely for the assistance and support they have extended to me. I beseech God to continue to bless them and replenish their purses.
What does it feel like to now have a mattress to sleep on?
It feels really good. I now sleep soundly unlike in the past.
Recently, you were invited to a public function in Lagos State following your role in the protest and you sat among prominent individuals. How do you feel about such a transformation?
It is a great development in my life. I feel so happy about it. At the event in Lagos, I was asked if I would join a protest for the release of Omoyele Sowore from detention and I said I was ready, and at any time.
Would you participate in future protests by members of Revolution Now?
Yes. Why not? I will participate as long as I am aware of it. That day, I had gone to sell my fufu when I saw the people, mostly students, protesting and I felt obligated to join them and so I did.
Why did you join them?
I discovered that many people are suffering in the country and the protest was to show the displeasure over the hardship being faced by the masses on a daily basis.
What do you think the government should do to checkmate insecurity in the country?
The Federal Government should motivate the security agencies and empower them to tackle insecurity in the country. Nowhere is safe anymore. The police should wake up to their responsibility of protecting the people and safeguarding their property.
Do you still hawk fufu?
No, I don't hawk fufu anymore. Some kind-hearted Nigerians have asked me to stop. They are the ones now taking care of me; sending money into my account for my upkeep.