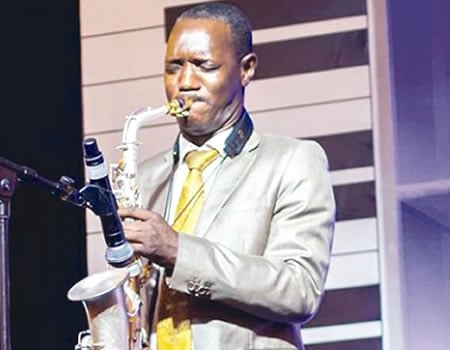 His tunes are a popular feature at the ministrations of the General Overseer (worldwide) of the Redeemed Christian Church of God (RCCG), Pastor Enoch Adeboye. RCCG music director, a renowned saxophonist and gospel artiste, Pastor Kunle Samuel Ajayi, speaks with SEYI SOKOYA, on why he dedicates his life to playing sax and his relationship with Pastor Adeboye. Excerpts:
You recently became the bride of notable musical instruments company, Yamaha. How were you able to achieve this?
I think I need to firstly thank God and appreciate the support of people around me who have one way or the other, contributed to making this a reality. Honestly, the entire experience has been God. I cannot even explain how I came into the picture. You will agree with me that Yamaha is one of the oldest musical instrument companies and I have been using Yamaha sax. But, they decided to customise the sax for me, and I seized the opportunity to give them specifications, which they promised to comply with. It is a great thing and I am grateful to God for this rare privilege.
Why did you reject the sign-on fee of the newly formed record label targeted at promoting RCCG talents?
I didn't reject the sign-on fee. I decided not to be paid a dime as an artiste under the record label. We are committed to the progress of the initative as a platform set by the visionary of the mission to build the 'army' of Christ to pass across good messages and lift people's souls across the world. The money is not the main thing for me, but to align to the vision of the visionary. I feel so humbled and excited that something new and great is starting from us. It is a rare privilege to be part of this movement and I pledge to give my total support to impact the world with good messages.
Is it true that you are the world ambassador for Yamaha?
As I said earlier, I just found myself in this, and I think God knows better. They came to Nigeria to inform me about it. The whole thing is still under wraps. I want to assure everyone that the official unveiling will take place very soon.
You have come a long way with the RCCG; how has the experience been?
It has been God. I would say I found myself in this fold not by accident, but by divine grace. It has been a long journey. I am delighted that God has made the whole experience a sweet one. It is very good and worthy to follow the right path and do the will of God in all ramifications. The tutelage of good leadership has also shaped my life. I have been with the church since my youth days and I have never regretted being part of this family.
How would you describe your relationship with Pastor E.A. Adeboye?
It is a daddy-son relationship. I am, indeed, grateful; to have known and to have such close relationship with him. I recall that I used to follow my mum to church. He sighted me one day and called me and said: 'Young man, come.' I obliged and that was the meeting point, as well as a turnaround in my life. Since that day he has been mentoring and nurturing me. I see this bond as the work of God, because I never envisaged that I would ever be called upon by the G.O., not to talk of having a close relationship with him. Many people don't know that Daddy G.O. is a musicologist; he sings and plans are in the pipeline to return to music, especially with newly signed artistes under the record label of the church, One Hallelujah Records (OHR), as part of his effort to hone his music talent and encourage young talents.
It is being observed that Pastor Adeboye won't mount the pulpit or speak until after he hears the tune of sax. What is the secret?
Honestly, I don't see it that way. In fact, I don't know why he humbles me in such manner. I can't explain it. Maybe, God knows the secret. It could be any one else and for this reason, I don't take such moments with levity. Let me tell you this: I am a graduate of school of music. I play all kinds of music instruments and I have been playing guitar and other music instruments before I attended music school. I teach sax, but I could not play because I had health challenges that involve my lungs. I prayed to God and told Him if He healed me, I would dedicate my music to Him. I connected with the prayers of Daddy G.O., as we call Pastor Adeboye, he laid hands on me and prayed for me and God healed me and I started playing the sax. I really thank God for my life, because I am confident that He indeed sent 'my daddy' to me.
Would you say you inspire his ministration?
[Laughs] I don't know. I think I just do my thing as a way to worship God before he steps out for his ministration.
You are a pastor, an instrumentalist and hold other positions in the church. How have you been able to combine all these without clash?
The grace of God is just sufficient. I cannot imagine how I discharge my duties or responsibilities without any clash sometimes. I believe if you put everything in the hands of God and you serve Him diligently, your life will be well designed and God will make things work easily for you.
Would you quit playing sax any time soon, especially because of old age?
Never! I don't think I will ever stop playing sax, irrespective of age or time. I will play it till I die.