I believe a woman will rule Nigeria as president —Loveth Ubi, tech enthusiast and women advocate
Loveth Ubi is a geologist, a tech enthusiast and a social entrepreneur. A STEM facilitator and the Chief Operating Officer of WAAW Foundation, she has passion for the development of the girl child and women's technological and leadership skills. In this interview by KINGSLEY ALUMONA, she speaks about her love for geology and technology, the foundation she works for, women leadership and what she would do if she were the Minister of Science and Technology.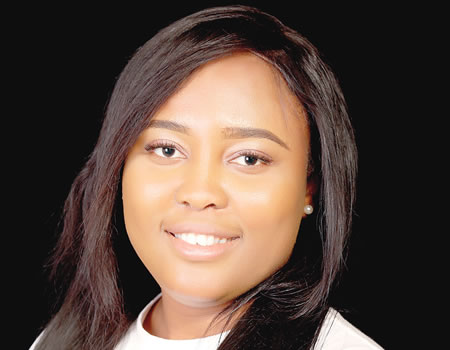 Tell us about yourself and why you decided to study geology?
I am an efficient, innovative and motivated professional with leadership, interpersonal and communication skills and proven ability to develop and promote social services demonstrating a strong capacity to work independently and collaboratively.  I decided to study geology because earth structure and formation has always appealed to me growing up. Studying geology resulted from my intent to solve a geographical problem in the society.
How has geology shaped your life and career? And, do you have any regrets for not practicing geology?
Geology availed me the opportunity to encounter technology and its enormous resources. I don't regret practicing geology as I intend to get a doctorate in geophysics and serve as a consultant in geophysics.
When and where do you intend doing the doctorate? Have you thought of teaching in a university?
In three years, I intend to get a doctorate from Worcester Polytechnic Institute in Massachusetts, United States. On the other hand, I don't intend to teach in a university except to give mentorship talks to girls to encourage them to become better and strive for success.
You currently work at WAAW Foundation. What is the foundation about, and what is your job description there?
WAAW (Working to Advance STEM Education for African Women) Foundation is a 501(c) non-profit organisation founded in 2007. Our mission is to increase the participation of African girls in Computing, Science, Technology, Engineering and Math (C-STEM) related disciplines, and to ensure that this talent is engaged in innovation and techpreneurship to benefit the African continent. WAAW Foundation provides college scholarships to African girls, organizes STEM Residential camps and operates in 17 university campuses across 10 African countries including Nigeria, Ghana, Togo, Kenya, Malawi, Uganda, Ethiopia, Tanzania, and South Africa, impacting over 10,000 African youth each year.
My job description, in summary, is designing and implementing business operations, establishing policies that promote company culture and vision and overseeing operations of the company and the work of executives.
'She Hacks Africa' is one of the programmes of WAAW. What is the programme about and what categories of girls are qualified for it?
She Hacks Africa is a hands-on coding boot camp that aims to build self-confidence in African youths as change agents and technology innovators in their communities while giving them relevant skills to build technology enterprises. Young women (ages 18-35)
Does your foundation cater to young boys and unprivileged men?
WAAW Foundation caters to the needs of young boys and unprivileged men through our training like She Hacks Africa and College to Secondary mentorship.
How do you fund and run your foundation. And, what major challenges do you face in the foundation?
Sponsors, donors and grants. The major challenge we face is funding.
You were among the speakers at the Agbami STEM symposium recently held in Lagos. What is STEM, and what are the major highlights of the symposium?
STEM means Science, Technology, Engineering, and Mathematics. The major highlight is that 15 schools were selected to participate in the 2019 Agbami STEM Project, a total of 30 teachers and 30 students participated during the project.  Hands-on project-based learning was organised by Agbami Parties with WAAW Foundation as the implementing partner for the teachers and students training component.
The main objective of the workshop was to familiarise the participants with the 2019 Agbami goals and successfully train and guide students to employ their acquired skills and engage STEM to solve societal problems. This in turn, improves job readiness and employability skills, improves potential for STEM entrepreneurial activity, and improves continued progress by connecting to peer networks.
The program also aimed to teach participants to work with various groups to understand the meaning of collaboration and teamwork in their present context; to enhance their communication, presentation, and interpersonal skills in order to function in social/workplace settings effectively; to enrich their technical skills (STEM initiatives) to understand effective planning, time management and implementation for setting and achieving both personal and team goals. They were tasked to come up with a solution to solve a societal problem using five themes: Solar energy, Robotics, Automation, Water Crisis, and Wind energy.
Do you think the Nigerian science and technology hub is predominantly a male space? If yes or no, explain.
Yes I do. In Nigeria, according to the National Bureau of Statistics (NBS), women make up on average just 22 per cent of the total number of engineering and technology university graduates each year. Women were heavily involved in pioneering and developing the computer programming industry, but this changed when the technology sector began to be perceived as a 'man's world'.
Do you engage in leadership and entrepreneurial training of young girls? And, do you see a woman becoming the president of Nigeria soon?
Yes. We engage in leadership and entrepreneurial training by teaching young girls how to start a business and business model.  Yes. I believe a woman will rule Nigeria as president because we are becoming more involved in the affairs of the country and every sector and not just regulated to the background anymore.
If you were the Minister of Science and Technology, what would you do to encourage the girl child and women to leverage technology to contribute to the society?
We know some of the reasons women and girls participate in STEM fields at lower rates: lack of encouragement, lack of role models, negative peer pressure and harassment. Studies show that it's not an ability issue. Women from under-represented groups face prejudice twice over, both against their gender and their race. I'll appeal directly to girls with coding programs and to start teaching kids the fundamentals of coding early by offering affordable and accessible technology training to women/girls across every state in Nigeria—even as early as kindergarten. An early start puts all kids on a level-playing field—before gender stereotypes sets in—and starts to prepare girls for the future.
Do you believe that: What a man can do, a woman can do it better? What three qualities do you admire in a man?
Yes, I do. In leadership, there are two traits with which women outscore men to the highest degree—taking initiative and driving for results. Unfortunately, these traits have been considered male-dominated. The three qualities I admire in a man are courage, leadership skills and confidence.
What do you like doing at your leisure? And, if you were to make a wish for your next birthday, what would it be?
I like playing games, usually video games. I'll like to celebrate my birthday in an orphanage home because I'll be touching lives there, even if it's for a few hours, in a fun and personal level.
What advice do you have for young people, especially the female ones, who are aspiring to be like you?
The sky is just their starting point and they should keep striving for success. Nothing comes easy but with determination and hard work, they'll get there. A quote from Mark Twain summarises it all: "Keep away from people who try to belittle your ambitions. Small people always do that, but the great make you feel that you, too, can become great."