Human trafficking, sexual abuse thrive on poverty, quest for greener pastures in Nigeria —Mariam Ashley Yusuf
Mariam Ashley Yusuf, a graduate of Theatre and Performing Arts from Ahmadu Bello University, Zaria, Kaduna State, is the convener and founder of Mariam Ashley Yusuf (MAY) Foundation. She has, over five years, experience in advocacy and humanitarian services. In this interview by NIYI OYEDEJI, she speaks about her passion, mission and plans to put an end to human trafficking and sexual abuse in Nigeria.
NIGERIA is adjudged as one of the countries with a high rate of human trafficking and sexual abuse; what do you think are the factors contributing to this?
The major factor that contributes to this scourge in our dear nation is the astronomical rate of poverty. That alone accounts for six out of 10 reasons why people are being trafficked. A sizable proportion of Nigerians are very poor; many can barely afford two meals a day, thus sexual abuse and trafficking can be a lure for temporal relief. Also, the desire for greener pastures has lured a lot of Nigerians into being trafficked to cities in Europe and North America. It is noteworthy that a vast majority of Nigerian ladies who engage in the female escort business on the streets of Europe have been found to do so all with the aim of making enough money for their families back home in Nigeria. On the much observed rise in cases of sexual abuse in Nigeria, government urgently needs to address this issue by increased prosecution and convictions. Perpetrators of sexual abuse against Nigerians have received very lenient sentences which is highly inappropriate. All that needs to change.
Human trafficking and sexual abuse are like Siamese twins, what do you think necessitated this?
Like I earlier stated, the high rate of poverty is ravaging our land. I read of a hotel somewhere in southern Nigeria where underage girls are forced to have sex with men for as little as N500. You will be surprised to learn that these girls are doing this primarily to feed and clothe themselves and not because they sincerely want to engage themselves in prostitution. Note also that sex predators have also been shielded from prosecution by our very slow judicial machinery, which results in these cases being swept under the carpet. It is time we had a directory for rapists in Nigeria. This would go a long way in curbing this heinous acts.
What is your organisation doing to address the issues of human trafficking and sexual abuse in Nigeria?
We have begun with 'the Campaign against Human Trafficking and Sexual Violence.' This campaign is aimed at reaching every nook and cranny of the federation. From experience, we know that the moment every Nigerian is aware of the immense dangers attributed to this menace, that alone will act as chilled water to douse the raging conflagration. At MAY Foundation, we strongly believe that greater awareness of this menace would go a long way in curtailing the threat. Parents and guardians need to be aware of the dangers inherent in sending a child to work as a help in a strangers' house. Where he or she would be exposed to harm. We also aim at enlightening the young ones in our elementary and secondary schools. They need to be aware of the dangers posed by this ill; they need to know the telling signs and how to react when in certain situations. This is why I am writing a book on 'Human Trafficking and Sexual Violence,' which I know would teach our kids what the schools haven't taught them about human trafficking and sexual violence.
Some sex workers we take off the street still express urge to have sex during rehabilitation —Bello
What are the challenges your organisation is facing in the course of advocating against human trafficking and sexual abuse?
At the moment, we are faced with the inability to take the campaign to the hinterlands. Nigerians who dwell in the urban areas are largely exposed to information about this threat. However, the same cannot be said of those without access to the internet and other facilities like our cable TV. I am not saying that urban-dwelling Nigerians are all aware of how danger-fraught this practice is, but that a large percentage of us can clearly say we know of A, B and C that can happen when an individual is trafficked. Another major drawback is finance to execute a lot of projects. My book on 'Human Trafficking and Sexual Violence,' is targeted at Nigerian children within the age bracket of 8 to 15 years and adults too. It is a huge undertaking and requires a huge wallet which, at the moment, MAY Foundation cannot boast of owning.
What is your current ongoing programme on the fight against human trafficking and sexual abuse?
We have a multi-faceted and multi-dimensional programme. Our short term programme is all about the enlightenment campaign which we aim to take all over Nigeria. However, we have a long term goal which involves what I call the 3 R's which stands for Rescue, Rehabilitation and Reintegration. This is the heart and soul of the Mariam Ashley Yusuf Foundation. It is an immense project and will surely have huge impact on every stratum of the Nigerian society.
How do you think stakeholders and government can support your organisation on these projects? 
The need for the government's and stakeholders' support at all levels cannot be overemphasised. Funding for our nationwide schools campaign is a major constraint which MAY Foundation urgently needs to address. We aim to take our campaign to each and every state of the federation; to our schools, market places, places of worship and homes. Every Nigerian must be aware of the dangers associated with human trafficking. Parents need to be more proactive; they need to protect their wards more from the monsters who roam our streets seeking for easy prey. When MAY Foundation is well funded, our impact will be felt in every facet of the Nigerian society. That I can assure you.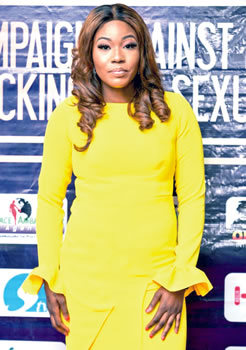 What are your expansion plans on the fight against human trafficking and sexual abuse?
That is where our medium to long term goals comes in. As I earlier stated, we have termed 'The 3 R's: Rescue, Rehabilitation and Reintegration. MAY Foundation is working towards owning her registered and approved rehab center where scarred victims of human trafficking and those who were abused sexually would be rehabilitated after they have been rescued from the streets or any other place where they may be, like the torture centers which the government is currently discovering and shutting down all over the country. It's noteworthy that a lot of these victims become damaged, after these terrifying experiences and resort to drugs, prostitution and other vices. We at MAY Foundation would rejig their minds, train and empower them for consequent reintegration into the society.
What are the challenges facing the fight against human trafficking and child abuse in Nigeria?
Lack of awareness is one. Parents, guardians and caregivers vaguely know how bad these actions are on those being exposed to it. Children are scarred for life after some harrowing experiences and this alters a lot about them. Another major drawback is inadequate support by the government for agencies like The Mariam Ashley Foundation. I am confident that if and when I had received the much needed support that I crave from the government, I would have achieved so much. It's noteworthy that we have been around for five years. Another much more telling challenge to our efforts in ending this scourge is the slow pace of conviction by the law enforcement agencies. So many cases of trafficking remain unaddressed in our courtrooms and this constitutes a major challenge to ending this menace. It should also be noted that our laws and penalties for crimes against humanity aren't stiff enough to frighten potential traffickers and those engaged in sexual predation. Capital punishment for sexual predators would surely dissuade anyone with an intent to engage in such a despicable act.
How do you think government can address the causes of this menace?
Jobs for our hands, shelters on our heads and most importantly, food on our tables will go a long way in ending the menace. It is imperative to note that these solutions can bring about a rapid decline in cases of human trafficking. Poverty and the lure for greener pastures is what drives our youths to embark on the high-risk desert journey and the boat ride across the Mediterranean Sea which has become a graveyard for Africans. I want to also suggest that a special court be set up by government to try cases of sex offenders in Nigeria. Where swift judgments would be passed. This would go a long way in curbing the daily rise in sexual violence, which has permeated the fabric of the Nigerian society.