Bitcoin has become popular in Nigeria in the past five years with millions already investing and trading the cryptocurrency. The rise of the coin began in 2015 during the recession in Nigeria when the naira lost over 100% in value.
It is believed that government's refusal to back the naira and increase the number of dollars in circulation led to a shortage of foreign reserves as the black market became the major distributor of forex causing a major problem for importers who needed to make payments in the foreign currencies.
Bitcoin became an emergency solution for Nigerians to purchase goods abroad with its adoption among major merchants and low transaction fees a crucial factor.
Buy Bitcoin with Gift Card or Naira, after a while, Bitcoins may be quite more valuable!
BONUS:  Between May 28 and 11 Jun HKT, as long as you haven't completed a gift card trade before, you can receive a $5 bonus after you buy bitcoin with a gift card on CoinCola OTC bitcoin marketplace.
Despite the subsequent management of the Naira by the government several Nigerian entrepreneurs prefer to hold Bitcoin due to its decentralized nature and as a cushion for future economic problems.
Nigeria is reported to be the country with the highest transactions in Bitcoin across Africa.
Buying Bitcoin in Nigeria has become an easier venture unlike in the past where you had to convert the naira to the dollar before making Bitcoin transactions. There are several crypto exchanges that accept the naira as a form of payment for Bitcoins.
There is also an also automated trading platform called the bitcoin trader app which allows Nigerians to invest in bitcoin without physically purchasing the asset.
If you are looking to hold or trade Bitcoin here below are some of the best crypto exchanges to buy Bitcoin in Nigeria
Local Bitcoin
LocalBitcoin as the name suggests us a cryptocurrency exchange platform that allows buyers to meet sellers. Here you can easily buy Bitcoin from Nigerian traders that are looking to sell.
One major advantage of the platform is that it utilizes escrow services which means that a transaction must be completed before the money is released to the seller. With this, you cannot be scammed, unlike other platforms.

CoinCola
CoinCola is one of the new OTC market place to trade bitcoin and other Cryptos and has been making waves due to its novel services. The exchange also utilizes a similar procedure to LocalBitcoin as it does not involve in the selling or buying of Bitcoin but facilitates trades between users.
CoinCola has a budding community of users and allows Nigerians to make payment to sellers in Local Currency. In addition, CoinCola is considered as one of the safest platforms as it features novel security features to secure funds of users.
Its user interface is also simple and easy to use for quick transactions.
NairaEx
NairaEx is one of the popular Bitcoin exchange platforms due to its simplicity in payment. The platform resonates with many Nigerian investors as you have the option of paying for Bitcoin via bank transfers, debit card transactions and bank deposits.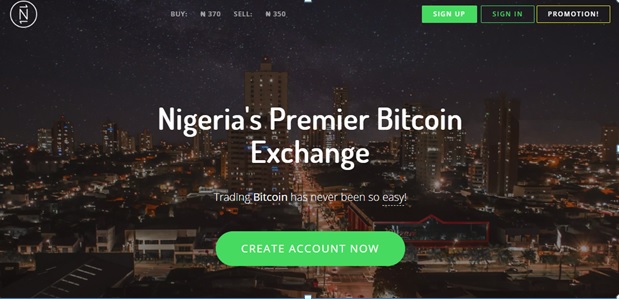 This is a good platform for beginners who just want to have a feel of owning Bitcoin as you actually buy from NairaEx. Furthermore, it is one of the oldest exchange platforms in the country.
These platforms are reputable and have been in the business for several years providing an adequate environment for safe Bitcoin trading and investments.
Steps to Buying Bitcoin on Exchange Platform
Register for a free account
After deciding on the platform that suits your preference the next step is to click on the site URL and register for an account. The registration steps are usually quick and take a few minutes to be completed.
Make sure that you input the right details about yourself, from your date of birth, phone number and name.  you may also be required to upload an identification document which can be your Passport, National ID card or Voters Card as the case may be.
Write down your Wallet ID
You cannot buy a Bitcoin without possessing a wallet as you would need a wallet to store your Bitcoin. Thankfully most crypto exchanges provide Bitcoin compatible wallets on their platform.
You may be best served by getting a cold wallet or specialized wallet services for more
security. Either way, ensure that you write the Wallet ID as this is important in the later stages.
Place your Order for Bitcoin on the Exchange
After noting down the Wallet ID, scroll to the Bitcoin market platform. You would see a number of sellers that are offering different prices for their Bitcoin.
If you are buying from NairaEx you would be given the current price for the amount you want to buy in Naira.
However, if it is on CoinCola or LocalBitcoin ensure that you check the rating and payment features of the seller.  If satisfied with a particular seller place the order for the amount of BTC you wish to purchase and place your order.
When the transaction is completed the escrow would release the Bitcoin to your Wallet. You can decide to trade or utilize the Bitcoin to pay for services or goods online.