FG authorises compulsory vaccination for civil servants
•Clears South Africa, Turkey, Brazil from restriction list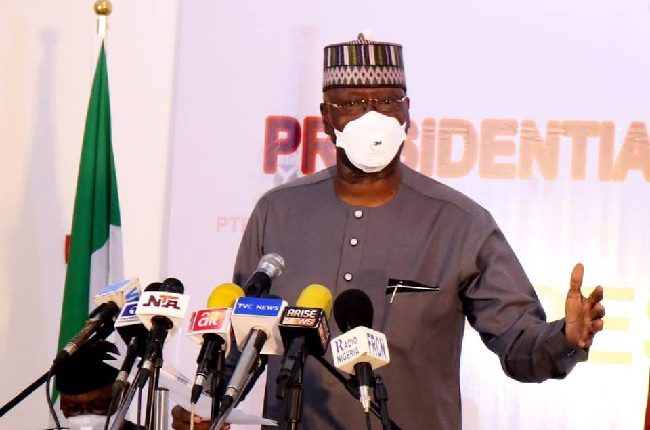 In its efforts to encourage vaccination rate across the country, the Presidential Steering Committee(PSC), has said that civil servants would be required to present proof of vaccination or negative polymerase chain reaction (PCR), tests conducted within 72 hours to enable access to offices.
The PSC also added that decision has been taken to clear South Africa, Turkey, and Brazil from restriction henceforth.
The Chairman, PSC, on COVID-19, Boss Mustapha disclosed this during the presidential press briefing on COVID-19 on Wednesday in Abuja.
The PSC had placed a restriction on Turkey, Brazil, and South Africa due to the upsurge in the number of Covid-19 cases.
According to Mustapha: "Statistics generated over the last four weeks on testing have shown that the trend of infection is going down in some states while in others, the trajectory is upward. The combined total for testing by PCR and RDT now stands at about 3.141, 795 million persons.
"The Aviation authorities in collaboration with the diplomatic sector have made reasonable progress in collaboration with the Ministry of Foreign Affairs.
"Discussions are still ongoing with the UAE Authorities to resolve the impasse. The Hon Minister of Aviation today, presented the position of African countries on Vaccine Passport which some economic blocks and countries wish to impose, for travel purposes.
"This is because African countries have found it difficult to access the vaccines for their citizens' insufficient number".
"Over several months, four countries were placed on high-level restriction for travelers from such countries. The PSC has after a review of the developments in these countries, decided to remove South Africa, Turkey, and Brazil from the restricted list.
"As you are aware, the UK has eased restrictions on fully vaccinated travelers from Nigeria to the UK with effect from Oct. 11, Nigeria welcomes this development and assures that the PSC shall continue to review Nigeria's protocols based on global developments, science, and national experience. A revised protocol will be issued in the next 24 hours.
"With effect from 1st December, 2021, Federal Government employees shall be required to show proof of COVID-19 vaccination or present a negative COVID-19 PCR test result done within 72 hours, to gain access to their offices, in all locations within Nigeria and our Missions. An appropriate service-wide advisory/circular will be issued to guide the process.
Mustapha further advised Nigerians to increase vigilance during the festive period.
"The PSC wishes to put Nigerians on notice that two major religious festivities (Salah and Christmas) are approaching and we shall be experiencing increased passenger traffic in and out of the country.
"Similarly, events of large gatherings are likely to hold. While the PSC prepares to escalate surveillance and other control activities, we urge the States and all Nigerians to also increase their vigilance and take measures to moderate activities."
YOU SHOULD NOT MISS THESE HEADLINES FROM NIGERIAN TRIBUNE
Viral Voice Note On WhatsApp Billing False
Claim: A viral WhatsApp voice note, purportedly made by the director and CEO of WhatsApp, claims users will have to start paying for WhatsApp services.
Verdict: The viral WhatsApp voice note claim is a hoax. The content is not new and has been circulated as a broadcast message several times in the past.
Viral Fake Post Claims Facebook, Instagram, WhatsApp Will Be Inaccessible For Seven Days
Claim: A Facebook post screenshot, purportedly from the verified handle of Mark Zuckerberg, claims Facebook, Instagram, WhatsApp and Messenger will be inaccessible again but this time for seven days starting from October 6, 2021.
Verdict: The alleged screenshot from Mark Zuckerberg being circulated is false.
Experts Say Mixture Of Snail Slime, Evaporated Milk Cannot Cure Stroke
CLAIM: A Facebook user claims water gotten from snails (snail slime) and peak milk can cure partial or full stroke.
VERDICT: The claim that water gotten from snails (snail slime) and peak milk can cure partial or full stroke is false.
FULL STORY: On July 26, 2020, a Facebook user, Prince Nnamdi Enyinnaya Emelelu Eluwa, in a post claimed that water gotten from snails (Snail slime) and peak milk can cure partial or full stroke. The post which is over a year old has recently been reshared by other Facebook users.
Marburg Virus: What You Need To Know About Disease Recently Detected In West Africa
On Monday, August 9, 2021, the World Health Organisation (WHO) confirmed the first case of Marburg virus in West Africa in Guinea. This development has sent shivers down the spines of West Africans who are still grappling with the effects of the coronavirus pandemic. But before this dreaded disease is greeted by rumours and misinformation, here is what you have to know about the virus.APC states to establish Health Emergency Trust Fund…
FACT CHECK: US Did Not Give Nigeria 48 Hours Ultimatum To Detain Abba Kyari
CLAIM: Several social media posts claim the United States of America (USA) gave Nigeria's Federal Government 48 hours to detain suspended Deputy Police Commissioner, Abba Kyari, or face severe sanctions.
VERDICT: The claim is false and misleading. The US did not give Nigerian Federal Government 48 hours ultimatum to detain Abba Kyari.