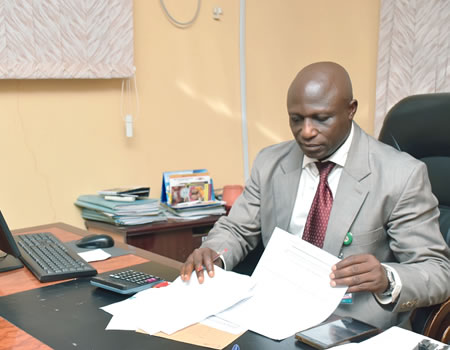 Habila Mutla is the Managing Director, FADAMA Microfinance Bank (MFB), Jos, Plateau State. Barely two years after its take-off, the first farmers' microfinance bank in Nigeria is recording a steady growth. In this interview, he explains how the bank has been helping farmers. COLLINS NNABUIFE brings the excerpts.
LET'S know a little background of the bank
This project was conceived, nurtured and came to be by support of the office of the state coordinator of FADAMA III project, and that is why we are here today celebrating the victory that started with a man that is now taking the interest of the whole country.
How is the bank funded?
FADAMA farmers' MFB started with the contribution of the farmers that have been enjoying the World Bank-assisted programme, which started by contributing a little percentage of their earning and save for tomorrow. It was coordinated by one of the able board members, Esther Ago, and that gave birth to this bank. They were able to pull the fund and put it together and they were looking at the sustainability. Tomorrow, the World Bank may cease to exist; where do we go from here, (I mean) farmers from Plateau?
You know, in Nigeria, a farmer has no place anywhere. You go to any commercial bank; they look at you as somebody that does not belong. So, the farmers in Plateau State decided, through the coordination of FADAMA III, by beginning a contribution. They were able to pull the funds together and give us a unit licence with the Central Bank, and that is the name FADAMA Famers' Microfinance Bank. They did that painfully, and today the story has changed.
When did the bank commence operation?
The bank was founded on the 8th of December 2015. This was when the skeletal service started with the approval in principle (AIP) by Central Bank, which took us to November 7th, 2016 that the final licence came to us from Central Bank, to open to the customers and begin to do the business.
What are the types of services you render?
Having done that, we put a lot of things in place that we needed to do and services that we needed to render to the customers. That is why we have our service products like the daily contribution, popularly called 'adashe' to customers. Instead of giving your daily contributions to these women that walk round and collect the money without address, why can't you give it to a bank that can earn an interest for you?
Also, we have normal savings that exist in normal commercial or microfinance bank. We also have the current accounts that are for the real business men that do not want to come to the bank for withdrawal or to deposit money. So, you can sit in the comfort of your home and issue the third party cheque which can be honoured by confirmation from our officers that are in charge of that. We also have what we call children's account because, you know, if you have a child, you need to save some money for him/her in his/her own account.
We have student's account that is also attracting a lot of people so that, as a student, you may begin to save money, begin to open and have your account. All these ones have their features.
What are your methods of operation?
As a bank, what do you do with the money given to you? One of the primary responsibilities of a microfinance bank is to create risk access, which is loan; to give loan to those that are your customers, those that have quality contributions; those that can be trusted; those that you have done their KYC (Know Your Customer) that you can give loan. This is what we do. We give these loans to customers that we know so that our money will not go down the drain. One thing that kills banks is from the credit side, that is, the loan. But we have been so careful.
How do you disburse loans and the conditions?
I want to tell you that, since inception, we have given loan to about 965 customers and farmers have enjoyed the loan. Farmers that are still enjoying the facilities today are 95 in number with a total amount of N14 million. So you will now agree with me that the farmers are really having a field day here. If not for FADAMA's microfinance bank, where will they have gone to from here? It would have been very difficult for them because when you go to commercial banks, the thing that they are looking for is the collateral but what we are looking for here is the character because those are two different things. Most of our farmers don't even have the collateral that the banks are looking for. Someone wants to assess thirty thousand, forty thousand, and you ask him to bring collateral. Where will he get the collateral from?
ALSO READ: 5,000 SMEs benefit from DBN facilities in one year ―MD
What is the impact of the bank on farmers?
It will also interest you to know that our farmers are scattered all over the 17 local government areas of Plateau state and almost all the local government areas are beneficiaries of this loan I am talking about. In a nutshell, this bank has benefitted the actual farmers who are the people that pull the small funds together to give birth to this bank.
What is your corporate governance?
We want to use this forum again to appreciate Mr. Gideon Dandam, the board chairman, because in this aspect, he does not spare whatever we bring. He is with the stick to make sure that the right thing is done and that the recovery is being made. We also want to let you know that our recovery is very good. We have a very good (Portfolio Agric) and then the customers that default are very few.
We do not do it alone. We have a regulator which is Central Bank. Central Bank licenses and monitors, and we give Central Bank monthly reports. The law says that before the 14th of next month, our returns for this month must reach their desk. We do that diligently, appropriately and as when due. We don't want to be faulted in any way. The board is very serious-minded.
The corporate governance has been very good in the monitoring of everything that we do. And you know after CBN inspects you and gives you licence, there is what we call NDIC (Nigerian Deposit Insurance Corporation); they also do their work. We are waiting for them to come so that they will insure all the deposits that we have here. The CBN visited recently. It will interest you that it was about two accounts out of these 965 that they know that we have a little issue, which is being tackled.
And I want to tell you that FADAMA farmers' microfinance bank has set the pace and it will continue to set the pace such that in any aspect you want to collaborate, we are here to make sure that you can collaborate. It will also interest you to know that there are so many corporate organisations that are opening accounts with us. Even right now, the post office cooperative has just called in to open an account because of the success story they have heard about what we are doing. Right now the NUT (Nigerian Union of Teachers) cooperative in Jos South Local Government is with us. They have opened their account and are enjoying every service that we have which is a very good success story.
What is your staff strength and competence?
We have quality staff here that knows what banking is all about; microfinance bank to be precise, because microfinance bank is just like an egg. If you don't know how to hold it, it drops and when it drops, that will be the end of it. That is why we are so careful, so diligent, so meticulous in everything that we do with the corporate governance that we do have.
In the credit administration, there is what we call the management credit committee; and then we have the old credit committee. All of them are fashioned in different ways. When the credit department does its assessment, it is sent to management committee, that is, the management of the bank. They look at the credit analysis, send it to old credit committee. It is there that everything is being thrashed out before the approval will come.
That is why I will want to tell you with my shoulders high that it has been very good. But, thank God, somebody is watching you if you don't want to do it well. I also use this opportunity to tell you that the board members were very careful when they were constituting this management in selecting the people; people of integrity, highly knowledgeable people, people who know what banking is all about, especially microfinance bank. That is why we are here today.