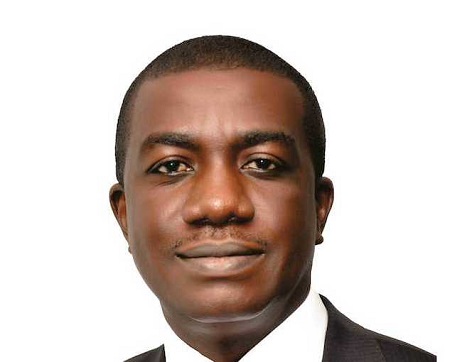 LESS than one year after it commenced full operations, Development Bank of Nigeria (DBN) has reached up to 5,000 small and medium enterprises.
DBN is a wholesale financial institution, which aims to increase access to finance for Micro, Small and Medium Enterprises (MSMEs) through eligible financial intermediaries at reasonable interest rates.
Speaking with some journalists in Abuja at the weekend, Managing Director of DBN, Mr Tony Okpanachi said aside microfinance banks, five commercial banks have also signed on to the services of DBN.
He explained that on November 1st last year, DBN commenced its lending activities with three microfinance institutions.
"We have made available to them almost N5 billion, which was supposed to be for several SMEs.
"Since we are a wholesale institution we work through financial institutions, so when they come we make a line available to them so as they come with their clients we draw on the line.
"What is available now to the three microfinance institutions is N4.9 billion so that is about N9 billion currently available. So as they are bringing their clients on board, we sign", he stated.
He said the bank has also made lines available to some commercial through which they will be able to draw down the line.
"I'm glad to tell you that we have almost nine currently on our list both commercial and micro banks and between now and the end of June we expect more commercial banks.
So as the commercial banks come up, knowing they have more of the volumes, we will hear more from them."
He named the commercial banks as Wema Bank, Eco Bank, Sterling Bank, Diamond Bank and Fidelity Bank.
Okpanachi disclosed that Securities and Exchange Commission (SEC) has approved the $50 million and $20 million investments of African Development Bank (AfDB) and the European Bank respectively, which expanded shareholder base of the institution.
According to him, the bank will soon embark on the massive awareness campaign for SMEs to come forward with their proposals as DBN has enough capital base to meet the needs of over 20,000 enterprises.
"From the funding we have now, we can still move for the next two years before we can consider going to the market depending on the market situation but where we are now with the unburdening of the PFIs we are not going to see uptake of the loans so it is at that point that we will. But I think we have a funding that will take us in the 1-2 years."
ALSO READ: Emefiele bags Economic Personality of the Year award
He gave the assurance that the bank has plans to incorporate business start-ups in into lending scheme saying "part of what we are doing differently is that we are ready to fund startups, like this capacity building we are telling the financial institution that once the projects come and they assess it, we are ready to take up the risk with them to give funding for startups.
"Subsequently, we are going to come up with the product that we are going to sell through these financial institutions for such institutions again that is down the line.
For now, we want the buy-in of the financial institutions themselves so that we tell them the fund is available for them and we are willing to fund start-ups."
The DBN boss said his team was engaging its commercial bank partners in its bid to simplify access to its facilities.
"The PFIs do the credit appraisal which we can't get involved. But when it gets to the DBN side, unlike other institutions, it's with speed. In terms of interfacing with customers directly, we won't do, the banks will do that.
"We are already thinking of products to address start-ups, to address women and others, with specific features, we will still engage the PFIs to bring the clients to access the products. Ultimately, we want to collaborate with the commercial banks and the microfinance banks so the reach will be everywhere."