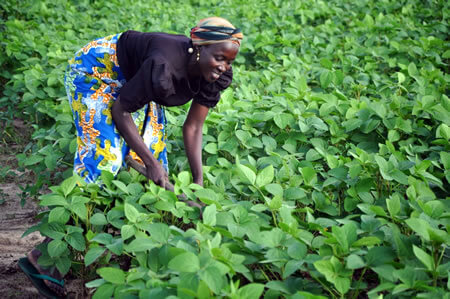 AGRICULTURE researchers, mostly from the Federal University of Technology, Minna  and Kwara State University, did an appraisal of organic agriculture in the Northern parts of Nigeria vis-a-vis the numerous challenges encountered by the farmers up North and came up with recipe for the challenges.
Part of the solutions proffered, during their  research,  which took the team to Kwara  and Niger states (North Central); Gombe and Adamawa (North East) and Kebbi and Kano (North West), was the need for extensive and periodic training  for practitioners of organic agriculture as one of the ways to safeguard the future from cumulative adverse effects of inorganic fertilizer and other non-environmentally friendly farm inputs.
According to Dr A. A. Olowoake, a member of the Kwara State University (KWASU) research organic team, in a position paper after the exercise, the need to mainstream Ecological Organic Agriculture (EOA) into the agricultural production systems of member states of the African Union Commission by Year 2020 was agreed upon by their Heads of States in January 2011.
The focus of the research exercise was on :  "Knowledge Gaps, Needs and Priorities by Gender in the Development Of Ecological Organic Agriculture Value Chains in Northern Nigeria."
The team came up with the position that:  70 per cent of the populace in sub-Saharan African are farmers, adding that "due to the fact that small scale farmers are the pivotal of food production in Nigeria and Africa at large, it is germane that these primary producers are properly equipped with EOA production technologies so as to offset and curb the menace of food insecurity.''
They also recommended the provision and adoption of  improved farm machinery and tools  for use by ecological organic farmers in the region to reduce the drudgery that is often associated with the production and utilisation of organic manures.
The group explained that mainstreaming of Ecological Organic Agriculture (EOA) into the Northern Nigeria means the need to estimate and determine the knowledge gaps, needs and priorities of practitioners of EOA commodity value chains.
"Consequently, a rapid appraisal of these challenges was done among Federal University of Technology Minna team and Kwara State University Organic Research Team coordinating EOA pillar 1 activities in Northern Nigeria.
"The study revealed the sustainability of organic agriculture if well managed. The study further revealed that significant percentages of Northerners are active and productive farmers. These practitioners of organic agriculture are predominantly men with high level of awareness of organic agriculture in their farms. They have acquired education on organic agriculture through agricultural extension officers and neighbours.
"Nevertheless, obtained information did not positively influence their commodity value chains. They argued that organic farming is labour intensive with  inadequate knowledge on market standardisation, sourcing of organic seeds and herbicides, cultural practices, processing and preservation of produce were the most critical challenges.
"Based on the results of this survey, farmers' participation in organic agriculture can be enhanced through appropriate provision of infrastructure such as good  road network, power supply and sustainable water system by government, donor agencies, non-governmental organisations to facilitate bulking and composting/ processing of organic materials,'' the researchers maintained.