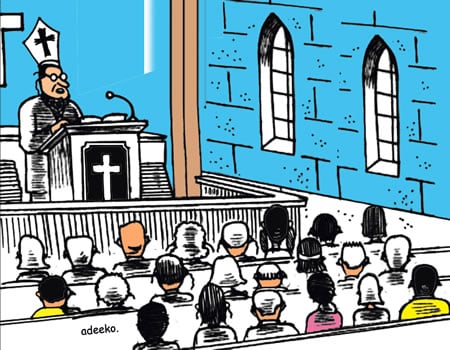 ANYWHERE, any day, I will proudly hoist Daddy Enoch Adejare Adeboye, my Elijah. That is the extent of my extreme belief in the genuineness of his calling and unshaken conviction in his faith and spiritual mainstay.
I have also encountered a lot of spirit-filled men of God, doing great for the ministry of Jesus and taking the gospel to dangerous grounds. May God continue to empower His church. Today, I speak by the leading of the Holy Spirit to my fathers in the faith. May God help them hear properly, distill accordingly and act appropriately. I'm certain they know more than I, about the teaching of Bro Paul on anything on their part that could make spiritual babes lose their faith or the unbelievers give the message of redemption, the wide possible berth. I'm a firm believer in the accruable knowledge from western education. I also believe it can never be too expensive to be acquired. At least, we all agree that the price for ignorance would always be much more expensive. The understanding, that Proverbs consistently encourages believers and all of humanity, to get on top, of all gettings, also has western education at its core, though not all from a man of divine understanding can be alluded to boko (western education).
But education, as currently structured has a way of illuminate a man's heart. Maybe, I should say, the right education, because too many things being learnt in schools today can be safely assumed to be direct, from hell. If one is desirous of fine details of the rot inside, check an average end-of-year party gathering. Schools try to outdo one another in infamous conducts. The music will make a saintly parent puke. The dance-steps? You wonder what you are really paying for; building an intellectually-efficient and effective child or getting another Olamide under your roof, without an option of bargain. Kindergartens are given macro-mini for uniform and sport wears by school authorities. The horror of the consistently-descending societal values is served an average conscientious parent, a la carte.
ALSO READ: Demolition of Ayefele's Music House was self-inflicted —Arulogun, Oyo Commissioner for Information
The worry of receiving back from everyday private and public schools, a hardened version of the Falomo High Schoolboy rapists and girls who daily reshape their uniform, outside homes, to "pencil" with carry-about needle and thread, to bring out their "figure 8" for fellow students and teachers to lust after, is mainly responsible for the droves toward faith-based institutions.
Oh, don't remind me that a ton of complaints had been dumped at their (church schools) doorsteps, with the more known, receiving the most knocks.
If their products aren't being considered worse than those they were supposedly raised to be better than (students of regular schools), like the frothing Redeemer University student who saw a better man in Ifa-worshipping Wande Abimbola, than his God-serving Vice Chancellor, critics are throwing punches, for perceived sacramental pretexts.
My kids attend faith-based schools and I confirm the learning environs aren't completely heavenly. Men still behave like men. The other day I witnessed first-hand a female student and a male teacher connecting signals, which were outrageously suggestive. The school? We can skip, for the sake of those labouring day and night, to make such environment Eden-kind, before the bucking-passing apple episode.
Greater dust, however, has been over the fees, which are still looking North. Why won't a frozen fellow freeze everywhere when the mind of Christ is obviously missing in decisions from boards of the various schools, which incidentally hold most of their meetings on holy grounds. Why should a JSS 3 student pay close to a million naira for just two terms because of "graduation"? It would not matter if it is boarding and parents can pay in two installments. Will it ever be right for those who give "real" widow's mite in tithe and offering, to be completely denied of what was built of their "sweat"?
Yes, the regular private schools, especially the top-notch, can be argued with facts to even be more expensive. The reason d'être of paying so much to raise godly men and women with solid characters at faith-based schools, unlike educated crooks from elsewhere, is even acceptable. The horizon of the positive "whys" can also be widened with the cliche of "getting two for the price of one" (Godly and educated for astronomical fees).
There should even be no problem with faith-based schools playing their moneyed game like the heathen. While the assumption may be statistically-untrue, many within and outside the church, hold dearly that both are same side of a coin; absolutely material in nature, concept, essence and texture. I still see no issue with being business-savvy in the way of the world, only that the church would have to stop being hypocritical with business and the spiritual. If the church is desirous of raising Godly future leaders according to the ways and mind of Christ, a low-fee-paying schools can be established mainly for church members, to meet both their enlightenment and spiritual needs, without making anything mega about it. Mega schools with "ungodly" fees can be established for all-comers with the right bucks and without the spiritual pretenses.
Let there be a business arm and its vineyard counterpart and all the noise about the church engaging in episcopal robbery, would simply drown. Considering how effulgently-religious and status-conscious we are, the mega-schools would still be well patronized, but the challenge is that even the denomination just getting its registration certificate off the computers of Corporate Affairs Commission (CAC) wants everything to be "mega-mega".
Beyond the craze for big-man status, pastors who are getting their commodities out expensive, as a way of displaying "we have arrived" mentality, risk always ending up with the irredeemable as wealthy clients and no matter the posture towards discipline, who pays the piper will end up dictating the tune. Is it any wonder, stranger-than-James Bond actions are happening everywhere in environments Angels look-alike are expected to be raised?