We have employed over 9,500 tutors across Nigeria —27-year-old Godwin Benson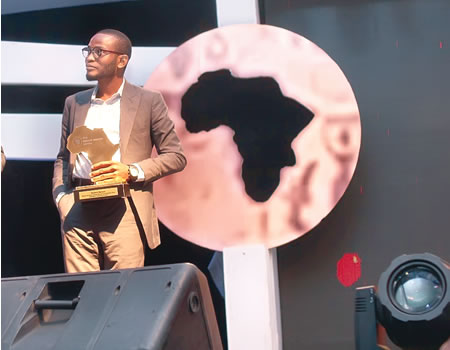 Weeks ago, an app, Tuteria, developed by Nigeria's Godwin Benson, was selected for the £25,000 annual engineering award administered by the UK Royal Academy of Engineering. Instituted in 2014, the award recognises achievement by innovators across Africa. Only two years ago, Benson was among five entrepreneurs awarded 3.5 million naira each by Microsoft at the end of its Passion to Empire Campaign. In this interview, the First Class graduate of Systems Engineering from the University of Lagos tells NAZA OKOLI about his journey to success, as well as his plans for the future.
What was the motivation behind Tuteria? When was the vision conceived?
When I was in primary 3, I could hardly read a sentence in English, or solve simple Math questions until my grandma began teaching me privately and what seemed difficult suddenly became easier, and I rose to become first in class. This was my first experience of the effectiveness of one-on-one lessons.
In 2005, I was hired to teach a man's son Math for one month at N6,000 / month which I did exceptionally well, but for which the man didn't pay me the agreed amount at the end of the month.
This was a painful experience, and I wanted to do something to ensure no one else goes through a similar situation. I also realized that even though I lived 10 minutes away from this man's house, he had fruitlessly been searching for a tutor for over 2 months showing how difficult it was to find really good teachers.
This was my initial motivation for building Tuteria. I wanted to make it easy for anyone looking to learn anything, to find and connect with the very best teachers nearby, as well as ensure smooth administration and guaranteed payments for teachers.
Now, Tuteria has evolved into a foremost learning platform helping thousands of people master the subjects and skills that matter to them, while also empowering thousands of talented teachers nationwide.
How long did it take you to complete the design?  What are its unique features?
It took us 7 months of programming and talking with potential customers to build the first version of Tuteria, which we did from my living room.
We built a system where interested tutors could apply online, and go through our rigorous vetting and verification process, to enable us to identify and profile the very best tutors who had what it took to deliver amazing results to their students.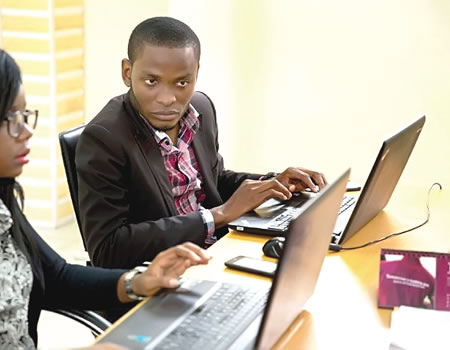 Then we incorporated a simple way for interested students to find, hire and pay for lessons with a tutor of their choice, as well as use our in-built tracking system to monitor lesson progress and receive feedback; while tutors receive an automatic credit from Tuteria to their banks.
What do you consider to be the greatest impediment to start-ups such as this?
I would say access to very good technical talents, or programmers or software developers to build a platform as Tuteria which depends on a lot of technology.
Given these challenges and considering your own experience, what advice would you give young people desirous of effecting change or starting a business?
My first advice would be to clarify your vision, and be sure that it's solving a problem that people care about and that there's someone (or hopefully, people) willing to pay for it.
Start in anyway you can. Do the smallest thing possible in the direction of your idea. Take baby steps, if you wish, and see how your customers respond. Usually, their actions will tell you what they will pay for or not.
Ensure you build a strong team. Get people who have skills you don't. Keep learning, and changing based on customer feedback till you arrive at a product your customers really love. Don't be distracted.
You have won several awards and funding packages. Are these opportunities adequate in Nigeria? How have you managed to target and win them?
There is a plethora of funding opportunities to support African entrepreneurs which anyone can take advantage of. I usually searched online for any opportunity relevant to my field, and applied for as many as I qualified for.
When I do, I try to understand the aim of the organization behind providing the support, and present a compelling case, usually with proofs, that Tuteria is a great fit to help them achieve their funding goals.
Your last win – a whopping €25 000 – seems like a lot of money. How do you plan to spend it?
The bulk of the prize will be spent on Marketing and Technology. We are broadening our range of services, improving the efficiency of our technology, as well as capturing a lot more customers. The funds will help us speed this up.
We've also moved into a better office, and are recruiting more internal staff.
There is an abundance of great talents in Nigeria, but the country has not been able to utilise these resources maximally. What is responsible for this?
While I don't claim to have extensively studied this subject, my view of the situation is that the same challenges in the Nigerian environment – power, lack of infrastructure, access to funding or credit facility, etc – are not unique to anyone, they affect everyone.
Therefore, it behoves on these "great talents"to pursue their own visions without giving room for any excuses. We are responsible for what we do to overcome the challenges the environment presents.
You graduated with a First Class in Systems Engineering. Isn't an academic (university) career something you would want to pursue?
As much as I love teaching and I'm very good at it; I'm not looking to pursue a career in the academia or university. I have always wanted to apply my engineering training to create solutions that would impact on the quality of life of millions of people through various products and services.
During my time in college, I discovered that those lecturers who had accomplished certain feats, or done some industry-related work outside the classroom had a lot more to offer us beyond the textbooks, because they showed a deep understanding of how each concept taught in class was used in their own real-world experience.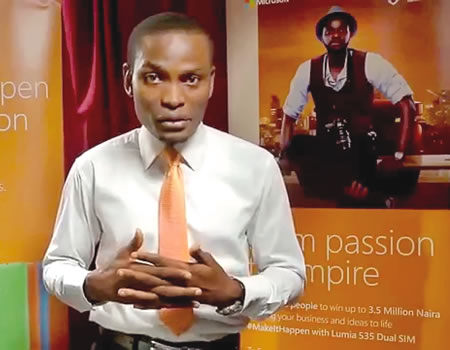 I thought that was immensely valuable.  So, I knew from then that I wanted to accomplish something significant outside the classroom, so that if I have an opportunity to teach others, I would have a lot of value to offer.
What role did your university education (in general) and your First Class degree (in particular) play in the design and setting up of this app?
My university education played an important role in setting up Tuteria, including meeting my co-founder.
My first exposure to programming was in my second to fourth years in the University of Lagos, Akoka – same for my co-founder (also a First Class graduate) who was my classmate then. The programming courses taught us how to solve problems, create solutions and products with computer code. This gave us a good launching pad for Tuteria.
Being first-class graduates helped us think through our process to ensure we had built a system that attracts the very best, first-class type of teachers at heart, and enabled us to utilize the data and information captured so far, to steer the direction of the company.
How many people have you so far employed – either as direct staff or as tutors?
We have 8 staff internally, including myself and my co-founder, and more than 9,500 verified tutors across Nigeria, from over 27,500 applicants.
Can you describe your feeling in the moments before and after your app was selected as winner of this year's award?
Before my selection as the award winner, I was pretty calm and expectant as my custom is. I knew I had a great business, and had done my best to show the judges and audience that Tuteria was a great company to support. So I was waiting to be announced the winner.
During the award, I felt truly proud of the work we had done, and how far we had come in such a short time. Being the Africa Prize winner, with recognition from the Royal Academy of Engineering, UK was such a huge honour for Tuteria, and a testament to the amazing impact we're making in education in Africa.
After the award, I felt like getting back to work immediately!
Where do you see yourself and your work in another 10 years?
In 10 years, I see Tuteria becoming a mainstream, well-trusted source of learning for millions of people around the world.