Emerging artists set to dazzle in Next of Kin
The third edition of the art exhibition and competition will showcase interesting works from young, contemporary artists being projected as future masters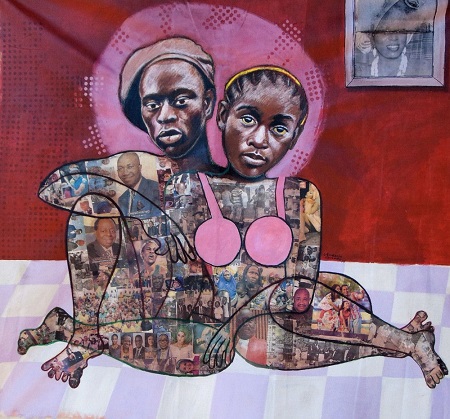 Art aficionados would be treated to exciting works from upcoming artists at the third edition of 'Next of Kin Series' art exhibition and competition organised by Thought Pyramid Art Centre, Ikoyi, Lagos from March 21 to April 4.
The 10 finalists for the contest with a grand prize of a free solo exhibition at Thought Pyramid, were unveiled recently. The emerging artists whose professional careers do not exceed eight years and who possess unique skills to become future masters are MoboOgunrosoye, Hassan Abdulazeez, WaheedAriyo and OdinakachiOkoroafor. The others are UnyimeEdet, Ojo Adewale, Taiwo Abisoye, Christain Allison, Michael Igwe and Almat Adams.
Three works by each of the finalists comprising painters and sculptors would be shown at the grand finale of the contest on March 21 at Thought Pyramid. They would then be available for viewing until April 4. 
Speaking on the competition and the selection process, Curator at Thought Pyramid, OvieOmatsola, disclosed that a judging panel comprising seasoned artists picked the 10 finalists. The judges are Abiodun Olaku, Sam Ovraiti and KelaniAbass. 
He explained that the selection process starts from October of the previous year when a call for entries is announced. 
There were over 363 entries from different media including painting, drawing, sculptures (wood carving, metal works, ceramics), photography and installations. 
However, 26 entries were disqualified because of irregularity and incomplete submission. The remaining entries were then divided into six batches, each containing 60 entries apart from the sixth batch that had only 26 entries. 
ALSO READ: Chairmanship position: PDP elders endorse Fayose's preferred candidate
The criteria for selecting the participants were subject matter and content, creativity and originality, composition and presentation, use of material mastery, aesthetic perception and wow factor.  
"All the works went through screening by the judges in two different stages from which the best 16 made it to the final stage," Omatsola said. 
He added that "from the selected 16 that the three jurors unanimously picked, we arrived at finalists of 10 participating artists for 2020 Next of Kin show, using the six different criteria listed."
Giving further insights into the history of the competition, Omatshola said: "The show is aimed at promoting the careers of these young artists while fostering the appreciation and enjoyment of contemporary Nigerian art. It is also a window to raise the standard of art practice in Nigeria." 
 The 'Next of Kin' exhibition series started in 2017 with the first edition held in 2018. Participating artists at that maiden edition were Elizabeth Ekpetorson, Oluwole Omofemi, Bertha Onyekachi, AkintomideAluko, Ikechukwu Nnadi, Fortune Anuforo, Sotonye Jumbo, Osifeso Ezekiel, Anthonia Nneji and Sidney Osioh. 
The second edition in 2019 featured Ikechukwu Ezeigwe, OlukotunOpeyemi, OdiboOdiabhehor, Kareem Tobiloba, Ifeanyi Ugwoke, Segun Fagorusi, AneduEdozie, BadruTaofeek, Agbaje Julius and Alogi John. 
Art patrons are in for a treat with the exciting works of the finalists for the third edition being sponsored by AK & Co, Platform Capital and Nigeria Machine.
Self-taught mixed media artist, Mobolaji Ogunrosoye, for instance, brings a depth of conceptuality in composite visual expression. The artist applies the collage technique in blending monochrome with colour in what she describes as exploring "distance and separation within human relationships." In works like 'Don't Be Shy', 'Where Are You Going?' and 'Love You Sis', she uses self-portraiture as contents of the visual composite.
Sculptor Hassan Abdulazeez, on his part, brings the natural textures of different metal materials to celebrate the beauty in the world of birds. The artist, in works such as 'Okin Oba Eye' and 'Hidden' welds cutlery with other metals to generate interesting sculptural works. 
In OdinakachiOkoroafor's painting comes quite a unique technique and style of visual narratives. The artist's collages of cutouts pictures matted with figurative paintings dwell on diverse social issues. In 'Society Lady', he applies the cutouts images in the outlining technique on stylized figurative painting. 
Strengthening the richness of Next of Kin 2020's contemporaneity is metal sculptures of Taiwo Abisoye. Apart from the artist's depiction of different species of dogs using scrap metals, the anatomical diversity of the renditions are noteworthy.
With impressionism brushstrokes, Almat Adams celebrates culture, beauty and boldness on canvas. Whatever the texture of her canvas loses in lighting — perhaps for emotion — the artist gains more in multiple folds with the poetic composition of figures. Stepping out elegantly in vibrant colours against a dark background is Adams' 'Queen In the South', a beaded lady with Benin royal paraphernalia. Another of her work titled 'Admiration' peeps into a lady's makeover table.