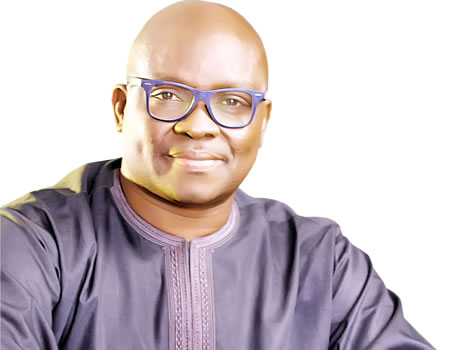 FOLLOWING the letter by Governor Ayodele Fayose of Ekiti State to the Economic and Financial Crimes Commission (EFCC), to make himself available for questioning on 16th October, 2018, the anti-graft agency has acknowledged the receipt of his letter and asked him to make himself available on Thursday, September 20, 2018.
Fayose is being invited by the anti-graft agency to make clarification over some issues that affect him.
The Governor, in his letter to the EFCC dated September 10, 2018, said he will make himself available to the anti-graft agency on October 16, 2018, to make a clarification on investigations that affect him.
EFCC, in a letter dated September 13, 2018 and signed by its Director of Operatons, Umar Abba Mohammed, on behalf of the acting Chairman of the Commission, Ibrahim Magu, requested the Governor to turn himself in for interrogation on Thursday, 20th September, 2018, without prejudice to his immunity under section 308 of the constitution.
The anti-graft agency appreciated Fayose's sense of duty and responsibility as a law abiding citizen who wishes to voluntarily submit himself to the due process of the law.
Fayose, in his letter, addressed to the acting chairman of the EFCC, said his desire to submit to the Commission was based "on several and serial actions of your Commission for some time now, including but not limited to, freezing of my accounts and attempts to secure temporary forfeiture of my properties."
Fayose also stated in the letter that: "I wish to inform you that my term of office pursuant to which I enjoy immunity against investigation and prosecution under the above provision shall lapse by effluxion of time on Monday, 15th October, 2018.
"As a responsible citizen of our great country, who believes in the rule of law, I wish to inform you of my decision to make myself available in your office on Tuesday, 16th October 2018 at 1:00pm to clarify issues or answer questions within my knowledge.
"Kindly confirm the suitability of the above date or indicate by return, the Commission's convenient date."
A stamped copy of the letter, entitled "Notification of my decision to make myself available in your office to clarify issue(s) or answer questions on issues within my knowledge", indicated that it was received in the office of the EFCC chairman on Tuesday, September 11, 2018.
Governor Fayose, has been in a battle of wits with the EFCC and had also been in and out of courts with the Commission over his personal and State's finances.
His tenure as governor of Ekiti State would elapse on October 16, when he is expected to hand over government to the governor elect, Dr. Kayode Fayemi.