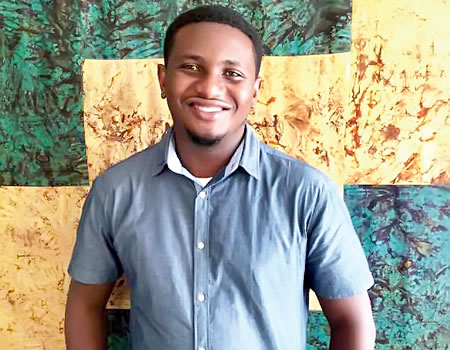 Dami Ajayi is a medical doctor as well as a writer. In this interview with RITA OKONOBOH, the Senior Registrar at the Federal
Neuropsychiatric Hospital, Lagos, shares his experiences of being a doctor and writer, while detailing how his medical career
influences his writings. Excerpts:
WHO is Dami Ajayi?
Dami Ajayi is a medical doctor, who also developed an interest in writing from a young age. I've been writing what would seem like poetry since age 11. Music is my first love, but literature is my second and because I cannot sing, literature somewhat became my first love. I'm just a regular guy. I was born in Ado Ekiti, but from Ondo State. When I was young, my parents lived in Ado Ekiti – my father was a lecturer at the Ondo State University, Ado-Ekiti and my mum was a teacher at the staff school of the same  – that was before the separation of Ondo and Ekiti states. At the time, Ado-Ekiti wasn't a state capital and was quite a sleepy town. Subsequently, my dad entered into the banking industry. From Ado-Ekiti, we moved to Lagos.
What made you decide to study medicine?
At the time, it was assumed that when a child was smart, he/she had to be a doctor. I was also very interested in medicine. At some point, I flirted with the idea of becoming a petrochemical engineer, but I put that to rest when my father asked me one simple question – 'what will you do when oil finishes in Nigeria?' And so, I went back to studying medicine. After graduation from OAU in 2011, I did my mandatory house job at Wesley Guild Hospital, Ilesa for a year, after that I was posted to Anambra State and worked at the local government and I was the only doctor in that local government . I was posted to a model hospital in a small village called Ndiowu. After that, I came to Lagos, and worked as a medical officer in several private hospitals before I started my training in psychiatry.
You penned your first creative lines at 11. What fuelled your desire to write poetry?
Poetry is integral to our livelihood; it's when we deploy language uniquely. Being from a Yoruba background, the language is very poetic and there's a way the primary language rubs off on the secondary language. I've always been interested in what words can do and, as a child, I was always interested in music. I listened to a lot of juju music as a child and I liked what was being done with language. In secondary school, I also read Donatus Nwoga's West African Verse, and that book had a huge effect on me and encouraged me to write more.
Medicine is more fixed, the arts, more fluid. As a person who draws experiences from both worlds, how do you create balance?
I come from a family of multi-taskers. My maternal grandfather was a drummer, local vet doctor, herbalist, local pharmacist, among other occupations. I also like to multitask. I'm more interested in seeing how different experiences complement and compensate each other. I started writing Clinical Blues, because at the time, I felt medicine could not give me satisfactory answers to the questions I was asking, from my direct observations, about what illnesses could do to humanity within the corridors of the hospital. I was an apprentice-doctor, learning the ropes, and I could see that there were issues that needed to be interrogated.
If you had to choose between medicine and writing, which would it be?
I'll still choose both. I started writing before I became a doctor. If I go back in time, I will still study medicine and will still write. If you're asking where my loyalty lies, it would be somewhere in-between. Although, eventually, anyone who follows the due process, can become a doctor, however, not many people can become writers – the rigours of writing can be excruciating.
You wrote I Know What Lagos Does to Dreams, to reflect your experience settling into the city. Would you say you have been able to blend in?
You can't blend into Lagos. If you stay long enough, you become part of the system, but when you leave and come back, it becomes a little strange again. Lagos is like a virus; to put it in milder terms, it's an acquired taste. I have a love-hate relationship with Lagos. Lagos is a land of vast opportunities; you can meet one person, and that alters the course of your life. You make one mistake in traffic, and that alters the course of your day. That's the way the city is programmed; it's a force in itself. I wrote that poem because Lagos is not a win-win situation for everyone. There are people who lose their lives, some lose their minds, in the struggle. Living in Lagos, the hostility, friendliness of strangers can be stressful. So, I was writing to that experience.
You published Clinical Blues in 2014. How would you assess the reception so far?
I would say it has been a very good first book of poetry. The book has taken me to several countries, brought several endorsements. The reception has been warm and it makes me glad that it was meaningful to have the book out, rather than just keep it to myself. I didn't expect this much and it is almost out of its first print and that makes me very glad.
What are you working on now?
I'm actually done with another book – another book of poems, The World According to Affection. I'm not sure I have another book of poems in me after this though. Clinical Blues is dark and gloomy, so I decided to write a happy book. It's about looking at affection as a noun, then as a verb and trying to see how both work. I'm hoping it would be published before the end of the year.
Tell me something about Dr Ajayi that many people would find incredible.
I'm a very good dancer. I like to dance to songs of the 90s. I'm also a very good cook. Some of my friends call me a Ramen god because of my skills when it comes to making noodles. I don't enter the kitchen very often but I can make pretty much anything – egusi, ila alasepo, amala, ewedu, jollof rice, among others. In fact, I'm the king of jollof rice; you can quote me on that.
How do you get inspiration for your poetry?
I draw my inspiration from my surroundings, experiences, perception. All what comes into my consciousness are important in forming my poetry.
Do you think doctors have the right to use literature to analyse society?
We do. We take care of the most vulnerable people in society, and, in a sense, the society itself is sick, and who is better to analyse it, than a doctor. Don't forget that the doctor doesn't live in the hospital; he lives in the society. First, the doctor is a citizen, then a doctor. He is still that person who interfaces through different experiences. So, yes, doctors have every right to comment and contribute to national discourse, and if they chose literature to communicate, that's fine."