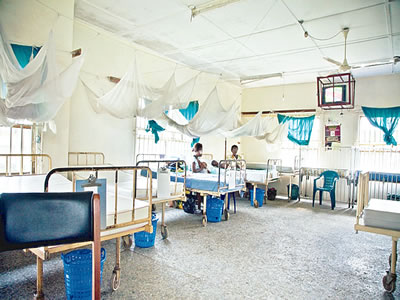 Have you been sick in time past before that you had to explain yourself to a doctor about what exactly was wrong with you?
I think one of the hardest examinations is the one from doctors, that question "How are you feeling?" To patients, this might sound like "explain why Nigeria is poor and rich and the same time?"
The relationship between doctors and patients is grand, interesting, hilarious, revealing, sickening (if the mood is wrong), and it is made in heaven.
CAVEAT: This compilation is not really to bring down nor disrespect the people involved, we're all important in our own ways, if you take this with pinch of salt and as a comic relief, you're not likely to visit a doctor soon, but in the event that you get angry and insulted… well, let's just say when you go for the next BP test, you might tell your doctor your village people are responsible.
Dr Oluwaseun Abiola Odu, a GP registrar, explains, "sadly, I don't keep the complaints in my head, but what I can tell you is that there are no weird complaints.
"What happens is that there is a miscommunication between the doctor and the patient.
"Patient don't know how to pass across their message.. It is the job of the doctor to help them put it in a way that is both understandable to both. And that is where the consultation starts from. Clarifying what the patient is saying."
So, Dr John Afam-Osemene, on Twitter started a thread for doctors on: "During your practice, what's the weirdest thing a patient has said to you and you thought was "utterly ridiculous"? And the social media exploded.
One said: "Mine was when I had this patient, and I needed to get some blood for a test. Brother was utterly convinced that he had done "jazz" and the needle wouldn't pierce his skin. He was so confident, I actually believed him for a second…"
"Another is the apparently "popular" myth that blood will finish when you take some for tests. Like this man kept begging me not to take his blood, because  "e go soon finish na." "The 2mls wey dem take yesterday, where e dey?" The patient asked in confusion.
Another one said: "Doctor, remember me? You assisted in my surgery when you were a house officer. I just want to ask if you can remember my test results and what my PCV was?"
One doctor explained that " I wanted to transfuse a patient with menorrhagia, and as I brought the blood bag and was warming it up, her grandma said…."she nor fit drink am now o she just dey chop finish."
"After my ophthalmoscopic finding of hypertensive retinopathy on my patient with an accompanying BP of 180/120," a doctor said: "I just asked the baba, sir are you on any hypertensive drug?" The baba told me "my son I no get hypertension except you're the one that put it there," the patient answered.
"My lowest was last week Thursday( two months ago), just doing the routine case history LEE, PORHX, pmhx, Fmhx.. the man just interrupted me and said "young man I did not come here for you to be asking me questions, just test me and find out yourself, I just want to see clearly."
Another said that he was about to do a cesarean section (CS) for this Yoruba woman, who has been shouting down the hospital, the consultant, a Yoruba man asks her: "Where you from?" Lagos,
she replied. "Badagry abi?" The consultant asked again. Yes, she replied.
"Why you come dey shout like Ibadan woman?" Immediately she screams, Na Ibadan man do me this thing ooo..
"Sometime last year, I wanted to lumbar puncture for a 5-year-old," another doctor began… "While the assistance held the boy the usual way, the boy started shouting in Yoruba "did I steal fowl, why are you holding me like I stole fowl?"
"I am a pharmacist. This lady comes to the pharmacy with nasal congestion. Not so financially buoyant. I explained how she could decongest her nose with a saline solution; told her I have done it on several occasions. After explanation, madam retorted God forbid! I don't have ebola!"
Old psych patient said only his doctor (who I'm not sure even exists) can draw blood from him. Went on explaining that his blood was too thick for the needle and his doctor knows this.
"A father claiming his child was perfectly fine till he was brought to our centre and we're trying to kill him now. Please, who brings a 'perfectly healthy' child to Children Emergency?"
One doctor relayed that a patient once said I couldn't use the previous blood sample for her tests because I wanted to sell it.
Chai, language barrier with some Ijaw mothers. After trying to explain malnutrition. They will now ask me, "you be the nurse abi you be the doctor?"
"Just recently, a mother asked me to transfuse her baby with blood tonic… I kid you not!"
"…She asked how old Iwas, and asked if I had any kids then proceeded to ask if I was barren."
"After seeing a patient, she left the consulting room and entered the next consulting room, and told the doctor there (who I was more experienced than), that she does not understand what that 'BABY STUDENT DOCTOR' was doing, that she needs a REAL DOCTOR to treat her."
Another doctor said: "A patient who had Preterm Premature Rupture of the Membranes (PPROM) told me to reorder an obstetric scan after drinking water from her pastor. That the water had been replaced."
"One confidently came to my consulting room to lecture me that malaria can lead to typhoid and that typhoid is chronic malaria."