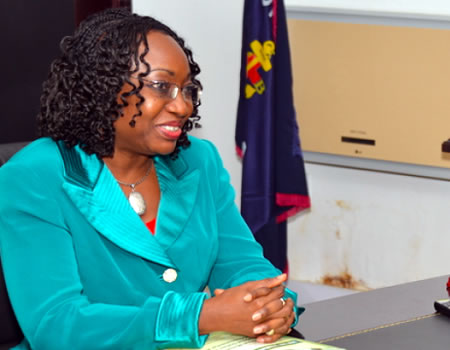 THE Head of the Civil Service of the Federation, Mrs. Winifred Oyo-Ita, has said that effort by the current administration of President Muhammadu Buhari to fully diversify the nation's economy will be in vain without the efficiency of the Nigerian workers.
She, therefore, urged all public servants in the country to intensify their efforts towards the full implementation of policies, programmes and change agenda of the government.
Speaking in Abuja against the backdrop of last week's celebration of Sallah by the Muslim faithful, Oyo-Ita, called on Nigerians to avoid any form of hate speeches and continue to pray for the peace, unity and development of the country.
She said that for government to be able to appropriately and successfully achieve its policy of economic diversification in the country, public servants must ensure that they exhibited the highest level of efficiency, productivity, incorruptibility and citizen-centred.
The Head of Service, stressed the need for the Federal Civil Servants to ensure the full implementation of the recently signed Executive Order by the Federal Government.
She reminded Ministries, Departments and Agencies (MDAs) of the Federal Government to ensure compliance with the recent presidential directive on the immediate resumption of the focussed workshop on the operationalisation of the Executive Order, No. 001, 2017 on the promotion of Transparency and Efficiency in the Business Environment.
She added that any MDA that failed to comply with the directive would be construed as wilful attempt to frustrate Presidential directives and would be visited with stern reprimand.
According to her, MDAs were  required to prior to the workshop submit their Operationalisation Plan (OP) to the Head of the  Civil Service of the  Federation through the Office of the Permanent Secretary, Common Services Office  in the Office of the Head of the Civil Service  of the Federation and are equally expected to log into the website of the Office of the Head of the Civil Service of the Federation at (www.ohcsf.gov.ng) to ascertain their scheduled date to attend the workshop and to ensure attendance by their respective 5-man Implementation Team.
You may also like to read these
FG approves N44 billion workers' promotion arrears, salary shortfall
FG approves N44 billion workers' promotion arrears, salary shortfall