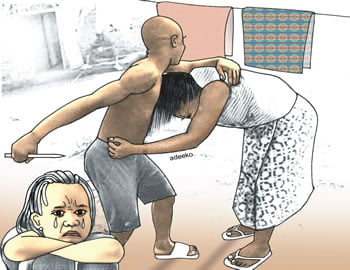 A teenager, Bosede Saheed, has dragged her husband, Hammed,  before  Mokola Grade 'C' customary court sitting at Inalende, Ibadan, Oyo State, on account of constant battering.
The plaintiff explained to the court that her husband, Hammed, takes pleasure in beating her at the slightest opportunity.
"I have reported him to his family members on many occasions and they told me they are tired of him,  " Bosede said.
Our three-year-old marriage has suffered unrest and unhappiness of all kinds.
"I'm tired of the relationship; I can no longer cope with his beatings," Bosede told the court.
Hammed agreed  to his wife's plea of  divorce.
"In spite of  the challenges we've been having in our union, I have tried all my best not to  have our marriage dissolved , but she insisted on divorce.
"Everything she told the court about me are lies, but since she has made up her mind to divorce me, let the court separate us," Hammed said.
The  court thus ruled:
"The marriage between the plaintiff and defendant contracted about three years ago is hereby dissolved forthwith since there is no sign of love between the parties.
The defendant should take care of the child's  health and  education and give N2,000  monthly as feeding allowance, the court president, Mr Olafenwa Ramoni Ola-city ordered.