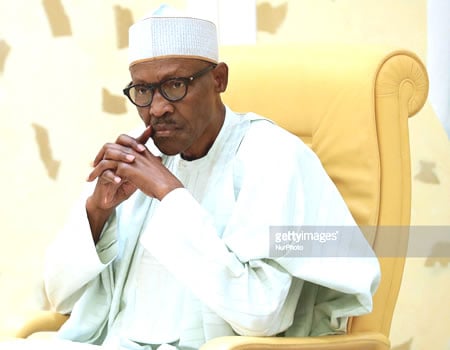 Faced with threats of litigation over mounting debts to creditors, the management of National Institute for Policy and Strategic Studies (NIPSS), Kuru, has cried to President Muhammadu Buhari, to urgently intervene and save them from embarrassment.
Acting Director General of the institute, Jonathan Mela Juma, made the plea when he led Senior Executive Course 39 (2017) participants, to a parley with the president on Friday at the presidential villa, Abuja.
He told the president that the institute can no longer completely rely on the annual budget.
Juma said the recent release of the Multi-Year Tariff Order (MYTO) by the Nigeria Electricity Regulatory Commission (NERC) has increased the institute's electricity tariff by 100 percent, adding that the institute needs a 24-hour power generation because of the enormous work done there.
Juma said: "The Institute is, however, operating at the moment below its envisaged capacity due to funding challenges. In spite of the facts that we have looked inwards and appealed to corporate organizations, we are still living with constant threats of litigations from our creditors for services offered to the Institute."
He, therefore, requested for the president's direct intervention in other for the institute to raise funds outside the budget.
Juma added: "It might not necessarily be from the budget. There are other revenues you can tap to be able to raise money and support for this tools. And one of these areas is the setting up of the endowment fund. If that is done it means we will have other sources other than what comes from the budget.
"We do recognize the fact that the budget is limited, there are other competing needs and so we cannot rely 100 percent on funding from the budget."
He continued: "I don't have a figure but one of those areas in which we are indebted is power supply. The NERC just released new MYTO which means that power generators and distributors have increased their tariff by almost a hundred percent.
"When we started the year, we didn't anticipate that there will be this increase. And so, we have to contend with that and our suppliers will not listen to us because the budget did not take into account the increase.
"So, these are liabilities we have accumulated and we have to find a way of dealing with it because we cannot do without power.
"In the national institute we operate virtually 24 hours, every minute of day and night there are participants working and so we must have 24 hours supply of power.
"So good enough, we have NESCO that is very good in that area and coupled with Jos Electricity Distribution Company (JEDC). And so we enjoy very good supply but we need to pay for those services."
Juma disclosed that since 1979, the Institute has produced a total of 1,914 top-level policy strategy experts whose positive contributions in various aspects of national lives cannot be easily quantified.
He said a total of 66 carefully participants took part in the 2017 course.
In his remarks, President Buhari assured that the funding needs of the institute will be addressed just as its infrastructure decay.
He said: "I am pleased that the Participants of Course 39 focused on how Nigeria can address its Food Security Challenges leveraging Science, Technology, and Innovation.
"I have listened attentively to the presentation by the Course Participants and I am glad that the findings and policy recommendations are apt and implementable.
As I mentioned in my budget speech just two weeks ago, "only tailored Nigerian solutions can fix Nigeria's unique problems". I am proud to say your report is in agreement with that.
"Your submission has come at a time when Nigeria is recording significant successes in Agriculture and food security. However, we cannot afford to be complacent. We must develop strategies to sustain this momentum.
"Be assured that the economic management team will carefully study your Report and work towards implementing its recommendations.
"This administration will also continue to address the challenges of the National Institute in both infrastructure and manpower for improved performance."
---
---