JUSTICE Ayokunle Faji of a Federal High Court sitting in Lagos on Tuesday adjourned till June 29, further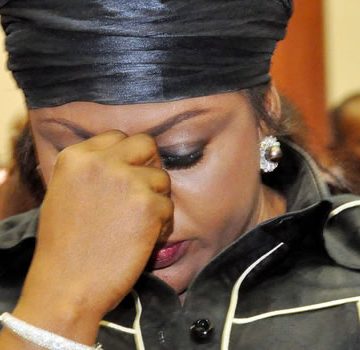 hearing in a suit by Sterling Bank against a former Aviation Minister, Sen Stella Oduah, over alleged indebtedness.
Sterling Bank alleged that Oduah and her company, Sea Petroleum and Gas company Ltd, were indebted to it in the sum of $16.4m and N100.5m.
Justice Abdulaziz Anka who presided over the suit before, had in March issued an order, restraining Oduah and her companies, from making any withdrawal from its account and those of three other companies domiciled with 21 banks in the country.
The other companies include Sea Shipping Agency Ltd, Rotary Engineering Services Ltd, and Tour Afrique Company Ltd.
The court had also, issued an order directing the said commercial banks harbouring the assets of Oduah and the four companies to sequestrate their indebtedness as at November 2016.
The court also ordered that the money be kept in an interest yielding account in the name of the Chief Registrar of the Federal Court, pending the determination of the suit.
Sterling Bank had in affidavit sworn to by one of its staff, Mr Segun Akinsanya stated that on Oct 8, 2012, the bank granted a lease/Cabotage Vessel Finance Facility (CVFF) to Sea Petroleum and Gas Company.
He said that the facility was in the said sums to finance one unit 5,000 MT tanker vessel.
He averred that the loan was secured by an unconditional personal guarantee of the companies' director, Princess Stella Oduah.
Akinsanya also averred that same was supported by a statement of her net worth, legal mortgage of two properties worth N135bn, and a power of Attorney of the tanker vessel in favour of Sterling Bank.
He averred that also in support was a fully executed standing payment order and tripartite remittance agreement between it and Oduah.
He said that also granted was about 993, 000 dollars to meet the requisite conditions in securing the release of the tanker.
Also, he averred that upon the persistent failure of the defendants to liquidate their indebtedness, Sterling Bank instructed its counsels to recover the debt.
He said that in spite of several reminders, and demands, the defendants had failed and refused to liquidate their indebtedness which had culminated to $16.4m, and about N100.5mas at November 2016.
He averred that there was imminent risk of the defendants dissipating the assets of the companies, and had urged the court to issue a restraining order.
Meanwhile, Oduah and her companies in its processes had urged the court to discharge the order made against them, while filing a preliminary objection to the suit.