Day Amala dragged foreigners, media influencers, others to Ibadan
Ibadan city, the Oyo state capital, on Saturday, played host to people from all walks of life who came together to celebrate the Ibadan culinary heritage. YEJIDE GBENGA-OGUNDARE reports that the love for Amala brought diverse people, including foreigners, to the Amala Hangout, a programme where people not only ate Amala but had the chance to network, play various games and discuss fundamental health issues.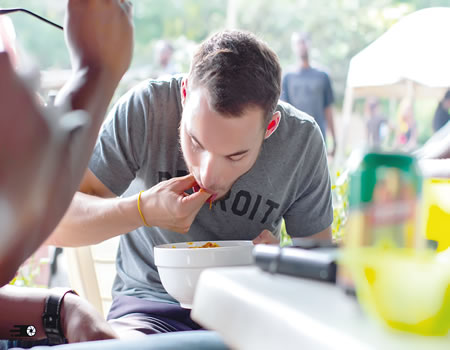 As part of efforts to preserve the beautiful cultural heritage of the Yoruba people in the face of daunting challenges, particularly human activities such as globalisation and civilisation that has continued to threaten, a network of youths who are Amala lovers organised a forum where they can share their love for the delicacy, discuss its advantages and ensure its importance as a culinary heritage is not eroded.
The Amala Hangout, a mobile community of over 20,000 youths all across the world, is a melting pot of intellectuals, professionals and entrepreneurs who are passionate custodians of culture and share a common love for the popular southwestern staple known as amala and who, as part of their commitment to making things work in their environment designed the programme.
The last edition for the year held on Saturday at the National Museum of Unity, Alesinloye, Ibadan and according to the organisers, the venue was specifically chosen to allow them maintain their focus of fusing the culinary and cultural heritage while also bringing people together to learn about the rich history of Oyo state and at the same time, relish delicious Amala, Ewedu and Gbegiri.
The Amala Hangout, a community of Amala lovers coming together to celebrate our culinary heritage, using Amala as the focal point was not just about eating, there were other activities like games, music, comedy, dance, amala, exhibition of vendors products, networking and various forms of entertainment which includes board games; chess, ludo, ayo olopon, draughts and monopoly and Amala eating competition.
A major highlight of the programme which was repackaged to cater for thousands of people asking to be a participant aside the visit to the Gallery of the National Museum of Unity was a lecture on mental health awareness by Mentally Aware Nigeria Initiative (MANI) as well as a lecture on reproductive health by Nigerian Urban Reproductive Health Initiative (NURHI) as well as medical screening.
Mrs Adesola Fanimkon, the program officer for life planning for Adolescent and Youth at NURHI anchored the session of reproductive health, she spoke about sexual and reproductive health, with emphasis on contraceptives and family planning and there were games where people answered questions on reproductive health and won gifts as well as distribution of condoms.
A major enlightening session was the Conversation Café anchored by MANI where there was a conversation about mental health and discussions on the 1958 Lunacy Act which was described as dehumanizing and discriminatory. There was a call to action to have the Act reviewed and updated.
The recent spate of suicide and increasing rate of depression was one of the factors that made the conversation an integral part of the Amala Hangout as the gathering has many people that could lend a voice to issues of mental health and mental health awareness and they were taught about red flags that indicate that an individual has issues with his mental health.
The aim of the hangout is to become a model for culinary historic research where people enjoy history and appreciate how it affects their present and future using amala as the focal point. It also aims at uniting different people from different walks of life irrespective of their tribe, race or religion using food (amala) as the unifying factor.
The Ibadan edition is held quarterly at the National Museum of Unity, Ibadan and the last edition of the programme was held in July with over two hundred participants. But the Saturday event witnessed over 500 per cent increase in turnout and participation.