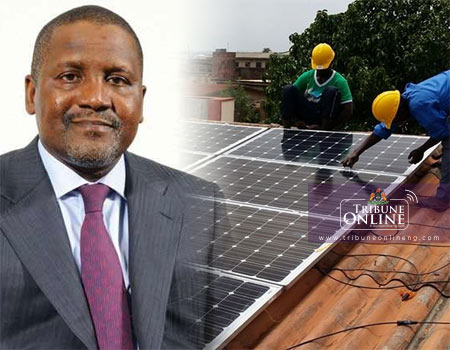 Dangote Group of Companies,Kano State Government, and Black Rhino Group, on Thursday, signed a Memorandum of Understanding MoU for a $150 million Solar Power project.
The power project, which is slated for completion in 24 months, will generate 100 Mega Watts of electricity for both industrial and domestic use in Kano State.
The MoU was signed by Executive Director, Dangote Group, AlhajiManusr Ahmed, signed on behalf of the Dangote Group, while Secretary to the Kano State Government (SSG), Alhaji Usman Alhaji, signed on behalf of the state government.
Speaking at the ceremony Alhaji Ahmed said, "On behalf of Alhaji Aliko Dangote, Group President/Chief Executive of Dangote Group, it is my honour and pleasure to sign this Memorandum of Understanding between our Group and the Government of Kano State for the proposed 100MW Dangote –Black Rhino Solar Power Plant.
"This MoU is yet another milestone in the evolving partnership between the Dangote Group and Government of Kano State in our determined efforts to bring about the much needed improvement in the economy of our great state and the welfare of our people."
"As we all know Kano's pre-eminent status as a great entrepot and center of commerce in the Sub–Saharan region for almost two centuries has sadly declined over the past three decades as a result of sustained contraction of the state's once vibrant industrial and commercial activities.
"Arresting this decline and restoring the state's economic vibrancy must therefore be the desire of every citizen of the State. Our Group President, being an eminent son of the soil cannot but share this aspiration."
He added, "This project which will, on completion add 100MW to the state's electricity supply, is therefore fully in line with our Group's strong commitment to contribute to the reinvigoration of the State's economic potential and over all national development.
"The power plant which will be fully financed jointly by Dangote Industries Limited, and our global strategic partner-The Black Rhino Group, will be a state- of -the -art renewable energy plant that will convert the abundant energy of the sun into quality clean electricity with no deleterious impact on our environment."
In his address, In the SSG, noted that "We need energy to make any progress and development anywhere in the world, so we believe this is a right step in the right direction and I wish to also reiterate that the Kano State Government is very keen on this project and we are doing everything possible, under the leadership of the Governor Abdullahi Umar Ganduje to improve the life and living conditions of the people of Kano State."