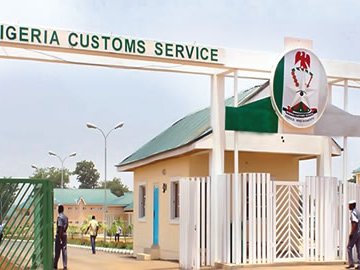 The Federal Operations Unit, Zone A of the Nigerian Customs Service (NCS) has said that after intensifying its operational modalities to meet up with current smuggling tactics, the Unit intercepted various contraband with a duty paid value of N1,618,177,661.50 from 1st to 31st of January 2018.
The Unit also said it recovered N91,366,436.00 in the month under review, thereby making a cumulative of N1,709,544,098.00.
Addressing journalists on Tuesday in Lagos, the Units Customs Area Controller, Mohammed Uba, stated that the seized items include 31 assorted vehicles, 8,400 bags of foreign parboiled rice (14 trailers), 1,652 cartoons of frozen poultry products, 835 jerry cans of vegetable oil, 10 sacks of Indian hemp, 2,208 pieces of used tyres, 159 bales of used clothing among others.
"Among the detained vehicles include 4 Rolls Royce, 1 Porsche Panamera, 1 Jaguar, 1 Bentley, 2 Lexus jeeps, 2 G-Wagon, 1 Toyota Land Cruiser, 5 Toyota Corolla, 7 Mercedes Benz among others, mostly 2017 model. These 31 assorted vehicles alone have a duty paid value of N1,429,953,941.50 only.
While some of this vehicles were intercepted along Ijebu-Ode expressway, others were evacuated in various raids in Parkview Estate, Victoria Island, Banana Island, Alhaji Bankole Crescent in Ikeja, and Tola Adewunmi street, Maryland.
"We urge the owners of these vehicles to come forward with valid Customs clearance documents, otherwise they will be liable to seizure and subsequent forfeiture to the Federal Government in line with the laws of the land.
For the avoidance of doubt, our action is in line with the provisions of Section 147 of the Customs and Excise Management Act (CEMA), Cap 45, laws of the Federation of Nigeria 2004 which gives us power to search premises; and Section 158 of CEMA, Cap 45 laws of the Federation of Nigeria which grants us power to patrol freely.
ALSO READ: Yuletide: Customs impound 64 vehicles, 13,333 smuggled rice worth N1.6bn
"Also, a 1by20feet container with number GATU132358/4 was seized for carrying 537 cartons of Indian Whisky as against Yeast declared in its SGD; and a 1by40feet container with number TCLU172184/3 was seized for carrying 60 pieces of used Chest freezers and 570 bundles of gas hose as against condenser for steam polysomic declared in its SGD. This are both clear cases of the false declaration which is tantamount to seizure.
"Within this period under review, we have also recovered N91,366,436.00, thereby making a cumulative of N1,709,544,098.00.
"In the spirit of interagency collaboration, the seized Indian hemp will be handed over to the NDLEA for further investigation. Ten suspects have been arrested in connection with these 163 seizures.