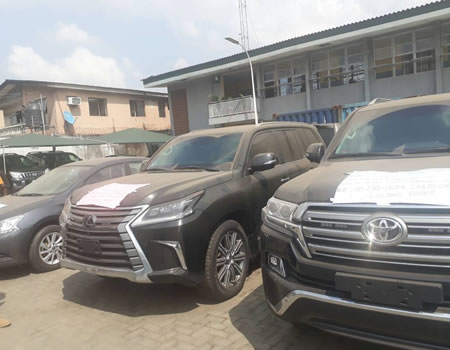 The Nigeria Customs Service (NCS), Federal Operations Unit, Zone A, Ikeja on Wednesday said it intercepted 22 truck loads of foreign parboiled rice and 64 units of vehicles worth N1.6bn smuggled into the country from neighbouring countries.
This was disclosed by the Customs Area Controller (CAC), Federal Operations Unit (FOU), Zone A, Compt. Muhammed Uba Garba while addressing journalists in Lagos on Wednesday.
The bags of rice, according to the CAC has a Duty Paid Value (DPV) of N164million while the vehicles have a DP value of N1.3billion.
According to Uba Garba, "After intensifying our operational modalities to meet up with the current smuggling tactics most especially as the Yuletide draws closer, we have intercepted various contraband with a (DPV) of over N1.6billion.
"The seized items include 64 assorted vehicles (mostly brand new), 13,333 bags of foreign parboiled rice (that's like 22 trailers), 1,390 cartons of frozen poultry products, 835 jerry cans of vegetable oil, 15 parcels of Indian hemp, 1,101 pieces of used tyres, 205 bales of used clothing among others"
The CAC who stated that the service would enforce federal government policy on importation of vehicles and rice through the land borders to encourage local production.
"We need to support the federal government policy on rice, encourage local rice farmers, the millers and patronise our nutritional rice," Uba Garba stated.
Speaking on the vehicles intercepted, the CAC said about 57 vehicles allegedly smuggled into the country were evacuated from an estate in Lagos.
"Among the detained vehicles included three Lexus jeeps (bullet proof), one Toyota Land cruiser (bullet proof), Nine Toyota Hilux, eight Toyota Hiace Bus, 26 Toyota Corolla, Nine Land Cruiser Jeep, Five Toyota Camry, One Land Rover, and One Nissan Sentara, all 2017 model. Also, One Sienna 2015 model and One Lexus RX 350 were also seized. These 64 assorted vehicles alone have a DPV of N1.3bn.
"While 57 vehicles were evacuated based on Intelligence report along Omole estate, Ojodu and Olayiwole close Lekki Phase One, the remaining seven were intercepted while on information patrol along Ijebu-Ode expressway.
"As I speak with you, nobody has come forward to claim ownership yet because we doubt if they have any Customs papers on the vehicles, not to talk of the End-user Certificate for the bullet proof," the Customs CAC added.