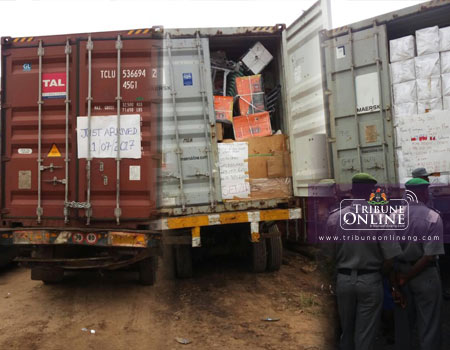 THE Federal Operations Unit, Zone A of the Nigerian Customs Service (NCS) has intercepted banned contraband worth N1,188,090,009 between June and July 2018.
This is even as the Unit said it arrested 10 suspects in connection with 143 seizures.
Addressing journalists on Wednesday in Lagos, the Controller of the Unit, Mohammed Uba stated that between June 13th to July 24th, 2018, the Unit intercepted various contraband with a duty paid the value of N1,120,714,338.12 after intensifying and reviewing its operational modalities.
"Within the period under review, we have also recovered N67,375,670.5, thereby making a cumulative of N1,188,090,009.
"Seized items include 21 exotic vehicles, 9,504 bags of foreign parboiled rice (15 trailers), 436 jerrycans of vegetable oil, 333 cartons of frozen poultry products, 287 bales of used clothing, 198 pieces of used tyres, among others.
"Just as I told you in our last meeting, it is our obligation to support the Federal Government policy on Rice, encourage local rice farmers, the millers and patronise our own nutritional rice which by significance will create employment opportunities for our unemployed teaming youths.
"Among the detained vehicles include 1 Mercedes benz G-500 (2016), 6 Toyota Hiace Bus (2018), 3 Lexus Jeep GX460 and Lx570 (2017), 1 Toyota Hilux (2017 ), 1 Toyota Land Cruiser Prado,(2016), 1 Toyota Hilux bulletproof (2014), 1 Toyota Corolla (2018), 2 Toyota Camry (2016), 1 Honda Civic (2016), 1 Honda Accord (2016), 1 Dodge Charger (2016), among others.
"These 21 exotic vehicles have a duty paid value of N484,458,778,92 only.
While some of the vehicles were intercepted along Ijebu Ode expressway, 10 were evacuated from Oluwalogbon Motors at 164 Awolowo Way Ikeja, based on credible information.
"As I speak to you, nobody has come to claim ownership. Let me use this opportunity to urge the owners of these vehicles to come forward with valid Customs clearance documents, otherwise, they will be liable to Seizure and subsequent Forfeiture to the Federal Government in line with the laws of the land.
For the avoidance of doubt, our action is in-line with the provisions of Sections 147 of Customs and Excise Management Act (CEMA) Cap 45, Laws of the Federation of Nigeria 2004 (power to search premises), and Section 158 of CEMA, Cap 45 Laws of Federation of Nigeria (power to patrol freely).
"Remarkably among the seizures was the interception of an Iveco Truck with registration number LAM283 LG along Ijebu Ode- Ore road carrying 498 cartons of CSP Codeine Cough Syrup 100ml, with each carton containing 200 bottles.
ALSO READ: Defection: Senator Ahmed Lawan, Wamakko, Boss Mustapha meet Oshiomhole
"You will recall that the Federal Government banned any importation of cough syrup that contains codeine.
The substance is valued at N199,200,000.00, with two suspects already in our custody.
"The drugs and the suspects will be handed over to NAFDAC for further investigation and possible prosecution in a court of competent jurisdiction.
The fight against drug abuse and illicit drugs is a collective effort and if all hands are on deck, we will make our nation a drug free society.
"Also, two containers were seized. A 1by40ft container with number PCIU922650/8 was seized for carrying 525 bales of second-hand clothing as against used motorcycles declared in its SGD.
while another 1by40ft container with number PCIU871664/5 was seized for carrying 11 jumbo bales of jeans, 365 cartons of new slippers, 145 cartons of new bags as against adhesive dressing declared in its SGD.
This are clear cases of false declaration, which is tantamount to seizure. We are still investigating this and anyone found culpable will face the full wrath of the law.
"Following the Presidential directive, the Comptroller-General of Customs, Col. Hameed Ibrahim Ali (Rtd) has directed the evacuation and distribution from our warehouse the following items for onward delivery to Internally Displaced Persons (IDPs) in Borno State by the Nigerian Army Corps of Supply and Transport (NACST); 11,579 bags of foreign parboiled rice 50 kg each, 627 and 485 jerrycans of vegetable oil 25ltrs and 5ltrs respectively, 248 bales and 219 sacks of used clothing, and 33 sacks of used shoes.
"Let me seize this opportunity to express our dismay over the incessant attacks on our officers, and just as the CGC has directed, we will continue to make sure we defend ourselves at all times.
Hence element that will dare officers on patrol is like embarking on a suicide mission.
We won't tolerate such excesses from smugglers and their accomplices.
I also wish to advise the general public, not to allow themselves to be used as the shield by smugglers most especially the host communities.
No amount of resistance from the smugglers and their mob accomplices will deter us from performing our statutory responsibilities in all aspects especially in anti-smuggling operations within South West zone," Compt. Uba stated.