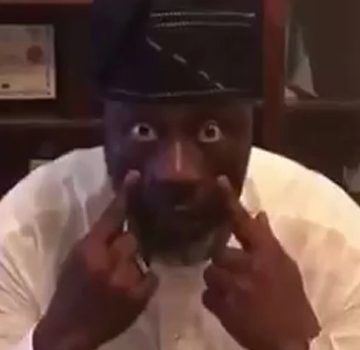 Peoples Democratic Party (PDP) candidate for Kogi West senatorial district in the 2015 general elections, Senator Smart Adeyemi has demanded for thorough investigation of an audio recording of a conversation between Justice Akon Ikpeme and Senator Dino Melaye.
The alleged telephone conversation between Justice Ikpeme and Senator Melaye was revealed by an online publication, Sahara Reporters.
Nigerian Tribune gathered that Justice Ikpeme sat on the petition instituted by the two term senator challenging the victory of the All Progressives Congress (APC) candidate and incumbent Senator representing Kogi West, Dino Melaye.
Nigerian Tribune further gathered that the Kogi State National and State Assembly Election Petition Tribunal led by Justice Ikpeme in its ruling struck out Senator Adeyemi's petition while the Court of Appeal equally decided the case in favour of Senator Melaye.
Addressing newsmen in Abuja on Sunday, the former Chairman, Senate Committee on the Federal Capital Territory declared that the alleged conversation between Justice Ikpeme and Senator Melaye has left no one in doubt that his mandate was traded off.  He called on relevant authorities, particularly the Department of State Services, (DSS), the anti-corruption agencies, the Economic &Financial Crimes Commission (EFCC), Independent Corrupt Practices Commission (ICPC) and the judiciary regulatory body, the National Judicial Council (NJC), to investigate the allegation.
He said, "I hereby call for a thorough investigation by the appropriate authorities, that is, the Chief Justice of the Federation, the Minister of Justice & Attorney-General for the Federation, the NJC, the Economic and Financial Crimes Commission (EFCC), Independent Corrupt Practices Commission (ICPC) and the Directorate for State Security Services (DSS).
"Like I mentioned earlier, I am of the opinion that we have people of high integrity in the judiciary. However, just like there is a Judas in every 12, some people of questionable character may want to infiltrate the ranks of our incorruptible judges and ministers in the hallowed temple of justice.
"I hold the view that the Justice Akon Ikpeme led panel has the burden to come out and prove their innocence to the world, especially as touching on the recent leaked telephone conversation between her and a litigant in her tribunal, in the person of Dino Melaye."
Stretching his argument, Senator Adeyemi claimed that his petition was "hurriedly struck out for no justifiable reason."
He disclosed to newsmen that despite startling revelations before the tribunal that Senator Melaye was not a product of the APC primaries, which he noted "is against section 87 of the Electoral Act," the tribunal still ruled in favour of the incumbent senator.
"The judgment against me wasn't according to law, but according to the American dollar. I want them (the DSS and NJC) to investigate whether the audio recording was genuine or not.
"We need forensic analysts on this matter. I leave the case to the Nigerian people.  I have the assurance of God that more revelations would come on the activities of Senator Dino Melaye. The image of the Nigerian judiciary must be saved.
"Based on what I saw on Sahara Reporters, I am not in doubt that the audio was true. It isn't about my winning this case but the integrity of the judiciary.''
---
---