Consistent attacks on prisons coordinated, planned to ridicule Nigeria govt ― Interior Minister
• Dead or alive, all fleeing inmates will be captured, he adds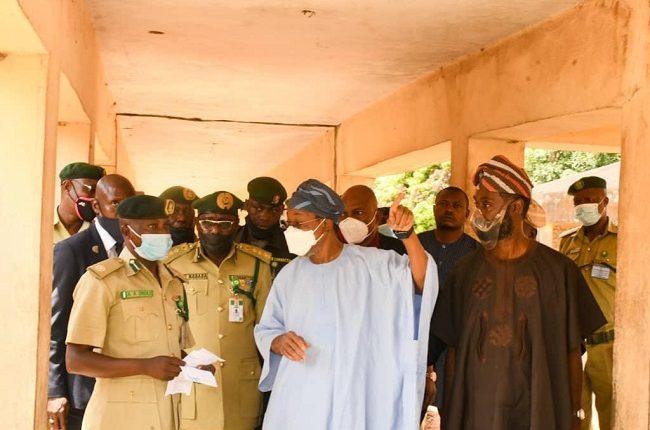 Minister of Interior, Rauf Aregbesola, on Sunday, described recent attacks on the nation's custodial centres as premeditated, planned, coordinated and meant to make Nigeria unsafe and ridicule the government.
Describing external attacks on custodial facilities as a rarity hitherto, he noted that the federal government had observed that the pattern of attacks on custodial centres Owerri, Benin, Kabba and now Oyo were not random happenings.
Speaking during an inspection of the Abolongo custodial centre, Oyo, which came under attack on Friday night and some inmates freed, Aregbesola avowed that there shall not be a repeat of guards being overwhelmed, adding that the Federal Government was retraining officers and putting extra safety measures to ensure custodial facilities are safe.
Noting that the consistent attacks on custodial centres began with the #EndSARS protests of last year, Aregbesola said the Federal Government shall not rest until every inmate that escaped from custody is captured, whether dead or alive.
Stating that the Federal Government had records of all the inmates, including their biometric data, which are being forwarded to the Interpol, Aregbesola said security agencies were on the trail of all that had escaped from custodial facilities across the country and will be apprehended.
While stating that investigation into the matter had begun, Aregbesola said the remote and immediate causes of the prison attacks and the vulnerability of the system and its personnel.
Aregbesola said: "The spate of attacks on our custodial facilities, the last of which occurred here on Friday night calls for serious concern, first in our society and secondly on your professionalism.
"This is unacceptable and we are saying enough is enough.
"External attacks on custodial facilities were a rarity hitherto. What was common, and for which our system had been well primed, was an internal breach.
"But beginning with the spontaneous #EndSARS protests of last year which dovetailed into massive riots, there have been consistent attacks on our facilities in Owerri, Benin, Kabba and now Oyo. This is not just some random happenings. These are premeditated, planned and coordinated attacks meant to make Nigeria unsafe and ridicule the government.
"Last year, we had an unfortunate case of an escaped convict that went to kill those who served as witnesses in the case against him, before he was later arrested. Of course, he would serve the remainder of his term and go for fresh trial for escaping from lawful custody and the murder of the witnesses. But the harm had been done. No thanks to those who made it possible for him to escape from custody ad initio.
"We responded to the attacks by retraining our officers and increasing the number of armed personnel in our facilities. But Kabba again proved a different kettle of fish with the share number of the invaders and the sophistication of their arms and incendiary devices they brought.
"Again, the Oyo attack came out of the ordinary. Nothing absolutely suggests that any such attack could happen or be possible, given the security measures we have put in place.
"Let me assure Nigerians of their safety of lives and property. Our custodial facilities are safe and we are putting extra safety measures in place, in light of the observed pattern of the external attacks we have seen, to prevent any such occurrence in the future.
"This matter is being investigated and we shall leave no stone unturned to get to the root of the matter – the remote and immediate causes and the vulnerability of our system and personnel if any.
"There shall not be a repeat of our guards being overwhelmed again. This is an anomaly that should never repeat itself. The Federal Republic of Nigeria cannot be overwhelmed. Our guards will give whatever it takes, never to be overwhelmed again.
"We are going after every single inmate that escaped from custody. We shall hunt them to the ends of the earth. All the security agencies in the country are on their trail. We shall not rest or tire until we bring the last one in, dead or alive."
Within a small window, Aregbesola further said the federal government will pardon those who escaped from custody, for fleeing, if they voluntarily turn in themselves.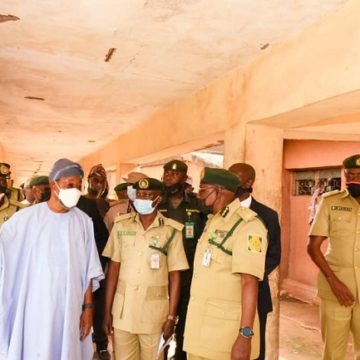 This is as he assured of "handsome reward" for Nigerians who provide information that will lead to arrest of any fleeing inmate, while warning that it is a criminal offence, punishable by a jail term, for anyone to offer any assistance whatsoever, not even giving a cup of water, to any inmate that escaped from lawful custody.
In terms of numbers, Assistant Controller of Prison in charge of the Abolongo Custodial centre, Ongaji Adams said 460 inmates out of 907 inmates are still at large.
"We have recaptured 378 inmates out of 907 inmates. 460 inmates are at large. 69 inmates never left the facility.
About three are injured.
"It happened around 9.45 pm on Friday. I was at my Superintendent residence when I heard gunshots so I decided to alert my security men and my staff inside the yard that it is an unusual gunshot. So I decided to go inside the premises to stay with them to enable them to beef up security inside the yard," Ongaji said.
Asked about high profile inmates in the Abolongo custodial centre, Deputy Comptroller General (Operations) Tukur Muhammed, said neither notorious territorial warlord, Iskilu Wakili nor notorious ritual suspect, Sunday Shodipe were in the facility.
Muhammed said, "I want to say clearly that here, in this custodial centre, we don't have any high profile inmates. Iskilu Wakili, Sunday Shodipe are not here.
"The only person we have is that person who has a case with EFCC and he is still with us, he didn't go anywhere."
Earlier, Governor Seyi Makinde paid an assessment visit to the facility, saying he had ordered the grading of the road leading to the facility and that Closed Circuit Television Cameras (CCTVs) will be positioned around the custodial centre.
He bemoaned that hundreds of inmates were on the loose, saying entry and exit points are being monitored while efforts are in top gear to capture the fleeing inmates.
Makinde said: "We can't say precisely whether this is an isolated event or this is the beginning of a wider issue that we have to deal with.
"Whatever the case is, we have made an assessment of here, we have taken some immediate decisions.
"We ask that the road from the main road to here be graded immediately and we are going to position cameras here and we will link it back to our security situation room not just here but also all other correctional facilities in the state.
"We are also making a list of critical state assets that we need to monitor and I have also asked that the entrance and exit points to this state be monitored.
"We still have almost 300 criminals on the loose in the state so efforts will still continue to try and recover those criminals and bring them back here."
YOU SHOULD NOT MISS THESE HEADLINES FROM NIGERIAN TRIBUNE
Viral Voice Note On WhatsApp Billing False
Claim: A viral WhatsApp voice note, purportedly made by the director and CEO of WhatsApp, claims users will have to start paying for WhatsApp services.
Verdict: The viral WhatsApp voice note claim is a hoax. The content is not new and has been circulated as a broadcast message several times in the past.