Combating corruption in Nigeria challenging, achievable —Report e
•Says Nigerians now exhibit behavioral change to demand better government, all-round social justic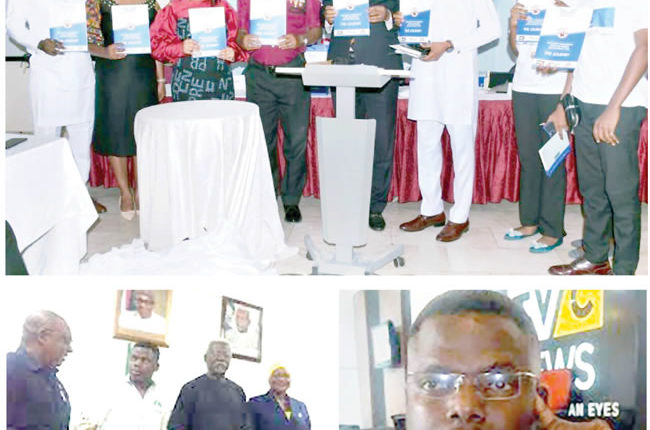 According to a report on activities of curbing corruption and Nigeria's corruption index, Nigerians are getting sensitised and becoming aware of their duties and responsibilities as citizens to ensure that corruption does not thrive around them. YEJIDE GBENGA-OGUNDARE reports that the end line report of the Akin Fadeyi Foundation (AFF) reveals that Nigerians are daily getting better equipped at demanding for better governance and an overhauling of systems, eradication of obsolete laws and regulations, as well as introduction of new policies as an offshoot of good governance and accountability.
Corruption is said to be so complex that many people do not fully understand it, though they can easily identify the end results of the phenomenon. Indeed, the effects of corruption are so massive that every system becomes unworkable and unproductive in a society where corruption thrives. And according to the global accountability group, Transparency International (TI), corruption is the abuse of entrusted power for private gain.
In highlighting the negative effects of corruption, TI says that it erodes trust, weakens democracy, hampers economic development and further exacerbates inequality, poverty, social division and the environmental crisis, adding that few places in the world know, firsthand, the devastating effect of corruption, as Nigeria does.
In its Corruption Index in 2012, Transparency International (TI) estimated that Nigeria had lost over $400 billion to corruption since independence. In 2020, the country ranked 149 out of the 180 most corrupt countries as listed by the TI. That Nigeria has an issue with corruption has been attested to by many bodies and individuals.
The Country Representative of MacArthur Foundation in Nigeria, Dr. Kole Shettima, while speaking at the launch of FlagIt app, one of AFF's intervention, stated that it is more important now than ever to keep the anti-corruption work at the front and center of the national agenda, and to empower people and communities with the information and platforms they need to advocate for themselves and fight for the issues that impact their daily lives."
Also speaking, Vice President Yemi Osinbajo, during the launch of FlagIt app, said, "there is a nexus between corruption and poor development. No matter the level of wealth a nation has, its people may never reap the benefits if corruption is not effectively tackled."
To curb the menace of corruption, diverse interventions have been on from within and outside the company. One of such interventions is the diverse activities of the Akin Fadeyi Foundation (AFF), a non-profit civil society organisation that helps Nigerians to live fulfilling lives while exploring their human and social capital to the full extent through a system-based approach that engages with knotty social issues. It positions itself as a solutions provider, analysing complex challenges and concerns, to which innovative and futuristic solutions are proffered, part of whose objectives include institutional and behavioral change. We believe in institutional partnerships and leverage upon the collective strengths of like-minded institutions to drive change and champion policy reforms.
As a vanguard for accountability and good governance that effectively utilises technology as a tool to engender positive transformation across all sectors of the society, inclusive of both public and private institutions. In its recent end-line report, AFF stated that an example of effect of corruption is the worsening security situation in Nigeria, exemplified by kidnapping for ransom, cattle rustling, armed robbery, banditry and, above all, the emergence and sustenance of the Boko Haram insurgency for over a decade, in spite of the huge resources supposedly deployed  to tackle it, are all manifestations of corruption, adding that citizens are daily regaled with mind-boggling figures of public funds allegedly siphoned by individuals in authority, who grossly abuse their privileged positions.
"No doubt, the current level of corruption is unprecedented in the nation's history. However, most unfortunately, members of the political class saddled with the responsibility of directing the affairs of Nigeria have been the major perpetrators of these acts.  Past efforts to combat corruption through the issuance of riot acts, workshops, seminars, and talk shops have at best only scratched the surface of the issue. This is because the average man on the street who encounters corruption daily and in whose domain corruption has been equally endemic is not.
In the three-year period under review, AFF deployed some interventions; Corruption Not-In-My-Country campaign, "Never Again" radio drama, capacity building workshops, "Badt Guys" TV drama series, the FlagIt app and COVID-19 intervention in line with the overall objectives of the project, which is to promote positive behavioral change among citizens on issues of good governance, corruption, transparency and accountability.
The end line report indicates that people are getting sensitised and becoming aware of their duties and responsibilities as citizens to ensure that corruption does not thrive around them and there is increased behavioral change and demand for this from fellow citizens, adding that this is expected to culminate in a more strategic demand for a better government and all-round social justice while AFF looks forward to an overhauling of system, eradication of obsolete laws and regulations and introduction of new policies as an offshoot of good governance and accountability.
The report described as successful, the campaign against corruption embarked upon by the AFF in the three years under review based on evaluation and assessment which can only be sustained and scaled up for more positive results. The level of success recorded in the campaign against corruption was attributed to AFF's daring spirit and passion for change.
According to AFF, "the fight against corruption at both national and international levels continues to be a serious challenge. As envisaged, there were several challenges encountered during the implementation of the project; seeking partnerships and gaining government's recognition and buy-in. When an organisation comes with a declared mission of fighting corruption in Nigeria, it automatically becomes an enemy to a certain crop of people within the system. This was the story of AFF in seeking partnerships and gaining the government's recognition of the Corruption Not-In-My-Country (NIMC) campaign. However, having reputable stakeholders who knew what drove the AFF campaign and who could vouch for the integrity and genuineness of the organisation made the difference and opened difficult doors for the team.
"Leveraging existing relationships and proven track records of past achievements equally enabled AFF to beat this hurdle. The duration of the project was too short to test all activities for proof of effectiveness, though so much was achieved within the short time. The timelines of events could be extended for better results and outcomes, and to also allow for unforeseen events that are not within anyone's control to be taken care of appropriately. As the society kept embracing the FlagIt app to report their encounters, it challenged our funding, as these situations necessitated shift in our logistics and deliverables," AFF stated.
The organisation, however, learnt some lessons; whilst surmounting the many challenges that it faced during the project implementation, AFF learnt that while combating corruption in Nigeria could be very challenging, it is also an achievable task. And for success, the task must be driven through collaborations with institutions, which would also lead to the strengthening of the capacities of these organisations, and the enabling of integrity-driven service delivery.
The AFF also learnt the need to engender society-inclusive participation in the fight against corruption as the response to the FlagIt app shows citizens' capacity to leverage on digitalised innovations, which eases human contact and interference while allowing anyone, anywhere to report corruption and seek redress.
AFF launched out on the current phase of the 'Corruption Not-In-My-Country' three-year project in 2018. The first year saw the conceptualisation, production and airing of Not-In-My-Country (NIMC) mini documentaries, which are essentially one-minute video skits; the "Never Again" radio drama series; and also the "Badt Guys" TV series. The Foundation also embarked on capacity building programmes in various secondary schools in Abuja.
The second year of the project was also marked with the production and launch of the foundation's innovative technology platform – the FlagIt app, which is a first of its kind in this part of the world which offers everyone the opportunity to report acts of corruption or the corrupt practices of law enforcement agents in real time. Speaking, the Executive Director of AFF, Akin Fadeyi, said, "We hope to see a corrupt-free Nigerian society that is thriving in all aspects of governance and rule of law, with a dignified police system that operates with excellent service delivery; one that the citizens are proud to associate with and that is truly our friend."
The AFF had partnerships and collaborations with organisations of similar purpose like the MacArthur Foundation, the European Union, National Orientation Agency (NOA), Independent Corrupt Practices and Other Related Offences Commission (ICPC), Federal Road Safety Corps (FRSC), Ministry of Women Affairs and Afe Babalola University, Ado-Ekiti (ABUAD), among others.
YOU SHOULD NOT MISS THESE HEADLINES FROM NIGERIAN TRIBUNE
We Have Not Had Water Supply In Months ― Abeokuta Residents
In spite of the huge investment in the water sector by the government and international organisations, water scarcity has grown to become a perennial nightmare for residents of Abeokuta, the Ogun State capital. This report x-rays the lives and experiences of residents in getting clean, potable and affordable water amidst the surge of COVID-19 cases in the state…
Selfies, video calls and Chinese documentaries: The things you'll meet onboard Lagos-Ibadan train
The Lagos-Ibadan railway was inaugurated recently for a full paid operation by the Nigerian Railway Corporation after about a year of free test-run. Our reporter joined the train to and fro Lagos from Ibadan and tells his experience in this report…
[ICYMI] Lekki Shootings: Why We Lied About Our Presence — General Taiwo
The Lagos State Judicial Panel of Inquiry probing the killings at Lekki Toll Gate, on Saturday resumed viewing of the 24hrs footage of the October 20, 2020 shooting of #EndSARS protesters by personnel of the Nigerian Army…
ICYMI: How We Carried Out The 1993 Nigerian Airways Hijack —Ogunderu
On Monday, October 25, 1993, in the heat of June 12 annulment agitations, four Nigerian youngsters, Richard Ajibola Ogunderu, Kabir Adenuga, Benneth Oluwadaisi and Kenny Razak-Lawal, did the unthinkable! They hijacked an Abuja-bound aircraft, the Nigerian Airways airbus A310, and diverted it to Niger Republic. How did they so it? Excerpts…
ICYMI: What North Will Not Accept About 2023 Presidency —Prof Mahuta, UDU Don And Kebbi Dev Foundation Chairman
Sahabi Danladi Mahuta, a community mobiliser and APC chieftain. Mahuta spoke to select journalists at the sidelines of an Islamic conference in Abuja recently. Excerpts…