Character is basis of good governance —Ezekwesili, Awolowo Dosumu, Ibru, others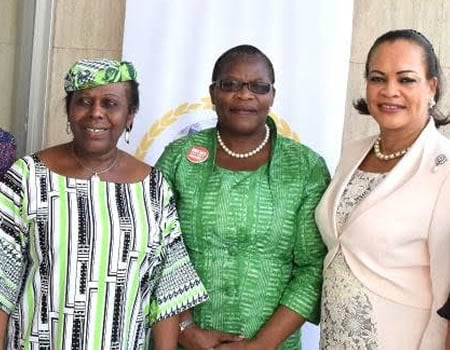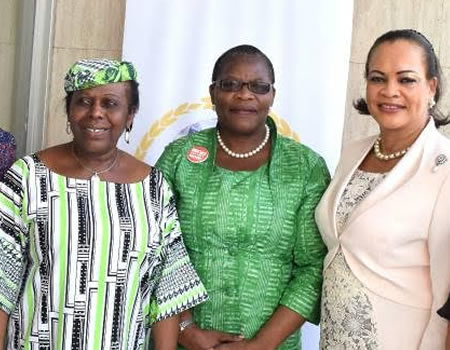 GOOD character has been identified as the basis for achieving good governance in Nigeria.
This assertion was made by former Minister of Education, Dr Oby Ezekwesili, co-chairman, African Newspapers of Nigeria (ANN) Plc, Dr Olatokunbo Awolowo Dosumu and Lady Maiden Ibru, at the maiden edition of the HID Awolowo Foundation Annual Lecture, held at the Nigerian Institute of International Affairs (NIIA), Victoria Island, Lagos, on Tuesday.
The lecture, in honour of Chief (Mrs) HID Awolowo, was entitled, "Ethical Politics, Peace, Development and Security in Nigeria: The Critical Importance of Women's Leadership."
The virtues of HID were extolled at the event, which had Senator Daisy Danjuma as chairperson.
Ezekwesili who was the keynote speaker noted that the world was suffering from leadership famine, adding that it could only be redeemed by the molding of good character.
"Whether it is a male or female leader, the character is the underlying factor that will define how our nation will make progress. If you want competency, capacity you can buy them but character is not available to be bought. In this fourth industrial revolution of biotics, stimulations, signs and all kinds of science solution driven, all we need is a disruptive era of the character of the individual. The character of the individual matters most," she said.
Ezekwesili also said it was time for more women to take charge of leadership positions in the country, to bring about positive development.
She contended that a wise society would know that empowering women was the solution to its problems.
The former minister, who contended that better governance should be expected when women were allowed a space, said it was now time for the country to discard the old system of relegating women to the background in governance.
She asserted that research had since shown that things got better if more women were put in charge of the affair of things.
The guest lecturer, while giving statistics of women in various positions in Africa, including corporate, managerial, parliaments and government, remarked that women were being marginalised and men must take the responsibility of such marginalisation.
According to her, to bring about positive development, the country needed to bring on board, more women to be part of governance at all levels, as well as in the judiciary and the legislature, where they would contribute more to the process of decision making.
Listing features of poor governance to include refuge issues, insecurity, huge unemployment and sharp economic decline, among others, Ezekwesili said these sad features had made Nigeria to be ranked as the 13th most fragile state in the world.
While declaring that good governance had eluded the country for years of its democracy, Dr Ezekwesili, however, contended that no country could solve the problem it had denied.
"You have to take ownership of the problem, that should be the mindset of the leaders," she said, adding that for all the countries that had been successful in the world, including Singapore, which noted got her independence around the same time with Nigeria, leadership had been key to their success.
According to her, it was also about literacy level, saying while Singapore had 100 per cent literacy level, Nigeria was just about 58 per cent, with Rwanda being 72 per cent.
"That's why we have to honour Chief Awolowo in this regard," she said.
The convener of the lecture, Awolowo Dosumu, opined that the building of human character must come before the building of anything else.
She further identified three ways to destroy a nation.
"Three ways to destroy a nation is to destroy the family structure, education and lower their role models and references as such there will be no one to teach the youngsters values, they will lose correct perception of right and wrong of what their best interests are," she said.
Ibru described a woman as the nurturer meant to mold the character of her children for the good of the society and in all sphere of human endeavours.
"You mustn't shy away from bringing up your children in the right way. You must pay attention to them. Our government has failed us, but from your home, monitor your children, mentor them rightly. I want women to stand out and be pointed at as women of diligence," she added.
Also speaking, chairman on the occasion, Senator Danjuma, said women, no doubt, played a key role in bringing about peace in African society, pointing out the purpose of the gathering was to build role models in young and grown-up girls for a better society.
A biography of HID, entitled, "In the Radiance of the Sage" written by Professor Wale Adebanwi, was reviewed by Dr Insa Nolte, who was represented by Dr Olufemi Ogunsaya.
Nolte described HID as "a very supportive, disciplined and courageous wife to her husband, Chief Obafemi Awolowo," adding that she stood above partisan politics.
"During the time when Obafemi was politically imprisoned, she played the role of a supportive wife, not because she has any ambition but she wanted him to take up his life where he left after he was released," he said.
There was an insightful panel session where the older generations were counselled to be positive role models and educate the younger generations on the history of Nigeria.  The session was moderated by Mrs Bisi Fayemi and the discussants were Ibru, Hajiya Naja'atu Bala Muhammad, Yemi Adamolekun and Bola Olukanni.
In his goodwill message, the immediate past governor of Ondo State, Dr Olusegun Mimiko, noted that the best way to empower the nation was to empower women.
In his comment, renowned cleric, Pastor Tunde Bakare, lauded the leadership quality and virtuous nature of Chief (Mrs) HID Awolowo, who, he said, demonstrated uncommon bravery when he led a campaign for Dr Mike Okpara in 1964.
"This was my first encounter with Mama HID Awolowo. In 1964, she wore a wrapper and led a campaign for Mike Okpara. She was a leader par excellence," he said.
When taking a biblical insight into the importance of women in the existence of humanity, Pastor Bakare pointed out that based on the account of what happened at the creation, God had clearly placed a lot of responsibilities on the shoulders of women.
Also at the event were the Emir of Songa, Alhaji Alilu Yahaya, who represented the Sultan of Sokoto, Alhaji Abubakar Sa'ad; representatives of Ooni of Ife; former Minister of Information, Labaran Maku; chairperson of the event, Senator Daisy Danjuma and the chairman, African Newspaper of Nigeria (ANN) Plc, publisher of Tribune Titles, Reverend Omotola Oyediran.
Others were the Aare Ona Kakanfo-designate, Chief Gani Adams; Sir Kessington Adebutu, Erelu Abiola Fernandez, Senator Olorunnimbe Mamora, Chief Kenny Martins, Mr Folu Olamiti, Mrs Bisi Fayemi, Mrs Abimbola Fashola, Mr Gbenga Adefaye, Mrs Sade Ogunbiyi, Mrs Dupe Adelaja; Alhaji Tujudeen Olusi, Alhaja Ganiyat Abimbola Jakande, Prince Wasiu Adeyemo, Chief Kenny Martins, Professor Bayo Williams, Mr Yinka Odumakin and former Managing Director/Editor-in-Chief, ANN Plc, Reverend Sam Adesua, among others.
Welcome address delivered by Dr Olatokunbo Awolowo Dosumu, at the maiden edition of the annual HID Awolowo Foundation Lecture, held at NIIA, on Tuesday, November 28, 2017.
Protocols
It gives me enormous pleasure to welcome you all to this milestone event, the first in the HID Awolowo Foundation Lecture series.
The Foundation was inaugurated on September 19, 2016, with an Advisory Council that boasts of a stellar cast of women and men. As has been widely advertised, this is our first outing and, judging from the impressive line-up of key participants, as well as the quality audience in attendance today, I believe we can safely assume that we are well on our way to becoming a respected voice in the area of advocacy on women's issues and, indeed, wider social issues.
I especially welcome our Keynote Speaker, Dr Oby Ezekwesili. I would be stating the obvious if I described her as a highly accomplished woman, scholar, fearless activist and a leader in her own right. We wanted to set a standard of excellence, ab initio, for this lecture series and we are very glad that she accepted to blaze the trail.
Like our keynote speaker, all the discussants, Lady Maiden Ibru, Hajiya Naja'atu Muhammad, Yemi Adamolekun and Bolanle Olukanni, are also internationally renowned and highly accomplished individuals. They are a pride to womanhood and they are poised to add significant value to today's proceedings.
I also welcome all our special guests, delegations and all the women and very brave and self-assured men who have made time to join us in honouring Mama today. Your presence here encourages us tremendously.
Mama was an exemplary wife, mother and entrepreneur. But she was also a consummate political leader, not only by virtue of her being the spouse of the sage, Papa Obafemi Awolowo, but also in her own right. The HID Awolowo Foundation fully intends to reflect her multidimensional life as we continue to honour her in the years to come.
Today, in response to the prevailing circumstances in Nigeria, we have opted to focus on issues that can also be described as the hallmarks of the legacy jointly left behind by Mama Awolowo and, of course, her husband, Chief Obafemi Awolowo who gave her every room to shine 'in (his own) radiance'.
I refer to the theme of this event, "Ethical Politics, Peace, Development and Security in Nigeria: The Critical Importance of Women's Leadership."
It is a well-known fact, common sense even, that the politics of a country is fundamental to its peace, development, and security. After all, politics is the breeding ground from which the managers of a country and its economy are recruited.
According to Benjamin Disraeli's rather cynical view, "In politics, nothing is contemptible." Margaret Thatcher, on the other hand, expressed a more idealistic view when she said, "I am in politics because of the conflict between good and evil, and I believe that in the end good will triumph."
Given the pivotal role of politicians in fostering the well-being of any country and, particularly the well-being of her citizens, therefore, the ethics of such politicians (or lack thereof) assume immense importance when it comes to securing the country's future.
Factors such as good governance, corruption, political stability and crucially, for the purpose of the theme of this event, discrimination against women, among others, will certainly determine the trajectory of a country and its people.
The truth is that any country that undermines the contribution of half of its population to its overall development has effectively halved its own potential.
Before I end these remarks, permit me to pay a special tribute to Mama:
Exactly one week ago, the Tribune Plaza was commissioned in Abuja. The edifice was constructed without borrowing a kobo. I salute the Board and management of African Newspapers of Nigeria for keeping the faith in order to record this rare achievement.
However, we all know and agree that the real heroine of this feat is Yeye Oodua HID Awolowo. It was her doggedness, unstinting support (financially and in every other possible way) and her unique brand of leadership right to the end of her life that guaranteed this outstanding accomplishment just two short years after her departure.
We remain eternally grateful to her, and to Papa and, beyond our feelings of gratitude, we must consider it our duty, in word, and especially in deed, to continue to keep the faith and continue to add as much value as we can, within the limits of the ethos of our progenitors, to those enduring legacies.
In conclusion, let me paraphrase an anecdote that has been trending recently on social media, because it is of absolute relevance, in my humble opinion, to today's discussion. It goes thus:
When the ancient Chinese decided to live in peace, they built the Great Wall of China.They thought that no one could climb it due to its height. However, during the first 100 years of its existence, the Chinese were invaded thrice. And, remarkably, at every invasion, the hordes of enemy infantry had no need of breaking or climbing over the wall because each time, they bribed the guards and entered through the gates.
So, the Chinese built the wall but forgot to build the character of the guards. Therefore, it stands to reason that the building of human character must come before the building of anything else.
This is a powerful metaphor, particularly as it concerns succeeding generations in any nation. They are the ones who, even if they read the history, may be unprepared, or unable to evoke the passion or, indeed, the values that informed the building of a 'wall' in the first place, simply because they believe, often erroneously, that their 'reality' is different from that of their forebears.
The story goes on to state that an orientalist identified three ways to destroy the civilisation of any nation: destroy the family structure, destroy education, and lower their role models and references.
The major consequences of these courses of action are that there will be no-one to teach the youngsters values, they will lack the ability to make informed choices and they will lose the correct perception of right and wrong or, even, what their best interests are.
The HID Awolowo Foundation hopes to continue to contribute to national discussions and actions aimed at arresting the current threat of decline into a moral abyss, particularly in our youths. We will continue to honour our veritable role model, Yeye Oodua HID Awolowo and, thereby, sustain our mission to "inspire women, promote values and build the nation."
We cannot and must not do less if we are to continue to accord due honour to the memory of the quintessential 'jewel of inestimable value'.
Once again, I welcome you all most warmly and I thank you for your attention.
Dr O. Awolowo Dosumu