Canada, in partnership with the ActionAid Nigeria, has funded 12 community-based organisations (CBOs) across the three senatorial districts of Kwara State to check increasing rape cases and gender-based violence in the state.
Speaking at the opening ceremony of a four-day capacity training programme for the CBOs in Ilorin on Friday, CEO of the coordinating non-governmental organisation, Global Hope for Women and Children Foundation (GLOHWOC), Mrs Christy Abayomi Oluwole, said that participants will be provided with technical and financial support to carry out their activities with the support of traditional and religious leaders, especially, in rural communities of the state.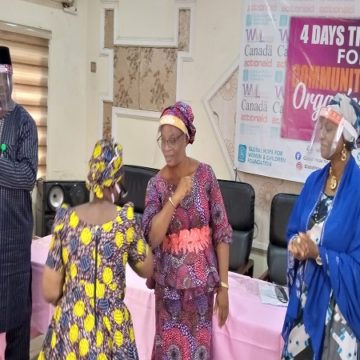 Mrs Oluwole, who said the eligible CBOs were selected across communities in the state based on their previous programmes and activities on women's rights and protection in the state, added that the project will run for a span of four years.
ALSO READ: BREAKING: Striking resident doctors get N4.5bn for April, May salary arrears
"The programme is all about addressing raging issues of sexual and gender-based violence, women voice and leadership, women economic, justice and empowerment and enhancing women's leadership and participation in politics.
"The project is being implemented in six states of the federation and the FCT, namely Kwara, Bauchi, Lagos, Kebbi, Cross River and Enugu states. Global Affairs Canada is supporting GLOHWOC in Kwara State to provide financial and technical support, through mentorship, handoff, and capacity building for the selected 12 CBOs to enable them to go into communities where they've been working before to carry out programmes, especially on the rampant sexual and gender-based violence in the state.
"Just last week, we learnt of cases of cousins raping themselves and a highly placed individual in Ojuku that raped an 18-year-old girl. It's so pathetic that Kwara that used to be known as a sacred place because of our religious beliefs has now joined other states in perpetrating this evil.
We don't want the evil of rape to continue and that's why we're intensifying efforts to ensure that in all the three senatorial districts of Kwara State, there are organisations to handle that", she said.
She said most CBOs operate at the grassroots level, adding that, "the people know them and they know the people. They know the nooks and crannies of the area. So, it will be easy for them to penetrate by working with the traditional rulers, religious leaders, artisans and every organised group like the women, youth, and even men-based organisations in their different areas.
"That's why supporting them is very important because they'll be able to work with every key stakeholder in the community to ensure that women's rights are upheld, issues of sexual and gender-based violence, gender inequality are addressed appropriately", she said.