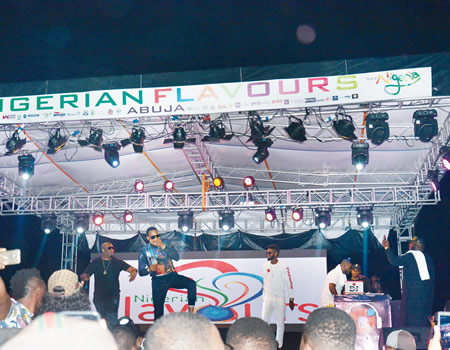 The economic import of tourism is gradually being reflected in the business transaction and psyche of ordinary Nigerian who has now realised what the sector has in stock for them.
Thanks to the fitting of people with sound minds, clarity of purpose, drive, vision, people who are fit, prim and proper with definite intention and clear understanding of what they need to do at their duty post.
These people without blabbing or creating a necessary fuss about themselves recoiled into their cocoons, dug into their cognate and corporate experience in public and private life and brought to bear proactive programmes and events which do not only call attention to the sector but stimulate economic activities and shore up business opportunities.
One of such events, Nigerian Flavours crafted by Nigeria Tourism Development Corporation, NTDC, under the supervision of Mr Folorunso Folarin Coker in conjunction with the National Institute for Tourism and Hospitality, NIHOTOUR, under Mrs Chika  Balogun was held in Abuja on Saturday 17 March, 2018 at Harrow Park, Wuse II, Abuja.
The one-day affair which was packaged and uniquely branded oiled the scrambling to Abuja from all over the country by intrastate fun seekers who appreciated and consumed the efforts of making Abuja a glowing city at the weekend.
Nigerian Flavours was a classical tourism platform created and nurtured by NTDC  and NIHOTOUR where   Nigerian music, foods, clothes, arts, fashion, and children entertainment  met  the satiable expectation of travel buffs, patrons, fun seekers, music lovers, gourd men  and women  tourists  and travellers in an ambience dominated by thrilling music, exciting display of talents, sonorous songs and reverie.
The setting of the arena was not only cosmopolitan, but decked with Nigeria signature while the various cubicles, tents and huts elegantly arranged harboured different tourism entrepreneurs who were able to see and seize the business opportunities the event offer.
Amidst the rollicking of fun, money was exchanging hands with vendors of foods, drinks, roasted meat, artworks, local fabrics and dresses carrying out their business as never before.
"Abuja is waking up "Dr Nelson Haruna, a surgeon in Maitama enthusiastically told TTM about his profound gratitude for NTDC coming up with this economic exposition of tourism and its attendant benefits".  Nigerian Flavours being given life today is a clear manifestation of the fact that those who are saddled with the responsibility of the affairs in the tourism sector know why they are appointed for and going about it in the right frame of vision. This kind of event will stem the tide of the weekend exodus from Abuja because of the "dead socio—carnival ambience which normally enveloped Abuja at Weekends."
Chinwe Okon, Chief Operating Officer Buka 1, described the Nigerian Flavours Festival as "A new dawn in the annals of tourism promotion in Nigeria. We have experienced different people, different policies different events and programmes, but we are more enchanted by the drift of Nigerian Flavours which has made the exhibition of local ingredients of tourism in terms of foods, music, songs, artworks, children entertainment not just for the reverie or paparazzi affairs, but for economic benefit, commercial relations and creation and mobilisation of wealth which tourism is supposed to do"
She revealed  "I can say authoritatively and confidently say that this is the first time that we are feeling the import of tourism not as a sloganeering epithet or personal gratification but as an instrument which can be conveniently used to generate and stoke business for us. We in the cafeteria, bukateria and restaurant sub-sector are happy and commend those who put this together".
Mrs Okon said " We are expecting more of this kind of tourism carnival and destination facilitation. The fact is that the more people we have in Abuja every weekend in a form like this, the more money we make and the better part of tourism we feel".
Adeolu Oyefeso, Marketing Manager Hotel Collective Consult described the show as "an outstanding way of branding Abuja as a destination for food, fun, entertainment, dance music and children fun haven. The organiser scored high mark in areas of publicity, marketing, ambience creation, decoration, networking, presentation, local participation and stakeholders participatory. Honestly, it is an admixture of both 70 percent local foods and 25  percent foreign flavour. But I also must add that it would have been unfair and unfriendly if they have disallowed the foreign flavour of 25 percent to be there. As the place was full of white men who might not be quick to taste Nigerian food."
James Igene was full praise for NTDC, NIHOTOUR 'I love the musical line up. I love the style employed by the organiser which ensured a systematic infusion of the day event with the night jamz. It was super. The line up was great. We all enjoy a night full of fun of food, of songs, and of drinks. It was a day which honestly showcased the fact that tourism is not only about sites and monuments, tourism is about sound, music, dance, dress, drinks, wines dressed with toga of business, wealth, money and commercial activities. Tourism, as packaged by NTDC, NIHOTOUR as depicted in Nigerian Carnival, is an instrument of waking up a hitherto sleeping city alive. Bravo NTDC, NIHOTOUR. We need more of such ."