Breaking my record will be hard for any producer —Krizbeatz
Mention three music producers in Nigeria, then the name Krizbeatz comes to mind. From producing his sounds for Nigerian artistes back to back, he has equally produced songs for top African artistes. His Pana sound, which featured Tekno, according to him, changed the music sound in Africa. In this interview with SEGUN ADEBAYO, Krizbeatz, who is also delving into writing, speaks on his vision for the music industry, among other issues.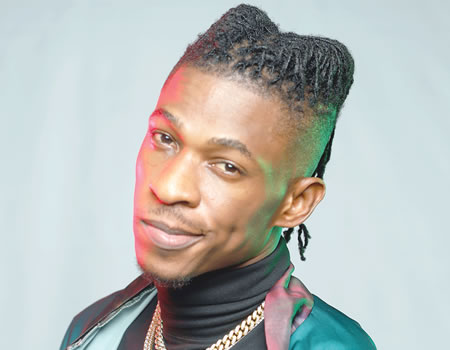 Krizbeatz has produced beats for many acts from within and outside Africa. When are you going to start taking your trade international?
First of all, I will like to say anybody that's not Nigerian is international. I have worked with most of the major artistes across Africa. If you mean American or European artistes, yes I have a lot projects in the works and my production with the likes of Ashanti, Popcaan, Tory Lanez are out there and people are loving them. The feedbacks I have received are so good that I can't even think of stopping. I feel good. I should also let you hear from me first that I am working with other big artistes across Europe. As a matter of fact, Drake is part of the names you are going to see very soon. I am also doing my song writing and production camp in the United Kingdom this September, so I hope to make more songs with the western artistes. I have some of my brothers who represented Africa on Beyonce's latest album. I think we are doing a lot of that, but I think it's safe to say producers are not getting enough credits yet. But we are doing wonderfully well, and I can say we are championing the course of making the Afrobeat sound a worldwide taste. The fact remains that music producers are the music taste-markers.
What do you see as the bane of this dream being fulfilled?
I think it is just hard work, we need to work harder and most importantly smarter.
With the heights you have attained in the last few years, one would have expected Krizbeatz to have one some of the international deals and probably produce songs for some of the top international acts. How hard has it been breaking into that international scene?
I have had several international offers, but I haven't been offered the kind of deal I want yet. It's difficult trying to break the international scene as an independent entity. I look at the leagues of top artistes in Nigeria, it seems it's only Burna Boy that is left as an independent artiste. It's very tempting, but I will rather wait for the deal that's worth it. It's also interesting to know that artistes in the western world are actually struggling to go independent, so it's a tricky thing.
Which of the current crop of music producers is truly giving you the run for your money?
All of them are doing great. The industry is going through some exciting and competitive moments. All the new artistes are doing great and the producers are fantastic, everyone is on their toes. You either go hard or go back to your house.
Music production might not last forever, one day you would get tired and might want to try your hand on something new. What would it be?
I am working on my merchandise. I have been working on it for a while. I am also writing books, developing production software and tools, and of course there is also real estate by the other side and I am hoping to have a musical instrument store. The dream is big. Let us just keep taking one step at a time.
Looking at how the journey started for you, what can you say has been the biggest achievement you have recorded so far?
It's being able to break the African market and I am trying to do the same with the western world.
How do you mean by breaking the African market?
I changed the sound for this present generation. I need to work hard and be a few steps ahead of the game to remain relevant.
Is that why they call you king of new wave music producer?
I am humbled and it puts me in a position where I need to work my hard to live to the high expectations of fans and music fanatics.
After the success you recorded with Tekno on Pana about two years ago, some people have said that repeating that feat or breaking your own record is hard. This has always been the trend in the music industry, a musician drops one song and he is forgotten because he could not keep the momentum. Do you see things that way?
I will say it's a great challenge for the whole generation to beat the record. We are all in this to beat that record. Yes, I haven't been able to beat it and nobody has done it either. Pana, for me, is a blessing to this generation. In terms of quality, I have not given anything less than Pana, but only the fans make songs a hit. So, the fans will decide for me.
Not much has been heard from you in recent time. Is it that you have been too busy or the pressure of the work is taking its toll on you?
I have been working, I am expensive now. A lot of artistes can't afford me. You may not see me drive a Lamborghini or Rolls Royce every day, but watch out for new materials from Tekno, Yemi Alade, Skales and a couple of young artistes.  My new album, "African Time" is coming soon. I have a number of superstars across Africa in it.
There are only a few music producers creating something new in the music industry today. Everybody seems to be comfortable jumping on the bandwagon effect. How does this make you feel being an active player in the industry?
I feel like a prophet, trendsetter and a tastemakers and it's a wonderful feeling.
But you have also bowed to the pressure too. We have listened to some of your productions that sounded like the usual sounds. Is this a challenge for you too?
I create a trend and if the fans are still enjoying it, why change it? At the end of the day, it's business, if there is a demand, we supply. At the same time, we develop new products so as to remain in business.
There is a current wave of sound that is pervading the music industry. We have seen a couple of musicians such as Olamide, Zlatan, Naira Marley and others leading the front line with this sound. What are you seeing about this trend?
There have always been two major sounds on the music scene. We have the Island sound and the Mainland sound. I can do any sound as long as my clients can afford it. Even in America, there is the West Coast sound, East Coast sound and the ATL sound.
How hard has it been for you to combine music production and mentoring of other music acts on your label?
I don't run the label, my management does.
You are a young man who seems to be having everything rosy for him. You drive good cars, live large and pay your bills. When are you going to bring home the woman that would complement your work at home?
Soon, I am still looking for that special woman and I am still working hard to provide and build lasting comfort for the family in advance.
How hard has it been finding the right woman that loves you?
It has been very hard. When you are famous and have little money, everyone is nice to you. It's difficult to know who truly loves you for who you are.