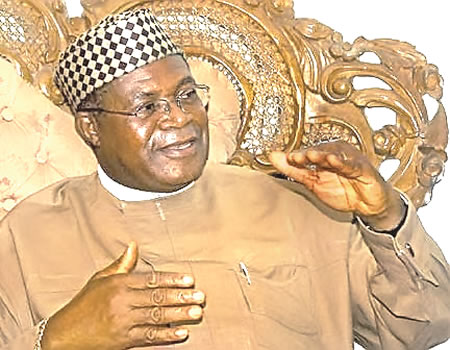 THE President General, Ohanaeze Ndigbo, Chief Nnia Nwodo on Sunday narrowly escapes death as the bomb explodes in his country home residence at Ukehe in Igbo Etiti Local Government Area of Enugu State.
Reports had it that the Police Bomb Disposal Unit suggested it was an Improvised Explosive Device (IED) that was hurled over the fence into the compound causing extensive damage to the windows, the ceiling of one of the houses in the compound and an airconditioning unit.
A statement issued on Sunday by the Media Adviser to the President General, Emeka Attamah, said that the Enugu State Commissioner of Police, Danmallam Mohammed, accompanied by the Area Commander for Nsukka Police Command and the Divisional Police Officer for Igbo Etiti Local Government Area visited the scene of the bomb blast which created a crater in the compound.
Addressing the people who tripped to Chief Nwodo's home, the Commissioner enjoined them to always be vigilant and to report any strange faces to security operatives
Danmallam who described Enugu State as very peaceful, wondered why some miscreants would be after the life of Chief Nwodo who he said is only serving his people, adding that what happened was a sign for the need for greater security around him.
The Police Commissioner ordered that security is beefed up in and around Chief Nwodo's compound and promised that the perpetrators would soon be identified and brought to justice.
Earlier, the Commander of the Bomb Disposal Unit, DSP John Aniche, had briefed the Commissioner and Chief Nwodo on the items they collected from the scene including batteries, pellets and other materials used in preparing the IED and said that they would be carefully scrutinised and analysed.
ALSO READ: Ohanaeze Ndigbo moves for Igbo Presidency in 2023
Welcoming the Commissioner to his home, Chief Nwodo expressed surprise that anybody would be after his life but added that the incidence would not deter him from leading his people.
He thanked the Commissioner for his prompt response to the incident.
Also speaking, the traditional ruler of Umudele in Ukehe, Igwe Lawrence Aroh, thanked God for saving the life of the Ohanaeze Ndigbo President- General.
Igwe Aroh wondered why some bad elements would constitute the danger to others in a country bountifully endowed by nature.
He assured the Police Commissioner that his people would be extra vigilant and that any such attempt in the future would be nipped in the bud.
It was also learnt that the Enugu State Director of Director of State Security (DSS) Mrs E. A Likiyon, later came to see the scene of the explosion for on the spot assessment.